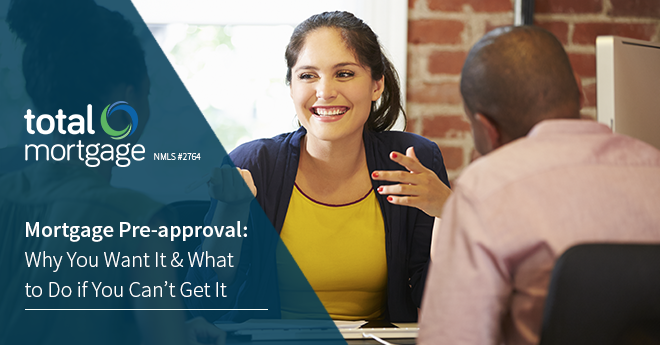 When you're searching for a new home, few steps are as important as getting pre-approved for a mortgage loan.
Not only does it help you as a buyer, but sellers will view you as a better candidate. And if you get involved in a bidding war for your dream home, it helps to be the kind of buyer that sellers consider reliable.
How a mortgage pre-approval works:
First, you send documents proving your income to a mortgage lender. These documents can include your last two paycheck stubs, last two months of bank statements and last two years or income-tax returns. Your lender then studies these documents to verify your monthly income. Your lender will also run your credit to determine your credit score.
Once your lender has this information, it will tell you how much mortgage money it is willing to lend you. It will also give you a pre-approval letter stating this amount.
Why is a mortgage pre-approval important?
1. Streamlines Your Search
By pre-arranging financing, you can save a considerable amount of time. Because a lender will examine your credit report, pay stubs, bank statements, etc., they can tell you exactly what you're qualified to borrow. That way you know what your price range is so you only look at homes you can afford. Rather than looking at a myriad of properties, you can narrow your search down to a handful and examine those in great detail.
You're also less likely to be let down or become disillusioned when you fall in love with a property, only to find that it's out of your price range. This can save you from a lot of frustration and expedite your search.
2. Sellers Take You More Seriously 
When a seller has multiple buyers interested in their property, it's important to stand out from everyone else. In the event that there were three other buyers, and you were the only one with a pre-approval letter, you would have a much better chance of getting the seller's attention.
That's because you have direct evidence of your ability to obtain financing. It also shows that you've put in the effort to get pre-approved, which proves you have a genuine interest in buying. This should reduce any skepticism or anxiety that a seller may have, and they're likely to give you more consideration than other candidates.
3. Increased Leverage When Negotiating 
Because of the effort you've put forth and tangible proof of your financial backing, this can really work to your advantage when making negotiations. According to Ray Mignone, a certified financial planner in Queens, New York, "pre-approval carries more weight when you go to negotiate a deal. It gives you bargaining power."
Being pre-approved means that it's basically a done deal, and you don't have to go through the process of applying for a mortgage in the future. If a seller is faced with your offer and a slightly higher one from another buyer who hasn't been pre-approved, this can often persuade them to go ahead and accept your offer. If the seller has no other offers, then you may be able to buy their property at a reduced price, and they may be more flexible with their terms.
Taking the time to go through the pre-approval process for a mortgage has some distinct advantages. Once a lender gives you the green light, it can help you find a great property at a fair price while eliminating a lot of hassle.
What if I can't get pre-approved for a mortgage?
Getting denied for pre-approval should not discourage your efforts, although you may need more time to prepare for this large purchase. Therefore, here are five things you can do if you can't get pre-approved for a mortgage loan.
1. Ask for an explanation
Mortgage lenders are helpful and they'll provide a reason for the rejection, plus advice on how to proceed. Several factors can disqualify you for a mortgage loan, such as inadequate income, a low credit score and questionable employment. However, if you take a lender's advice and make the necessary improvements, you might qualify for financing in the future.
2. Build your bank account
When applying for a home loan, the lender will ask for copies of your bank statements. This is to ensure that you have enough cash for your down payment and closing costs. In addition, some lenders want to see a 2 to 3-month cash reserve after paying mortgage-related expenses. If you will not have a cash reserve after paying closing costs and the down payment, the lender may recommend that you postpone buying a house until you've saved additional money.
3. Add points to your credit score
A conventional mortgage loan requires a minimum credit score of 650 or higher. Therefore, if you're turned down for a mortgage due to a low credit score, take steps to build your credit. This can be as simple as paying all your bills on time over the next 6 to 12 months, or paying off a credit card to decrease your credit utilization ratio, which will subsequently raise your FICO score.
4. Increase your income
On the other hand, you might have excellent credit, but not enough income to qualify for a mortgage loan. There are several ways to approach this dilemma. Speak with your lender to see if you can qualify for a lesser amount; or if your spouse works, perhaps you can apply for a joint mortgage, at which time the lender uses your combined income to determine affordability. And if too much debt prevents a pre-approval, paying off credit cards and other loans — student loans, auto loans and personal loans — can increase purchasing power and help you qualify for the desired amount.
5. Wait until the two-year mark
Employment gaps can be the kiss of death when applying for a mortgage loan. For the most part, mortgage lenders require 24 months of consecutive income. Therefore, if you're just entering the job market, or if you were unemployed in recent months, the lender may reject your application and require that you wait at least two years before re-applying for a mortgage loan.
Bottom line
Applying for a mortgage loan will have its share of obstacles, especially since lenders have tightened their requirements. However, if you carefully prepare for a purchase, you can successfully meet a lender's qualifications and get the keys to your new home.

---
Filed Under: Cash-Out Refinance