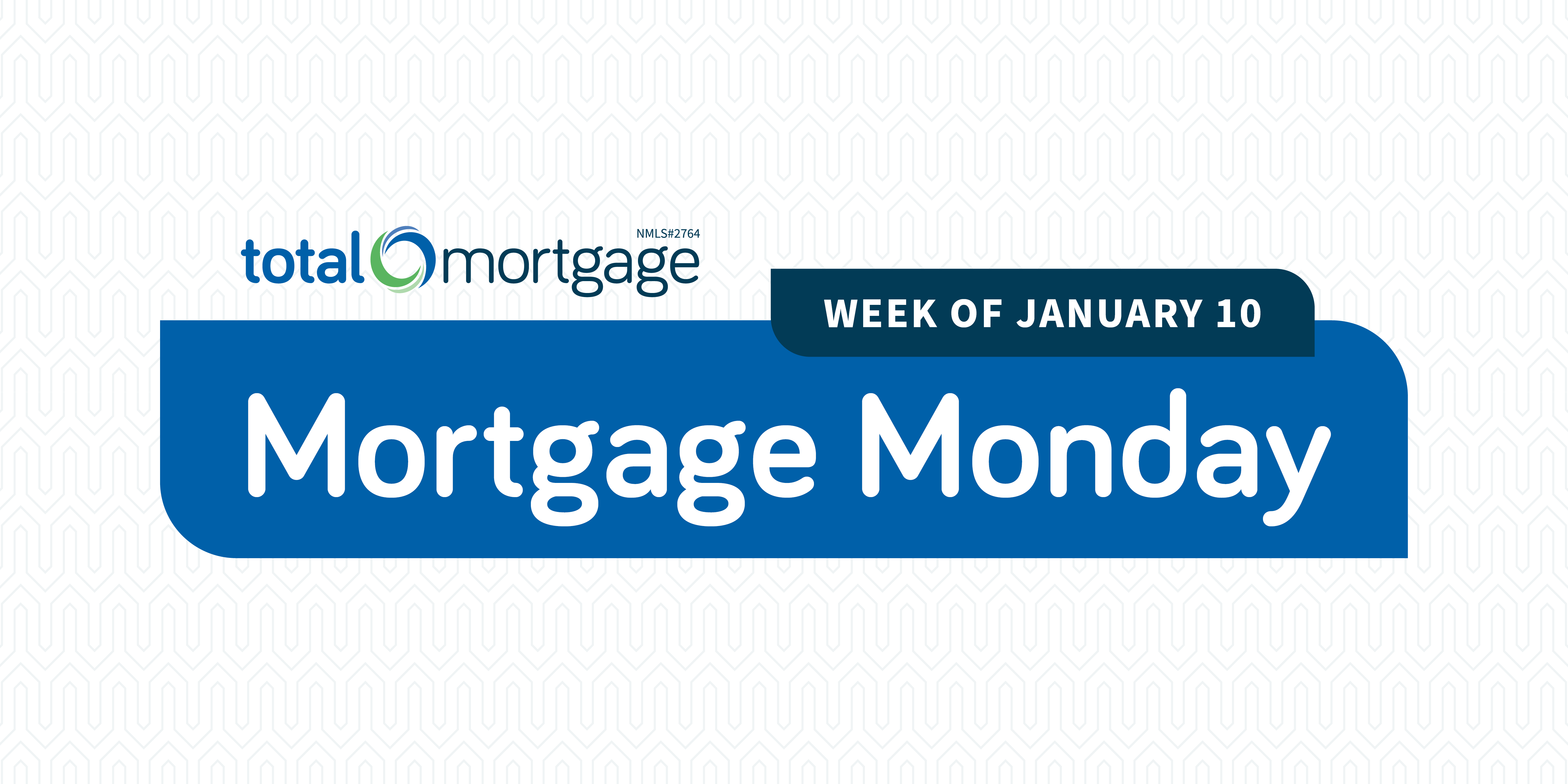 With significant increases in mortgage rates and application volumes, 2022 is already showing us the effects of the Federal Reserve's expedited tapering plan. Things are moving fast, so let's get right into this week's update with the latest mortgage industry news.
Rates Update
In the week ending January 13, Freddie Mac reported some of the largest average mortgage rate increases in recent months. According to Freddie's PMMS, loan products across the board showed increases of upwards of 0.2 percent – bringing rates to their highest since early 2020. Our predictions:
Refinance opportunities could be disappearing. Should mortgage rates continue to increase, the window to refinance at a lower rate will subsequently close. Acting sooner than later will benefit you in the long run, so be sure to

contact your Total Mortgage loan officer to get started

.
Mortgage application volume will increase. On January 12, the Mortgage Bankers Association (MBA) reported a

1.4 percent increase in mortgage applications

from the week prior; this increase will likely continue in the coming weeks as buyers take advantage of the market before further rate hikes.
As always, we'll continue to keep you updated as the market develops and mortgage rates shift. The Federal Reserve's next meeting on January 26 will likely shed more light on the above as we close out the month. For now, contact us if you have any concerns or are ready to lock in a rate before they continue to rise.
Older, but Still Important News
Even with this recent spike in mortgage rate numbers, let's not forget about older news that will still hold prominence in the months to come.
Earlier this month, the Federal Housing Finance Agency (FHFA) announced upcoming fee increases for certain Fannie Mae and Freddie Mac home loans. Effective April 1, 2022, upfront fees for these options will have the following increases:
Upfront fees for high-balance loans will increase between 0.25 and 0.75 percent.
Upfront costs for second home loans (non-primary residence) will increase between 1.125 and 3.875 percent.
These increases will ultimately depend on each product's loan-to-value ratio. "High-balance" loans qualify as any that go above the conforming baseline limit introduced on January 1 – more information on that below.
At the start of the month, the borrowing limits for Conventional and Federal Housing Administration (FHA) loan options saw significant increases to help buyers combat rising market prices. The conforming limit for single-unit home loans is now $647,200 – an 18.05 percent increase from last year's limit. To learn more about these changes and your new borrowing options, get in touch with your Total Mortgage loan officer.
In Closing
Despite everything, the market is still in a favorable place for buyers – but for how much longer? Even in the face of Omicron concerns, mortgage rates are rising and are only expected to continue doing so throughout the year. If you've been waiting for the perfect rate, now may be one of your last chances to lock it in; contact us to get started and stay tuned for next week's Mortgage Monday update!
---
Filed Under: Uncategorized
Tagged with: first-time-home-buyer