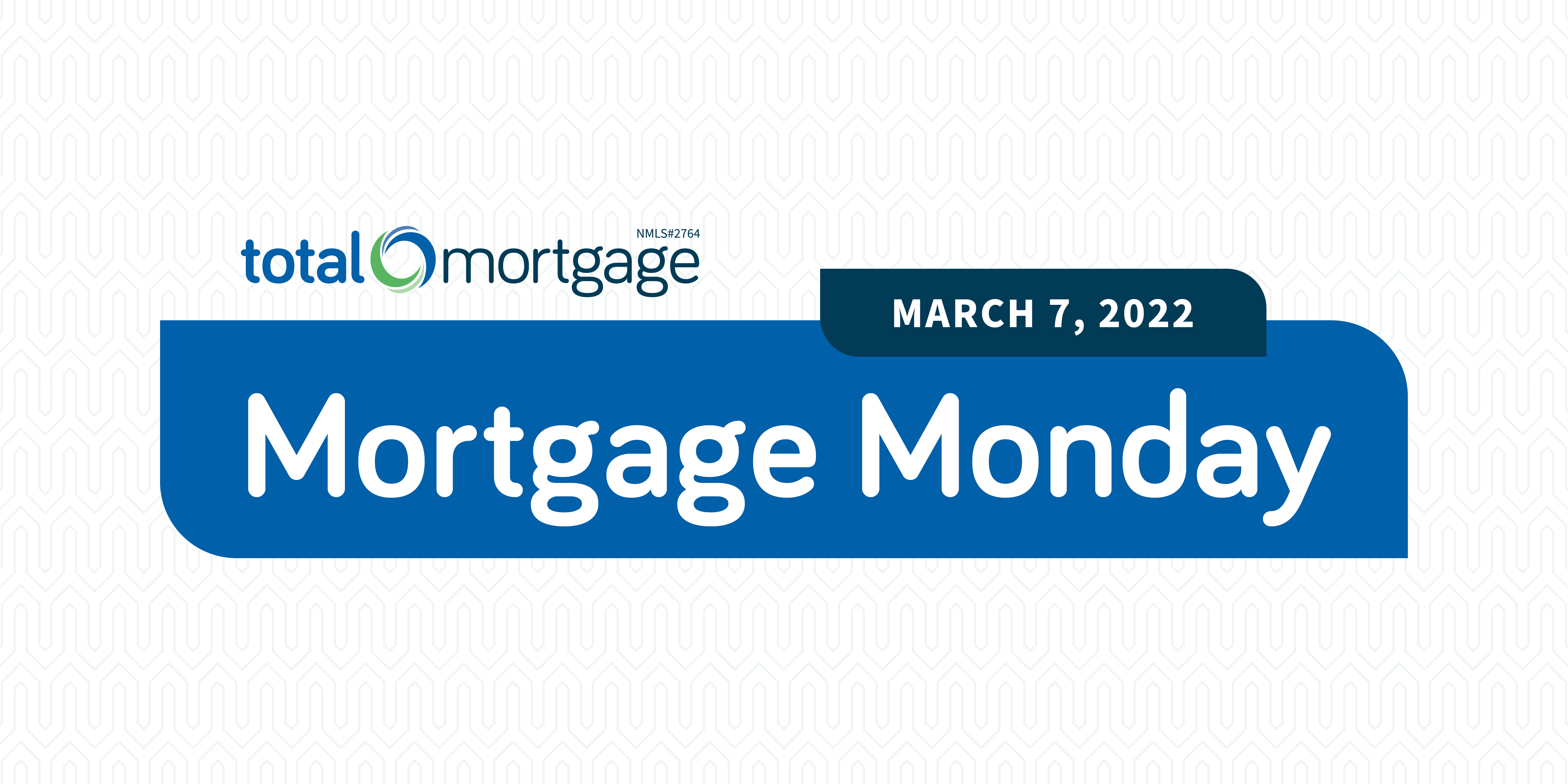 Another Monday, another Total Mortgage update on the state of the industry. Let's get started!
Rates Update
Freddie Mac's Primary Mortgage Market Survey reported mortgage rate decreases for the week ending March 3, citing geopolitical tensions and the Ukraine conflict as root causes of the shift. Most experts (Freddie included) predict this will only be a short-term decrease and that 2022's trend of rising rates will continue in time. For now, consumers should strongly consider applying now with a Total Mortgage loan officer before things shift back to pre-pandemic levels.
We expect mortgage rates to remain volatile for the immediate future before "leveling out," or returning to the gradual increase we've observed since the start of this year. Of course, this will likely depend on how global tensions resolve. Find a mortgage banker now or contact us if you have any questions.
Purchase Application Volume Overtakes Refis in MBA Report
Last week, the Mortgage Bankers Association reported that refinance applications dropped to less than half (49.9 percent) of the overall industry volume, signaling a return to a purchase market. Since the start of the year, rising mortgage rates have created fewer refinance opportunities for homeowners; and as they continue to rise, many consumers will be pushed to purchase instead. Still, the window to refi is still open for the time being and our team of experienced loan officers is ready to help. Find a Total Mortgage loan officer now to get started while it's still a good time to refinance.
Older, but Still Important News
Let's cover some of the most significant industry news that has affected buyers since the start of this year.
At the start of February, the Federal Housing Finance Agency (FHFA) lifted its restrictions on borrowers with self-employment income. These were originally put in place in response to the pandemic but have since been removed, offering borrowers greater opportunities in an already competitive market. The same credit and income requirements may apply, but home financing is now generally more accessible for the self-employed.
The Federal Housing Finance Agency (FHFA) announced upcoming fee increases (effective April 1, 2022) for certain Fannie Mae and Freddie Mac home loans. These increases will ultimately depend on each product's loan-to-value ratio. "High-balance" loans qualify as any that go above the conforming baseline limit introduced on January 1.
To learn more about any of these recent developments, contact your Total Mortgage loan officer today.
In Closing
As always, we'll continue to keep you updated every Monday with the latest industry news. For now, it seems that the immediate future of mortgage rates will ultimately depend on developments in Ukraine and internationally. It's important to stay optimistic and informed, especially during this time. Enjoy the rest of your week and be sure to follow us on Facebook for next week's update.
---
Filed Under: Uncategorized