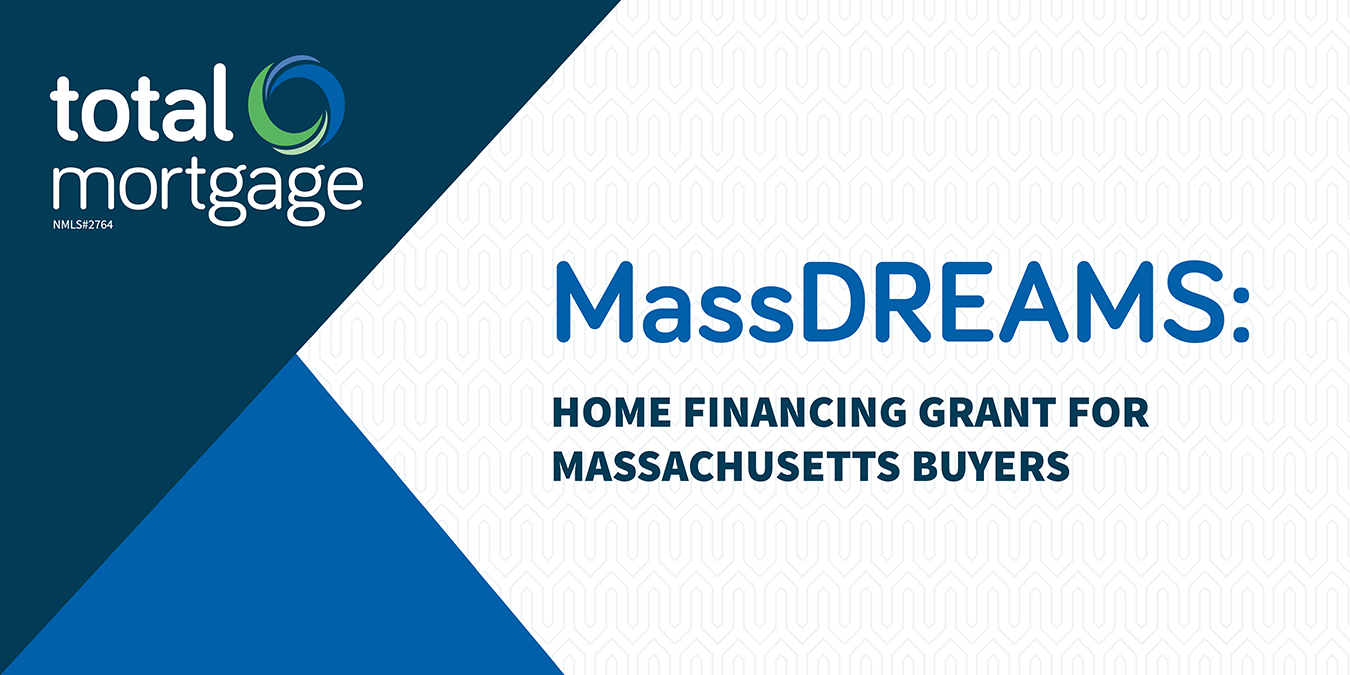 As of 11/30/2022, the MassDREAMS program has been discontinued. Please contact a Total Mortgage loan officer to determine whether you qualify for any other down payment assistance programs.
MassHousing, an agency that provides financing for affordable housing in Massachusetts, and the Massachusetts Housing Partnership have come together to launch an initiative called MassDREAMS. This initiative delivers financial assistance in the form of grants to low and moderate-income homebuyers, helping them reach their goals even in a down economy.
MassDREAMS, which stands for Delivering Real Equity and Mortgage Stability, provides down payment and closing cost assistance through grants to first-time homebuyers in Massachusetts. Properties must be located in select communities with economies that were hit hardest by the pandemic.
Only homebuyers who are accessing a MassHousing loan or the Massachusetts Housing Partnership (MHP) first mortgage loan are eligible for grants. The grant funds do not need to be repaid and can be directed toward a down payment or closing costs, making the homebuying process more affordable to residents who need it the most.
This perk is being made available thanks to federal funding via the American Rescue Plan Act of 2021, a piece of legislation that delivers relief to U.S. states affected by COVID-19 economic fallout.
In Massachusetts, this means first-time homebuyers can receive up to $50,000 in grants for properties located across 29 qualifying cities that were hardest hit by the pandemic. These towns include:
Attleboro
Barnstable
Boston
Brockton
Chelsea
Chicopee
Everett
Fall River
Fitchburg
Framingham
Haverhill
Holyoke
Lawrence
Leominster
Lowell
Lynn
Malden
Methuen
New Bedford
Peabody
Pittsfield
Quincy
Randolph
Revere
Salem
Springfield
Taunton
Westfield
Worcester
MassDREAMS Details
Eligible homebuyers can qualify for grants of different amounts depending on certain criteria, primarily around the average median income (AMI). In Massachusetts, the AMI differs depending on the county where the property is located. For instance, Berkshire County's AMI is $117,855 while Essex County's is higher at $179,955.

Homebuyers who earn a maximum of 100% of the AMI could qualify for a grant of as much as $50,000.
Homebuyers who earn between 100.01% and 135% of the AMI could qualify for a grant of as much as $35,000.
The funds, which come in the form of a grant, translate to 5% of the property's purchase price as well as relevant closing cost help.
The grant money could also be used toward eligible insurance subsidies.
Affordable Mortgage Products
Considering that the MassDREAMS grant must be paired with a state-sponsored mortgage program, we thought it would be helpful to learn more about the loan products available to you.
The MHP offers the ONE Mortgage loan, which is meant for first-time homebuyers in the low-to-moderate-income categories. It has a discounted 30-year fixed interest rate attached as well as a low down payment comprising at least 3% of the property purchase price. The minimum rises to 5% for a three-family residence. There's no Private Mortgage Insurance (PMI) requirement, which saves homebuyers more money on closing costs.
Alternatively, the One+ Boston loan is meant for eligible first-time homebuyers in the city of Boston. It includes a "heavily discounted" fixed 30-year interest rate as well as further homebuyer assistance provided by the city of Boston. There's no PMI requirement and eligible residents may qualify for more financial help.
To qualify for this loan, you'll need to prove your residency in the city and also complete a homebuyer class. Your income must fall below pre-established limits, which depend on your household size. Your total household assets should not exceed $75,000.
MassHousing also offers a mortgage product to homebuyers in the state, delivering $700 million annually to approximately 3,000 homebuyers in Massachusetts. Features of this loan include down payment help of up to $30,000 and even $50,000 in some cases. In addition to first-time homebuyers, repeat borrowers could also qualify. The loans have a competitive 30-year fixed mortgage rate attached with no option for adjustable rates.
The MassHousing mortgage loan also offers job-loss protection comprising as much as $2,000 monthly for principal and interest payments for up to half a year. There is no additional cost to borrowers on loans that are insured by the authority. MassHousing also offers an intertwined purchase and renovation loan, which can be used both to finance the deal and account for any repairs the property may need.
Total Mortgage is among the lenders to have partnered with MassHousing for these mortgage loan products. Reach out to one of our mortgage experts today to learn more about these programs.
How to Qualify for a MassDREAMS Grant
To qualify for a MassDREAMS grant, prospective homebuyers should meet certain criteria. First and foremost, you should be a first-time homebuyer. Also, you should live in any one of the 29 Massachusetts towns listed above – all of which were hit especially hard by the health crisis.
In addition, you should purchase a single-family home, condominium, or even a multi-family home of up to four families. However, the property should serve as your primary place of residence. Also, you should meet the income standards that are associated with each given jurisdiction.
To qualify, residents must complete a homebuyer education course that is approved by MassHousing. MassDreams also offers a pre-screening process so that you can know sooner than later whether you will be eligible for the grant funds. You can access that questionnaire here.
If you meet these early qualifications, you will receive a letter letting you know.
Total Mortgage and MassDREAMS
MassDREAMs has partnered with a number of lenders to help facilitate the grants throughout Massachusetts, including Total Mortgage. Contact Total Mortgage today for access to the expert advice of our mortgage bankers at offices across Massachusetts. They will help you learn whether you qualify for a MassDREAMS grant and can support you through the home-buying process.
---
Filed Under: Uncategorized