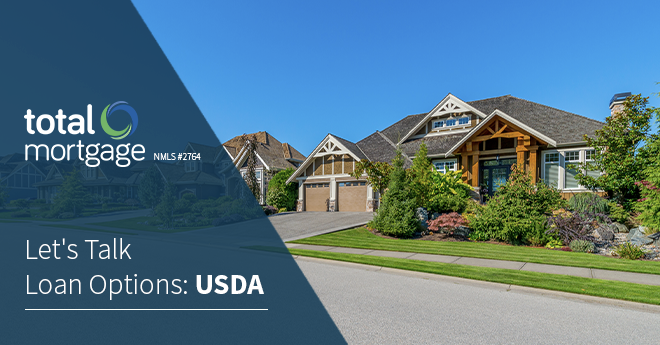 History:

Just like the Federal Housing Administration (FHA), the United States Department of Agriculture (USDA) Rural Development executive order was created during the Great Depression to help less fortunate families relocate. It wasn't until the fall of 1994 that the USDA Development Department was created to help administer the USDA Home Loan Program for rural housing. Today, 97% of the United States is eligible to qualify for a USDA loan based on the population guidelines, which state that if an area has a population of 35,000 or less, those residents are able to apply for a loan through the USDA.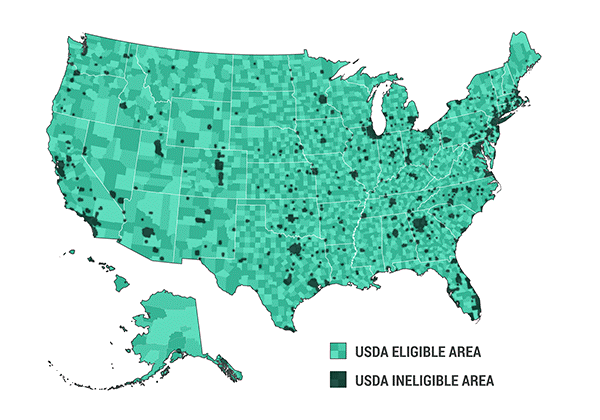 What are your options:
The USDA Home Loan Program offers two types of loans:
•  USDA Direct Loan: This loan comes from the USDA with the ability to have longer than the typical 30-year terms, lower rates, and lower monthly payments. USDA Direct is catered towards those borrowers with lower income (between 50% and 80% of the median income for the area) looking for a property to be their primary residency.
• USDA Guaranteed Loan: This loan option is given by a lender and guaranteed by the USDA. This loan is strict with borrowers meeting the requirements. USDA Guaranteed is catered towards those borrowers with an average income (up to 115% of the median income for the area). There are less property restrictions with this loan.
Credit score requirements:
In our last post, Let's Talk Loan Options: FHA Loan, we discussed how mortgages are not a one size fits all financial investment, therefore it is important to shop around for the mortgage program that is right for you. We also discussed the importance of a credit score when looking at mortgage products. While you should always work to improve your credit score, the USDA does not have a minimum credit score requirement set by the department itself. However, lenders may set one of their own.
If a lender sets a credit requirement for a USDA loan through their business, they typically use 640 as a benchmark. However, just like the FHA loans, if you have a lower credit score, it does not mean that lenders will turn you away. The USDA uses a program for their underwriting process called GUS, or Guaranteed Underwriting System. When a potential borrower has a 640 or above, they qualify for automation approval. For those potential borrowers who fall below the benchmark, they require a manual underwriting process rather than the automation.
Down payment requirements:
One of the main advantages of a USDA loan is the 0% minimum down payment that is required. This takes the burden off of borrowers to come up with a down payment for their future home. Now, you may be thinking that because there is no down payment that there must be additional fees somewhere throughout the loan. The good news is that USDA loans don't have private mortgage insurance or PMI.
In exchange, USDA loans have an upfront fee that is paid once (about 1% of the loan) and an annual fee (about 0.35% of the loan). As an example: let's say the cost of your future home is $200,000 and you have chosen the USDA loan as your best fit. Your upfront fee will be around $2,000 while your annual fee will be around $700.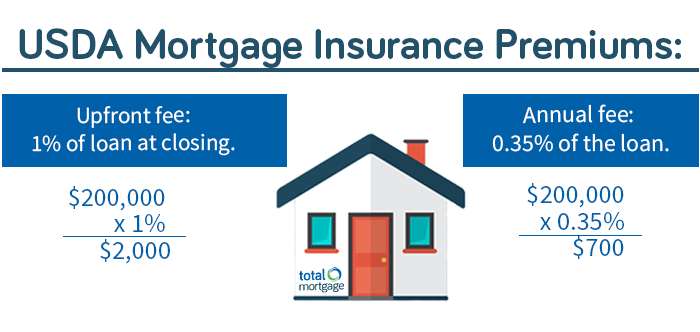 It is important to note, when taking out a USDA loan on a property, the property that the USDA loan is on needs to be your primary residence. If it is not, you will not be able to qualify for this loan option.
Summary:
USDA loans are great for those who want more grass than pavement surrounding their permanent residency, and for borrowers who are worried about making a down payment, providing a less stressful mortgage process for those who decide to borrow! 
Sources:
https://www.usdaloans.com/program/
---
Filed Under: Uncategorized