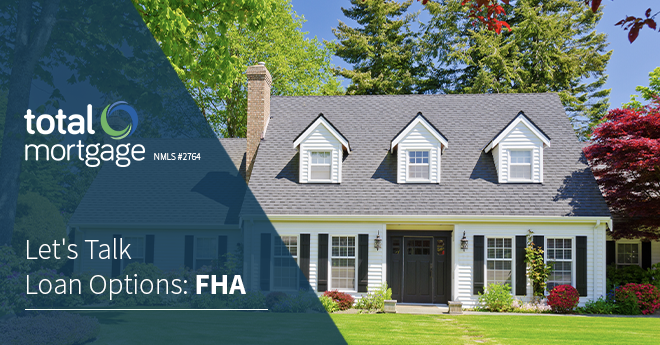 History:
Mortgages are not a one size fits all financial investment. As we learned in the History of Mortgages, FHA loans were created in response to the financial crisis of Great Depression. FHA loans, provided by the Federal Housing Administration, were the first mortgage product available to citizens that provided a fixed rate, were self-amortizing, and had long-termed options. Today, FHA loans are perfect for first-time home buyers, folks with low credit, or low-to-moderate income households.
Credit score requirements:
All mortgages begin with your credit score. You may ask: how does my credit score affect my future mortgage?
Credit scores help the lender assess your risk and play a role in determining the down payment. In most circumstances, to qualify for an FHA loan, a borrower is required to have minimum credit score of 580. However, depending on the lender you choose, a score as low as 500 may be accepted.
Remember: a credit score is an adult's version of a GPA. It can always be improved. Keep working at it!
Down payment:
FHA loans require a down payment between 3.5% and 10%. The down payments are determined by your credit score. Here's a breakdown: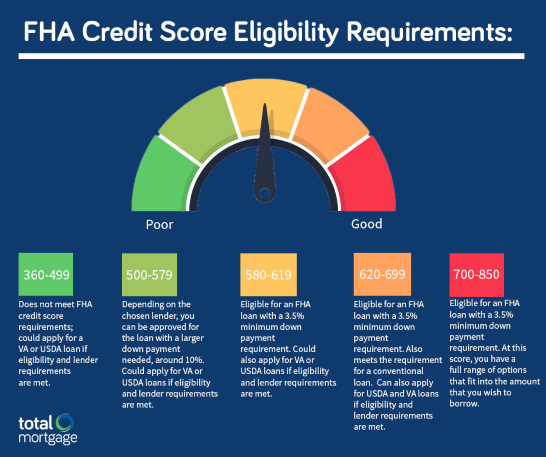 Mortgage insurance requirements:
It is important to understand that FHA loans don't come directly from the Federal Housing Administration. Instead, they come from a lender, like a bank or mortgage company like Total Mortgage, and the FHA guarantees the loan, meaning they insure against default. This benefits the borrower by allowing the FHA loan to have:
Smaller down payment requirement of 3.5% to 10%.
Flexible credit score guidelines depending on the lender of your choice, making it easier to qualify.
Lower interest rates allowing monthly payments to be more manageable for those with low to moderate income.
Lower fees such as closing costs and mortgage insurances.
In addition to all the benefits of FHA, there are two mortgage insurance premiums that are required on the loan. These go directly to the FHA and protect the lender from borrowers who default on their loan.
The first premium is the Upfront Mortgage Insurance Premium and is equal to 1.75% of the loan amount.
The second is the Annual Mortgage Insurance Premium that is charged on a monthly basis, and ranges anywhere from 0.45% to 1.05% of the loan amount.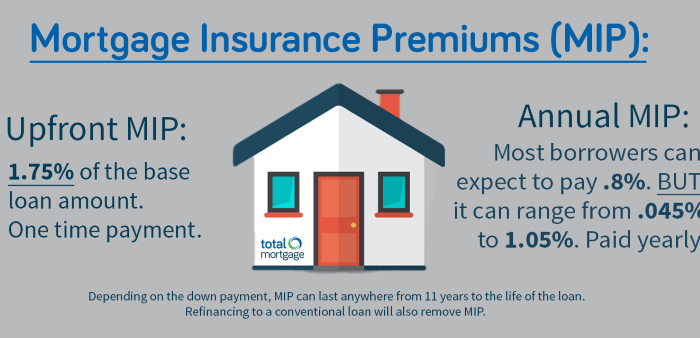 Comparison of loans:
FHA loans are a great option for those who are starting out or have low credit scores. However, not all loans are built the same and it is important to know your options depending on your financial situation. Here's a comparison of mortgages:
Buying a fixer upper? A FHA203k improvement loan: This loan allows homebuyers to lump in renovation costs with their mortgage.
Buying in a rural or suburban area? An USDA loan: This loan is 0% down and also has a higher credit score requirement for automatic underwriting. However, with this loan you need to be in an area that is considered to be "rural" by the USDA.
Are you or a family member a former service member? A VA loan: This loan option does not have a credit score requirement. There is also 0% down payment required on the loan. However, this loan is focused towards Veterans and their families to help them achieve the American dream.
Are you a first-time home buyer with a high credit score? A Conventional 97: This loan option has a higher credit score requirement of generally 620. However, this loan offers a 3% required down payment as opposed to the FHA 3.5%
Summary:
While it is important to know all of your loan options, FHA loans are a great option for anyone looking for a first home or those with low credit. The FHA allows the American dream to become a reality. Talk to a Total Mortgage Loan Officer today to get started!
Sources:
https://www.fha.com/fha_credit_requirements
---
Filed Under: Uncategorized