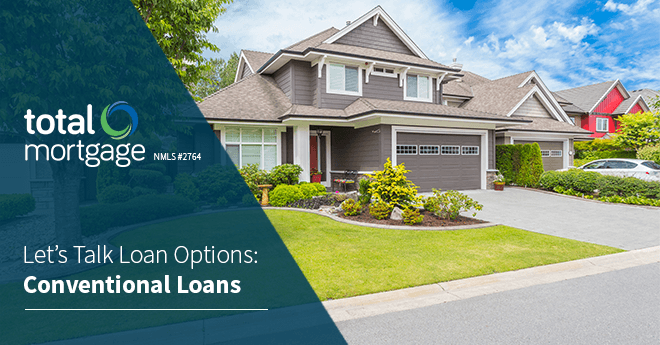 History of Conventional Home Loans:
As we learned in our post about FHA loans and the history of mortgages, being a homeowner prior to the Great Depression was a major challenge that only few could take on. Thankfully, the mortgage industry was revamped in order to make homeownership a more attainable goal. One of the changes made was the introduction of modern conventional loans with the most common loan terms being 15 and 30-year mortgages. Today, conventional loans are regulated by The Federal National Mortgage Association (Fannie Mae) and The Federal Home Loan Mortgage Corporation (Freddie Mac).
Fannie Mae was created by congress in 1938. Fannie Mae mortgages –long termed and fixed-rate – allowed the American Dream to become a reality. The new mortgage products also allowed borrowers to refinance. In 1968, Fannie Mae became a private shareholder-owned corporation and began funding its operations through Wall Street instead of the federal government. During these thirty years, Fannie Mae was the largest buyer and seller of government-insured mortgages.
Freddie Mac, on the other hand, was created in 1970 to provide continuous and affordable mortgages for the American people as well as to keep Fannie Mae from functioning as a monopoly in the mortgage industry. Nearly 20 years later, in 1989, Freddie Mac went public.
In 2017, conventional loans (Fannie Mae and Freddie Mac) funded 73.8% of new homes. Conventional loans, sometimes known as conforming loans, dominate the mortgage industry. With close ties to the government, they are likely to never fail, allowing Americans to forever be able to accomplish the American Dream.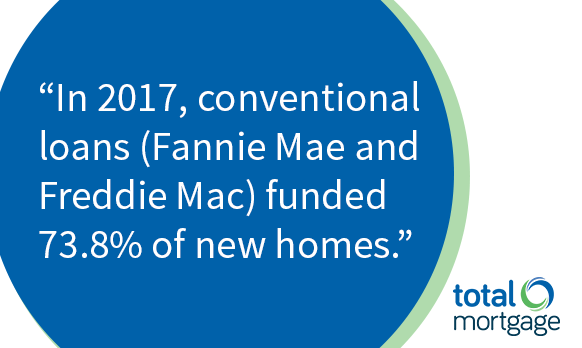 Credit Score Requirements for Conventional Home Loans:
Your credit score is kind of like an adult GPA. These three numbers follow you throughout your adult life and determine what you are qualified for. However, it is important that you maintain and improve your credit score.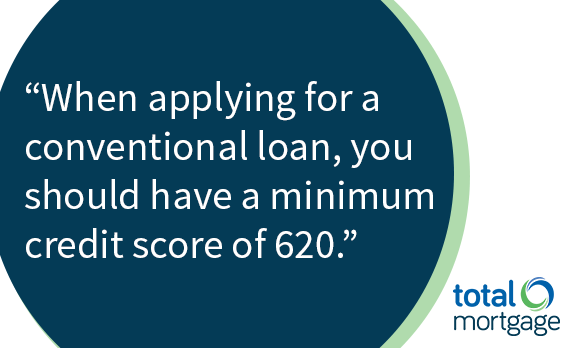 When applying for a conventional loan, you should have a minimum credit score of 620. If your credit score is not there yet, contact your Total Mortgage lender about your options and down the road, you may be able to refinance into a conventional loan.
Conventional Mortgage Down Payment Requirements:
Down payments for conventional loans range between 3% and 20%. The variance of down payments depends on the type of conventional loan that you qualify for and the property that you are purchasing. For example, a Conventional 97 has a 3% down payment requirement, and is the lowest down payment available for conventional loans. If you are buying a second home, a multi-family home, an adjustable rate mortgage, or a jumbo loan, your down payment requirement will range from 5% to 40%.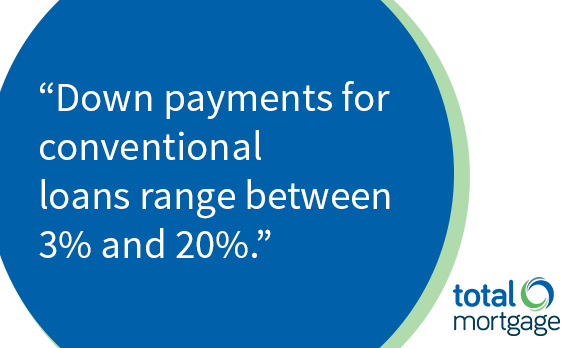 With the variance of down payments, there is also a PMI, or private mortgage insurance, that is required on the loan if less than 20% is put down by the borrower. However, unlike FHA PMI, conventional PMI is able to be removed from your mortgage payment once you reach 20% equity on your home. You should contact your lender to do so, or PMI will automatically fall off after 22% equity on the home has been reached.
In short, if you put a down payment of 20% on your loan, you will not have to enter into PMI. PMI is put in place on loans to protect the lender if the borrower defaults on the loan.
What are your options if a Conventional Home Loan isn't for you?
With the requirements above, what if you do not qualify for a conventional loan? What do you do?
Mortgages have been made for every financial background. If conventional loans are not the way you want to go, consider:

USDA Loans – these loans are great if you are looking to live in rural or suburban areas. There is also no down payment requirement and credit score requirements are made by the lender themselves.
VA Loans – if you have served or had a spouse that has served, this loan option is available to you. It does not have a down payment or credit score requirement.
FHA Loans—these loans are great for first-time home buyers that do not want to live in a USDA approved property or who don't qualify for a VA loan. FHA loans have a low-down payment requirement and have low credit score requirements. You can learn more about FHA Loans here.

If you are unsure still, you can visit our my mortgage builder. This program will ask you some questions and help you determine which mortgage option might be best for you.
OR, contact our Loan Officers today! They will be able to find a loan that is the best fit for you based on your wants and needs.
Summary:
Conventional loans are a great option for borrowers with a credit score over 620 who don't qualify for other loan products like VA or USDA loans, and could potentially put you in a home for as little as 3% down. If you'd like to find out more about conventional loans, or to get pre-approved today, please contact one of our loan officers at totalmortgage.com/bankers.
Sources:
https://www.fanniemae.com/portal/about-fm/fannie-mae-history.html
---
Filed Under: Uncategorized