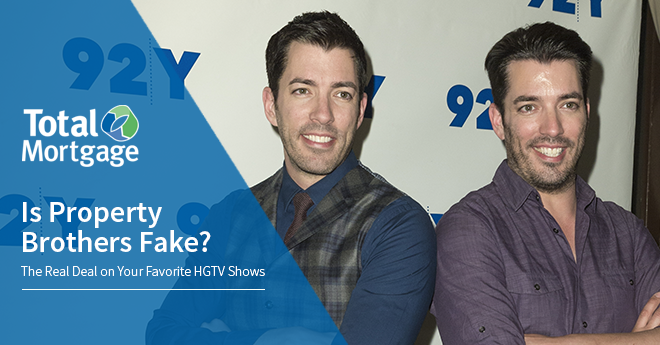 For those of you out there trying to find the right house, line up a loan, and pin down quotes on real-life renovations, HGTV can be half escapist fantasy, half masochistic pity-party.
But what if what you see isn't the whole story—is Property Brothers fake? Is Fixer Upper a setup? Can you even trust This Old House anymore?
If you're wondering which shows have more than a passing familiarity with reality, stick around. We'll go through some of the most popular and see how they check out.
Is Love It or List It fake?
The premise for this fan favorite is pretty simple: hosts David (a realtor) and Hilary (a designer) meet with two homeowners who are unhappy with their current home. While Hillary fixes up their old house, David takes them shopping for a new one. At the end, the owners decide whether to stay or put it on the market.
Of course, once you binge your way through a few episodes, a pattern begins to emerge—something you'll find is common with a lot of home renovation shows. One member of the family is always desperate to move, and another hell-bent on staying. They always hate the first home David shows them, and always have to make a tough call when Hilary discovers an unplanned-for problem.
Unsubstantiated claims that the show is not all it appears have swirled for years. In a Reddit thread on reality shows, one user who had relatives on the show revealed that show had them "record both endings and the network chose which one they thought was best. They are still in the house and they love it, but the show says they listed it." Another commenter chimed in to add that the renovations don't actually take owner's wishes into account.
Those comments turned out to be pretty genuine. In April of 2016, the show ran into legal trouble when a featured couple filed a lawsuit claiming that the show hired a contractor they hadn't approved and used a chunk of their deposit for staging instead of renovations.
The lawsuit claims that, "The show is scripted, with roles and reactions assigned to the various performers and participants, including the homeowners." The contractor also allegedly left holes in the floor and painted the windows shut.
Yikes.
Verdict? Pretty darn fake.
Is House Hunters fake?
The concept behind House Hunters (and its spin-off, House Hunters International) is a lot like Love it or List it, minus the fancy renovation bits. Basically, a local real estate agent takes a relocating couple through three potential houses. In the end, they pick one.
In 2012, though, a buyer featured on the show wrote about her experiences, dropping a bombshell in the process: the homes her family considered weren't for sale (they belonged to friends) and they had already closed on the home they picked when House Hunters came a-knocking.
Of course, this one detail takes the basic premise of the show and grinds it into a finely milled powder. Once it sinks in that the show is essentially 30 minutes of strangers poking around other strangers' homes and then pretending to choose the house they already own, the whole thing becomes a completely different show.
Verdict? SUPER fake. (Though still a pretty decent guilty pleasure.)
Is Property Brothers fake?
Ah, Property Brothers. As one of the most popular HGTV shows on the airwaves at the moment, it's a safe bet you're familiar with the Scott twins and their dimples. In case you're not, here's the rundown.
Jonathan and Drew Scott are a builder and realtor (respectively) team whose shtick is convincing deal-seeking home buyers to go for one of three fixer-uppers and then renovating it.
As this Reddit thread from a potential client reveals, though, most people on the show have already zeroed in on a house, and in some cases have already purchased it.
Also interesting to note is that the casting call questionnaire places a lot of emphasis on personality and relationship dynamics, suggesting that maybe all that early episode bickering might be something producers are keen on cultivating.
Verdict? A little fake
Is Fixer Upper fake?
For 5 seasons, Fixer Upper followed Chip and Joanna Gaines, the perfect realtor/renovator/designer team as they renovated their way through Waco, Texas.
The show format is very similar to a few others we've touched on: a couple is shown several houses, they settle on one, and then comes the renovation process, courtesy of super couple Chip and Joanna.
As you might already suspect, Fixer Upper falls into some of the same traps as similar shows. As evidenced by its own casting application, couples featured on the show aren't actually in the market for a house. They've already bought one and passed all the details on their new abode, from square footage to budget limits, onto the network via the 71 question application. So the beginning of the show should be taken with a grain of salt.
And also—no, homeowners don't get to keep all the furniture. Aside from a few of the homeowner's own pieces, the rest is only there for staging purposes, and only in the rooms that have been renovated for the show. When the cameras leave, so do the artfully scuffed farm tables and the dried flowers.
A consolation prize? According to at least once source, though, Chip and Joanna are just like they appear on the show.
So, things were a little staged. But as Fixer Upper goes off the air and Fixer Upper: Behind the Design (which showcases the interior design aspect of the show) takes its place, it's easy to forgive some fudging here and there.
Verdict? A little fake.
Is This Old House fake?
After 36 seasons and several spin-offs, the grandpappy of home renovation shows is still going strong, courtesy of PBS. It does stand apart in other ways, though.
Instead of covering a house an episode, each season follows just one property, giving the show a lot more room to get into the knitty gritty details of the renovation process.
The show is, by its own admission, semi-scripted. But that doesn't necessarily that what you're seeing isn't honest.
According to the above blog post by a former featured homeowner, on the first day of shooting, the director quizzes the home owner on the history of the home, the buying process, etc and then distills their responses on the fly into a more ordered script. They then take several takes to make sure they have one that sounds good.
And according to another post, the first day of demo had the hosts rolling up their sleeve and getting to work sans construction team—probably not something you see too often on HGTV construction sites.
Verdict? A real as TV gets.
Click here to get today's latest mortgage rates (Sep. 26, 2022).

---
Filed Under: Uncategorized