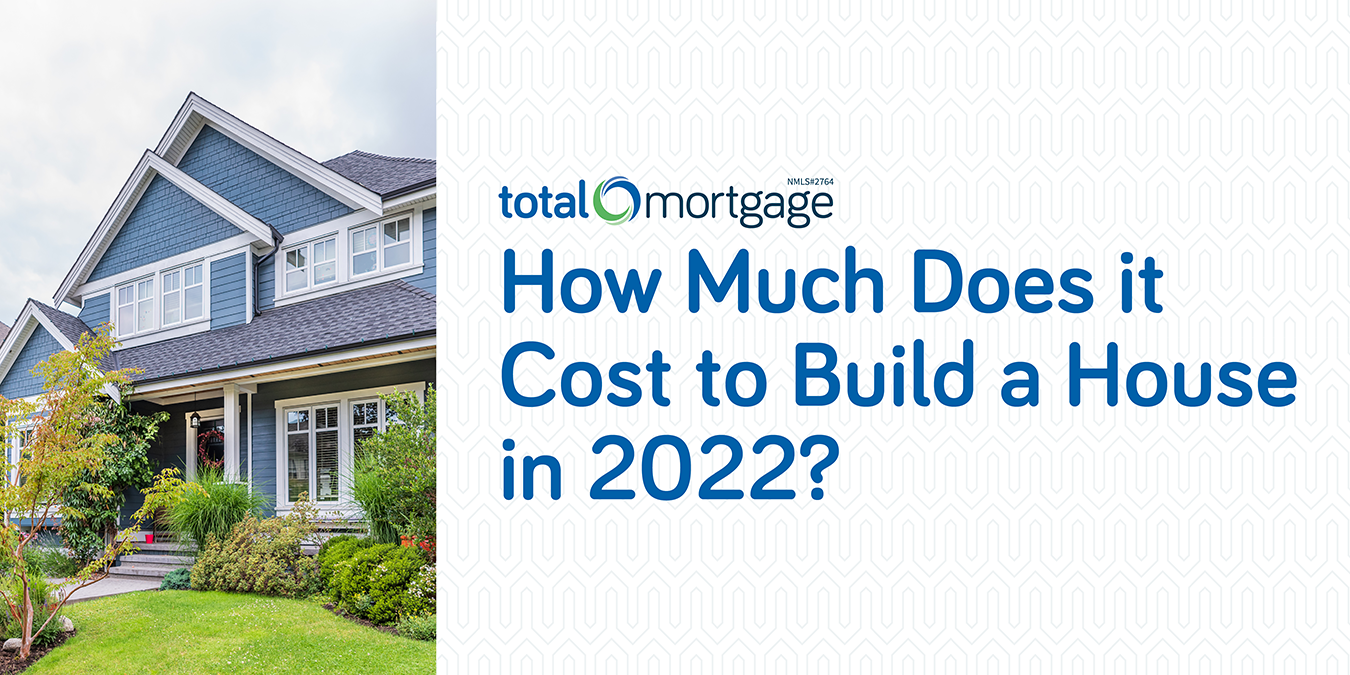 With ever-changing aesthetic preferences and a desire for more control over a house's layout, space, and amenities, it can be challenging to find the perfect home. However, many homeowners, especially those just starting out, have trouble deciding whether or not these extra expenses are worthwhile.
This leaves many asking, "how much will it cost to build a house in 2022?"
Cost to Build a House in 2022
A study by the National Association of House Builders (NAHB) found that the average cost to construct a home was $296,652; however, an estimate by HomeAdvisor explained that the numbers are somewhere between $110,640 and $448,411, with increased numbers for 2022.
Labor and material costs have risen sharply with the general cost of living in 2022. According to HomeAdvisor, prices have gone up from 5% to 10% this year with long delivery times for construction materials. While the overall cost to build a house in 2022 is higher than it was in previous years, it doesn't necessarily mean building a house is beyond the average budget.
If you're planning to build a house, it's recommended to start as early as possible, allowing for extra time to order materials and prepare for possible price changes.
Here are a few major costs to consider when building a house in 2022.
Land
The NAHB reported a record-high median lot price of $53,000 for single-family lots, although the cost of land can range from $3,000 to $150,000 depending on factors such as lot size, location, and the availability of utility connections. Rural areas can have lot prices as low as $3,380.
But purchasing land is just the first step. An excavation contractor will also be needed to do a clearing for construction prep to ensure that the land you chose can hold your home, which may add another $1,300 to $5,100 to the total cost, as well as:
Soil testing ($800-$2,100)
Land excavation and grading ($1,500-$5,600)
Land surveyor ($400-$750)
Once your contractor gives the go-ahead, it's time to get the necessary permits to kick off home construction; however, local regulations, building codes, and associated costs will depend on your location.
Here's a breakdown of the typical permit cost ranges:
Building permit: $432 – $2,211
Basement permit: $1,200 – $2,000
Electrical permit: $10 – $500
HVAC permit: $250 – $400
Plumbing permit: $50 – $500
Materials
About 50% of your budget could go toward home-building materials. The price of materials like flooring will vary greatly depending on your choice of quality and whether you go for higher-end options.
Here are the average prices for building materials, but the price you pay will depend on the quality and size of your home:
Lumber: $25,000-$65,000
Concrete: $4-$8/sq. ft
Drywall: $10/sheet
Framing: $20,000-$50,000
Flooring: $1-$5/sq. ft
Siding: $2-$15/sq. ft
Insulation: $0.10-$1/sq. ft
Roofing: $5,700-$25,000 ($1.50-$14/sq. ft)
Window installation: $3,000-$9,600
HVAC unit installation: $5,000-$75,000
Interior costs can be between $50,000 and $175,000+
Basement: $110-$300/sq. ft
Outdoor living space: $4,150 to $11,190
In-ground pool between $36,000 and up to $100,000
Solar panel cost: $18,000-$35,000
Size of the House
The cost of construction varies greatly from project to project but generally ranges from $100 to $200 per square foot – and can even reach as much as $500 per square foot for more luxurious features.
One-bedroom homes can cost anywhere from $80,000 to $400,000 on average, while two-bedroom homes can cost up to $480,000 on average. Large, luxurious, and spacious three-bedroom houses can cost as much as $800,000 to build, whereas four-bedroom homes can go up to $1,000,000 or more.
Labor
Next to material expenses, one of the most crucial expenditures during the home-building process is the cost of labor. Costs range from around 30% to 50% of the overall cost of the building, according to HomeAdvisor. The labor cost to build a house in 2022 depends on the size of your house, the contractor's buying power, the size of your home, and the complexity of the project.
Some labor costs include:
General contractor cost: 10%-20% of the total project cost
Construction manager: 5%-15% of the total project cost
House framer: $7-16/sq. ft
Architects: $125-$250/hour
Structural engineer: $100-200/hour
Draftspeople: $50-130/hour
Interior designer: $50-200/hour
Landscape architect: $70-150/hour
Electrician: $50-100/hour
Plumber: $45-200/hour
You should also factor in the possibility that installation services, such as those for security systems, flooring, and carpeting, may require hiring subcontractors – many of whom charge rates within the same ranges as general contractors.
In the market for a home loan? Total Mortgage's loan experts are standing by to help you to understand your options.
Building a House vs. Buying
After considering all the costs associated with construction, you may be debating whether it's better to purchase an existing home and renovate it or start from scratch.
When you construct your own house, you get to choose exactly the features you want to include, which is a significant perk compared to buying an existing home. Building a house from scratch allows you to customize every detail to your specifications, saving you time and money over the long run compared to purchasing an existing structure and renovating it to meet your needs.
Buying, on the other hand, could be more cost-effective since you won't need to spend money on things like a land assessment or landscaping.
Apply Today With Total Mortgage
Inflation and your desired level of luxury make it challenging to estimate the cost to build a house in 2022. Variable costs, such as those for contractors, materials, and designs, are all affected by where you live and the state of the economy, which is the most critical factor in determining whether or not it's financially viable to construct a home.
However, working with a lender that recognizes your needs and goals can make a world of difference. Total Mortgage has your back.
Start your application with Total Mortgage today and get your free rate quote.
---
Filed Under: Uncategorized