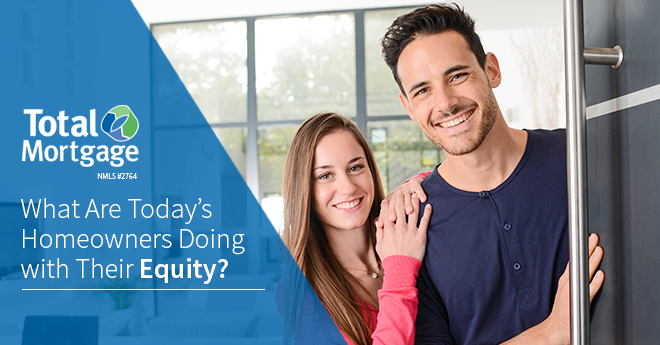 Nearly a decade after the housing bubble burst, rising home values are finally raising the levels of home equity for millions of American families. By the end of the second quarter, more than 12.3 million homes were equity rich—meaning their owners owed less than 50 percent of the property's value on outstanding mortgages—according to real estate data provider RealtyTrac.
But what are 2016's homeowners doing with all that equity after the recession? Let's take a look at the data.
Equity over the last decade
During the boom years, equity rose so quickly that many owners were accessing it for non-essential expenses in the belief that rising prices would quickly replace their withdrawals. When values plummeted in 2007, millions went "underwater" when they found themselves owing more on their mortgages than their homes were worth.
If they suffered financial reversals like unexpected medical bills or unemployment during the Great Recession, any of these families defaulted and lost their homes to foreclosure.
Homeowners of 2016 and equity
The lesson of the recession was not lost on today's homeowners. Over the last few years, lenders (us included) have seen an increase in homeowners who are more careful about accessing their equity.
In fact, the leading reasons for both refinancing or taking out home equity loans seemed to be mostly expenditures that will save them money or improve their financial condition, like home remodeling that will improve the value of their home, paying off debt to reduce the amount they pay on interest, or making similar financial investments.
A recent survey by the Federal Reserve Bank of New York got to the numbers behind what many had already suspected.
Here are both the top three reasons homeowners are accessing their equity for cash and the three things homeowners who haven't taken out their equity would do with it if they had.
When you increased the balance on your mortgage when you last refinanced, what did you use this money for?
To help pay my other debt, such as credit card debt, auto loans, student loans, or medical bills

50.7 percent

To make renovations or improvements to the home
43.7 percent
To make other financial investments (for instance, buy stocks)
12.2 percent
If you take out an additional loan on your primary residence over the next 12 months, what would you use it for?
To make renovations or improvements to the home
74.7 percent
To help pay my other debt, such as credit card debt, auto loans, student loans, or medical bills

19.2 percent

To pay for my regular living expenses
12.8 percent
Note: Respondents could select multiple uses. Questions were only asked of those respondents whose Probability of an Additional Loan in the next 12 months is greater than or equal to 10%.
---
Filed Under: Homeowner Tips, Housing Market
Tagged with: home equity, home equity loan, home equity loan uses, home equity usage, homeowner equity 2016, today's homeowner equity