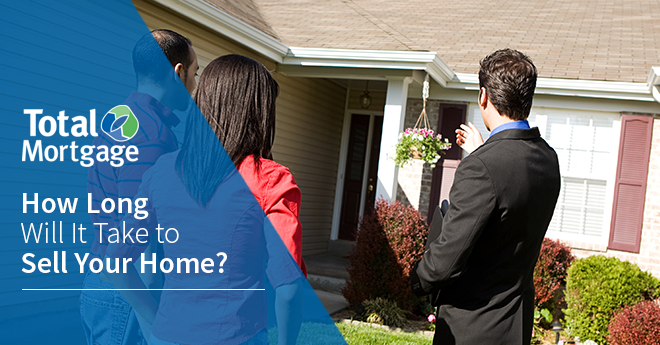 After "how much should we list our house for?" the second question most home sellers ask is "how long will it take to sell?"
For a home seller, time is more than money. Every day that the old house remains unsold is another day that life is on hold. You want to get settled and start anew, but can't—unless you take the risk of buying a new home while the old one is still on the market.
That is what selling a house was like for millions of move up buyers during the depths of the housing recession from 2007-2012. Prices crashed in 2007 and stayed flat for years. Floods of foreclosures swamped local inventories. Houses languished on listing services for a year or longer. Sellers offered to pay for a buyer's home warranty, closing costs, new furniture, even season tickets to the hottest team in town.
Today times are dramatically better for sellers. Prices have risen more than forty straight months in a row and in a majority of markets they are reaching or exceeding the peak price levels set in the boom years.
Selling a house is still stressful, but thanks local market data that has become relatively accessible to consumers in recent years, making a very educated guess on how long it will take to sell is no longer a matter of throwing darts at a dartboard.
Get a feel for your market
Local market reports from real estate brokers and agents as well as websites that carry listings include data that will provide an understanding of how quickly homes are selling and how your home might do.
As you think about what the demand might be, understand that market is defined by more than location. When buyers search for homes online, they enter price ranges, house types, and sizes as well as location. Those factors shape the market for your home as much as your address. So compare your home only to nearby comparable homes (or "comps") that share the same price range, size, house type and location.
Review stories in your local paper and market information on local real estate websites. Look for information on the rise and fall of inventories of homes for sale and measurements like "days on market" and "months supply" that give you a clue as to how quickly homes are selling in your market.
Talk to your real estate agent for more information on sales in your neighborhood. Agents and brokers have access to the latest market data from your local multiple listing services, and they can organize it by price, size, and other factors. MLSs are ideal sources of information about trends in local inventories of homes for sale. Your agent will prepare for you a comparative market analysis (CMA) that addresses both pricing and how long it may take the property to sell.
Surf local listings and track specific houses that seem to be comps like yours. Note how long the stay market and whether owners decide to lower prices to generate interest.
Understanding the Terminology
As you do your research, you'll encounter terms that you may not understand. Here's a brief glossary.
Days or Time on Market.  DOM measures the length of time a property has been listed on multiple listing services—the database of homes for sale maintained by your local Board of Realtors. MLS rules allow sellers to withdraw properties that aren't selling and relist them after a given period.
Days on (name of the site). National websites report how long they have had a listing, not how long it has been on an MLS, which can be different.
Months Supply. This is a mathematical calculation of how long it would take to sell all the homes on a market at the current level of demand. Many housing economists prefer MOS to Days on Market because it is less susceptible to seasonal fluctuations.
Average Age of Inventory. Some websites report changes in the average age of all homes listed in a market as a way to track how supply and demand are changing. As the age rises, more houses are taking longer to sell, and vice versa.
Pricing Strategies
The price at which you list your home will almost certainly affect how quickly it sells. The lower the price the faster it sells. If you are in no hurry to sell, however, you have the luxury of asking a higher price and hoping that the market will rise, or a buyer will fall in love with your house and pay a premium. If you fail to get a contract after 90 days or so, you can delist it and relist it at a lower price.
However, you don't want to find yourself in a situation where you have to lower your price very far or very often. Every price change will be noted on your listing, and everyone interested in your home will get an email, so price cuts are a good way to rekindle interest. Repeated cuts and houses that spend more than 90 days on market raise doubts among buyers that something might be seriously wrong with the property.
---
Filed Under: Housing Market, Real Estate Investment
Tagged with: housing market, how fast do houses sell, how long to sell a home, how to sell a house, listing a house, listing a property, lowering asking prices, months of supply, sell a house quickly, selling a home