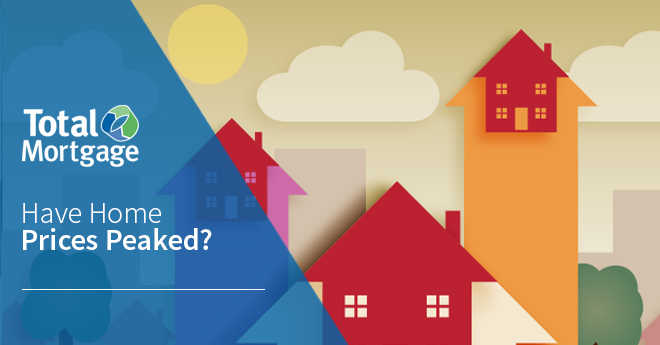 Over the past three years, the median home price has risen about 15 percent[1]—which is a lot for real estate. This year, the housing economists expect price appreciation to slow down as markets stabilize and consolidate their gains. But what does that mean for the years to come?
The aftermath of the housing crisis
When the crash in 2007 devastated home values, many predicted that prices would never return to their peak levels at the height of the housing boom. Notably in 2015, Nobel laureate Robert Shiller told Business Insider there wasn't much reason to believe that home prices would appreciate back to price levels last reached during the boom.[2]
"People trap their savings in a home. They're running an opportunity cost of not having that money liquid to earn a better return in the market. Why do it?" he said.
Shiller had a point. It has taken nearly a decade for most—57 percent—of the nation's top 300 housing markets to reach or exceed their peak prices. For five years, prices and home values languished. Then, once the recovery kicked off in 2012, prices increased faster and were less driven by inflation than price appreciation during the boom years.
So have we officially reached peak prices? If not yet, when?
The answer depends on what you measure and who's doing the measuring. Moreover, real estate is super local. Different markets, different Zip codes, different neighborhoods, different house sizes and price tiers—even houses next door to each other change value at different rates and in different directions. So even if some markets have reached the peak, it doesn't mean yours has.
Most economists believe that the national median house price has several years to go to reach the peak. The National Association of Realtors, which was one of only two or three sources tracking home sales on a national basis a decade ago, sets the peak median home price peaked at $227,633, reached in the 3rd quarter of 2005.[3] As of February, it had reached $210,800, up 4.4 percent from February 2015 and the 48th consecutive month of year-over-year gains.[4] With only 7.3 percent to go, at a 4.4 percent rate of annual increase, we could reach NAR's peak within two years.
Not everyone is as optimistic. Though the S&P Case-Shiller, the three indices Robert Shiller created, reported prices rose 5.5 percent last year[5], faster than NAR, they slowed at the end of 2015[6]. At slow rates, Case-Shiller will also take several years to reach its peaks in 2006.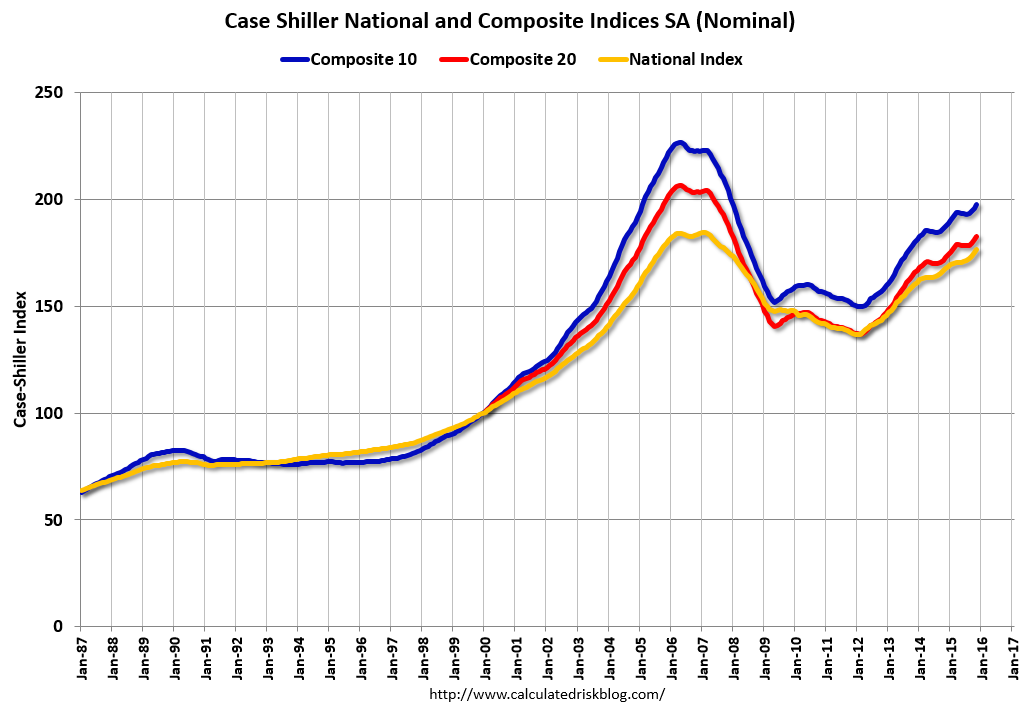 One measurement, the official one used by the US government, reports peak prices were reached in October 2015[7] and had continued to rise at about .5 percent a month. The Federal Housing Finance Agency's Home Price Index (HPI), which uses data supplied by Fannie Mae and Freddie Mac.
The FHFA index showed prices nationwide rose 6.1 percent in October from a year earlier. Prices have continued to increase through the end of 2015 by one-half percentage point per month. FHFA said the index for December was raised from a 0.4 percent month-over-month gain to 0.5 percent, and the January increase was the same.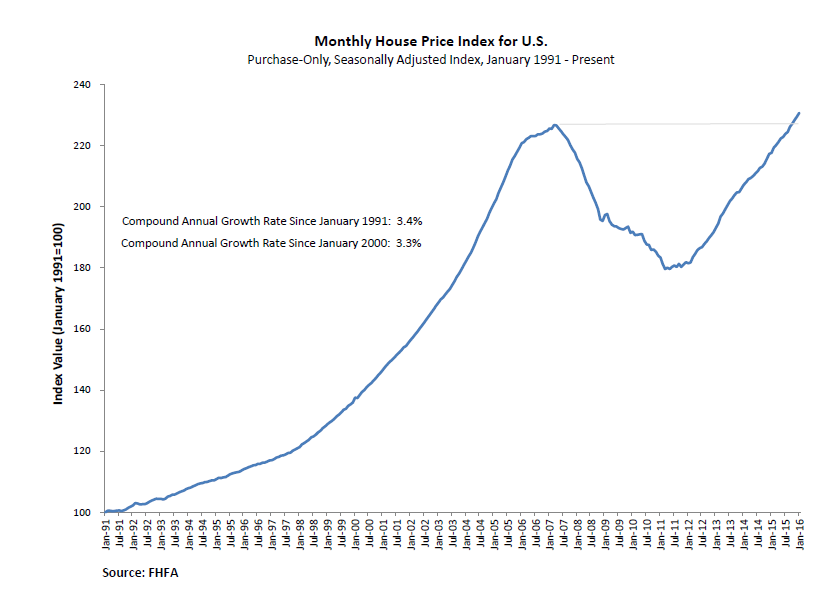 The index increased from December to January in eight of the nine census regions with only the Middle Atlantic division (New York, New Jersey, Pennsylvania) decreasing, and that by a slight 0.1 percent. The largest increase was in the South Atlantic divisions (coastal states from Delaware to Florida) where prices jumped by 1.7 percent. The HPI rose 6.0 percent nationwide in January, an acceleration from the 5.8 percent year-over-year increase reported for December. On a divisional basis, the changes were all positive ranging from 1.7 percent in the Middle Atlantic division to 8.9 percent in the South Atlantic region.
[1] http://us.spindices.com/indices/real-estate/sp-case-shiller-20-city-composite-home-price-index/
[2] http://www.businessinsider.com/robert-shiller-home-investment-a-fad-2013-2
[3] http://economistsoutlook.blogs.realtor.org/2014/12/11/home-prices-rebound-but-still-down-from-peak/
[4] http://www.realtor.org/news-releases/2016/03/existing-home-sales-fizzle-in-february
[5] https://www.spice-indices.com/idpfiles/spice-assets/resources/public/documents/308145_cshomeprice-release-0223.pdf
[6] http://www.coinnews.tv/u-s-house-prices-forecast-2016-video/
[7] http://www.bloomberg.com/news/articles/2015-12-22/home-prices-in-the-u-s-increased-0-5-in-october-fhfa-says
---
Filed Under: Commentary, Housing Market
Tagged with: home prices, housing market, Housing prices, Housing Recovery, peak home prices, peak housing market, real estate market, rising home prices