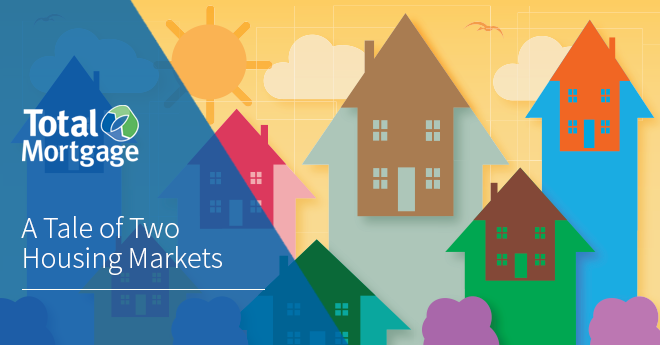 The good news:
While the exact numbers will vary depending on where you live, the latest survey of real estate experts forecasts that home prices will end 2016 up 4.5 percent on year-over-year basis.
And the bad:
Looking forward, they also expect the annual pace of home value appreciation to slow to 3.6 percent in 2017, 3.2 percent in 2018, 3.1 percent in 2019 and to 2.9 percent in 2020.
America's two housing markets
House prices have always varied greatly by location, but never more so than during the current housing recovery. Prices are—and have  been—rising at very different rates in major markets.
Since the housing boom and bust gave way to recovery, the U.S. housing market has seemingly split into two unequal parts: Middle America, and coastal America. Home values are growing rapidly in markets on both East and West Coasts as hot job markets help keep demand for housing high, and more slowly in the Midwest and Heartland, where negative equity is still pervasive and job growth scant.
As a result, Americans—especially younger millennials—are moving away from Middle America and to the coasts in large numbers, whether for jobs, lifestyle preferences or both.
This June, home prices in San Francisco were rising 9.5 percent on a year-over-year basis while prices in Chicago rose only 1.4 percent.
How long will this trend continue?
More than half of those experts in the survey said they believed this trend has either already begun to reverse or will reverse in coming years.
Another 11 percent said this trend was actually an illusion, and that coastal markets are no more or less popular now than they've always been relative to Middle America. Just 25 percent of experts with an opinion said the coastal/Middle America split was likely to be permanent.
Of those experts who said the trend was likely to reverse, a majority (56 percent) said job growth in the middle of the country—driven by companies looking for cheaper alternatives to the coasts in which to expand—would eventually lure residents back to the Heartland.
Similarly, almost a quarter (24 percent) said Americans would migrate inland in search of more affordable housing, and 13 percent said Americans would start to seek the most traditional lifestyle that the middle of the country has to offer. Only 2 percent said climate change is likely to force residents away from the coasts.
In addition to the coastal/inland divide, the housing market has also experienced a notable shift between urban and suburban communities. The suburban home – long a symbol of success, stability, and the American Dream—may be losing some of its luster as urban homes grow in value more quickly.
Local factors, like employment and income growth, transportation infrastructure improvements like new highways and mass transit, and new home construction will have as much or more impact on home prices in your community than national or regional factors.
What this means for you
So far, coastal markets have been doing well. Prices are up, and many have started to think they're on their way back to pre-crash highs. However, thanks to all the possibilities discussed above, that may not be the case at all.
If you're in a hot coastal market, this can mean three things for you:
Thinking about selling your home? 2016 might just be the best year to do so.
Just bought a home this year? Don't expect your new home to appreciate as it has been, at least through the end of the decade.
Looking at buying a home as an investment? You'll probably get a better rate of return in the stock market. However, these predictions will vary greatly depending on where you live.
This, of course, depends on your location.
---
Filed Under: Housing Market, Real Estate
Tagged with: coastal housing market, coastal real estate, home prices dropping, home prices rising, Housing Recovery, middle america housing market, middle vs coastal america, real estate market, two housing markets