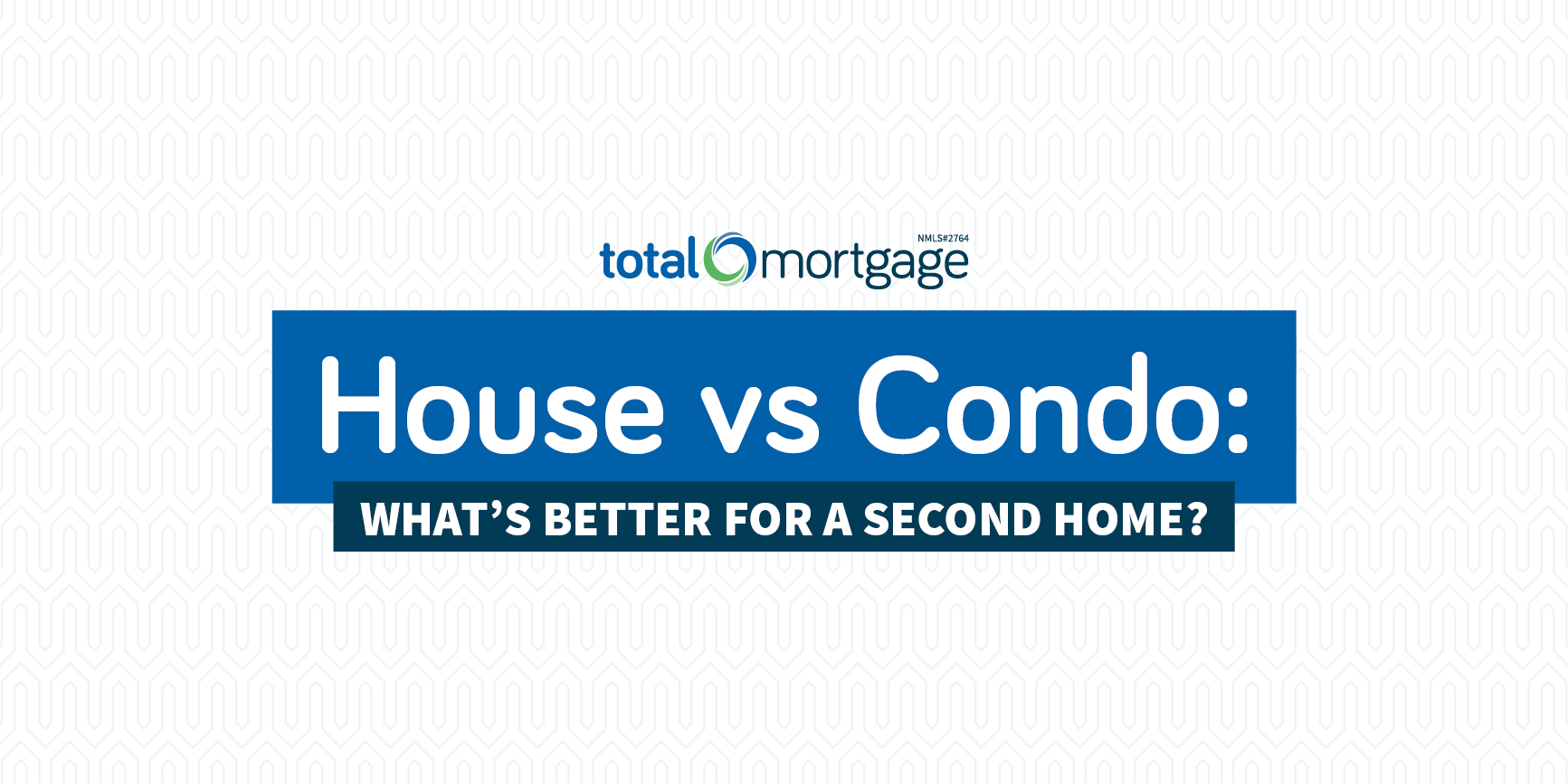 If you have a primary residence and excess finances, you may find yourself considering a second home as your next big purchase. Whether it's a new vacation spot or a real estate investment, it can be a great way to explore new locations and grow your financial independence. But what type of property is best for a second home?
In this article, we'll explain the differences between houses and condos, their potential advantages and drawbacks, and more.
What's the Difference Between a House and a Condo?
While the differences between houses and condos are fairly straightforward, it's still worth covering the details – because even the basics will help you make a more informed decision on your homeownership journey.
House: More Privacy, More Space
A house is a standalone structure that provides the owner with complete privacy and freedom. They come in various sizes and styles, allowing for customization according to the owner's preferences. They also typically have more square footage, which could be a great benefit if you're considering renting the home to tenants or converting it into a multifamily property.
The maintenance of the house, however, is the sole responsibility of the owner and includes everything from the interior to the land it sits on. This could be good or bad depending on your goals. For now, just remember that ownership of a house generally comes with more room – both indoors and outdoors.
Condo: Lower Maintenance, More Amenities
Condos, on the other hand, are residences within a larger complex that is typically owned by a community or condo association. They are usually much smaller compared to houses but provide the benefits of community living, such as shared amenities and lower maintenance costs.
Residents of condos have the option to customize their housing units to a certain extent, but the freedom to make major renovations is often limited by rules and regulations. With this in mind, condos can offer more affordability than houses. Similarly to apartments, however, the noise level can be higher compared to houses due to the close proximity of the units.
Overall, the choice between a house and a condo depends on your lifestyle, preferences, and financial situation. It's important to weigh the pros and cons of each option before making a decision. A loan expert near you could be of assistance in determining your best path forward.
Buying a House: The Pros and Cons
Now that we've covered the high-level differences between houses and condos, let's dive deeper. Here are some of the pros and cons of pursuing a house or condo as a second property.
Advantages of Buying a Second House
A house might be larger than a condo and provide additional space if you have a large family or group of friends. And if you're also using the property as a vacation rental home, a house might be more attractive to vacationers looking for extra space that a condo won't have.
Depending on where you live, the cost of a condo might also be just as expensive as a house. In this case, it would be a no-brainer to financially pursue a house – the option that offers more space. Even if you prefer a condo because of its cozy, intimate feel, you'll likely get more bang for your buck with a house if the price point is the same.
Drawbacks of a Second House Purchase
In most cases, there's no escaping maintenance and repairs when you purchase a house. Traditional houses have yards that need constant attention – and because they are often bigger than condos, you'll spend more time and money on upgrades and improvements. Since you'll also be maintaining a primary residence at the same time, it might be better to buy something smaller and minimize the maintenance costs on a second property.
Depending on where you purchase your second house, it could also cost significantly more than a condo. Always be sure to weigh your goals and budget with the location and features of a house if you plan on buying a second one.
Buying a Condo: The Pros and Cons
Buying a second house sounds like an appealing option – but let's look at the finer details involved with condos.
Reasons to Buy a Condo as a Second Home
Cheaper Maintenance: the smaller space condos offer means you'll spend less time and money maintaining the inside of the home. And because you don't need to worry about maintaining a yard or outside amenities with a condo, it's the perfect second home if you plan on spending a lot of time away from the property.
Affordable Mortgage: condos are also a good choice for a second home because they're often cheaper than some houses. You'll have a lower mortgage payment, plus you'll pay a smaller down payment and fewer closing costs. It will ultimately be easier to afford a second home and a primary residence simultaneously.
Community Benefits: some condo communities offer a variety of amenities, such as a swimming pool, a clubhouse with a bar, tennis courts, hot tubs, a children's area, and more. Depending on the quality of the condo complex, your second home could be the equivalent of escaping to a four or five-star resort.
Condo communities (or associations) may be easily confused with homeowners associations (HOAs). Learn more about the key differences here.
Are There Disadvantages to Buying a Condo?
Condo communities come with specific rules – and while living within a shared community certainly has its benefits, there may be drawbacks as well. Let's break things down:
Limited Customization: Condos often have restrictions on the level of customization that can be made to the unit, limiting the owner's ability to personalize their space.
Noise: The close proximity of units in a condo building can lead to higher noise levels, especially if neighbors are not respectful of each other's peace and quiet.
Maintenance Fees: Owning a condo often means paying a monthly maintenance fee to cover the upkeep and repair of common areas and amenities. These fees can add up over time and can become a burden for the owner.
Limited Privacy: The shared walls and close proximity of units in a condo complex can result in a lack of privacy compared to a standalone house.
If none of these things matter in your search for a second home, a condo may be the right choice for you.
Total Mortgage loan experts specialize in helping with condo-purchasing needs. Use our home purchase calculator to see realistic expectations and get in touch with a representative when you're ready.
House vs Condo: The Bottom Line
Houses and condos both make great second homes, but you'll need to narrow down what you're looking for in a property and run the numbers first. As with any home purchase, location will also be an important factor – especially if you want your second home to be in a city or popular vacation spot. Depending on all the factors, a house may be cheaper than a condo or vice versa.
To ensure you're making the best decision with your second home purchase, work with Total Mortgage. You can get a free rate quote in minutes with no commitment and speak to a loan expert dedicated to your unique needs.
---
Filed Under: mortgage monday