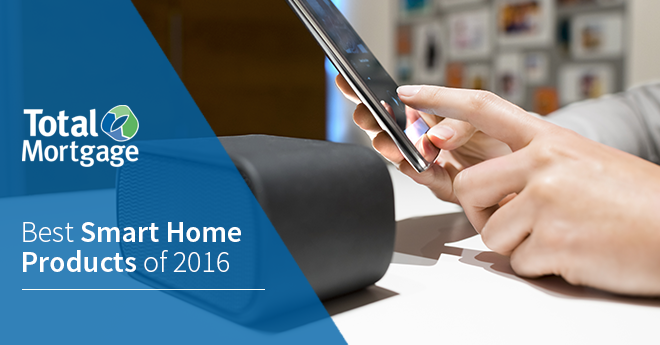 Whether you see 2016 as a good or a bad year, there is no denying it was busy. We saw a new American president get elected, the Cubs win the World Series for the first time in 108 years, and the United States reopening relations with Cuba, just to name a few things.
Another area that pushed forward in 2016 was technology, specifically, smart home devices.
What is a smart home you ask?
It's a home that uses integrated technology that allows users to control and monitor key areas of their home via an app on their phones (e.g. lights, thermostat, security system).
Here is a list of the best smart home products that came out in 2016:
1. Chromecast Ultra 
Many people may have heard of Apple TV as the next stride in TV technology.
Well, Chromecast Ultra is Google's own, and arguably better, version of such technology.
For those who aren't familiar with the smart TV movement, Chromecast Ultra is a small plugin to your TV that allows you to surf the web and access your favorite TV show apps form your television. It is equipped with 4k HD and HDR picture, which means your shows will be extremely clear.
On top of that, Chromecast Ultra has the speed and reliability of any other Google product. Not to mention, besides the cord to go into the TV, this product is completely wireless! This is definitely a must- have to turn your TV into your own personal oversized computer screen.
2. Amazon Echo Dot
The Echo dot is the second generation of Amazon's Alexa. It's a   hands-free voice controlled device you can use to play music, get the news, and set reminders, just a few of her capabilities.
Much smaller than the Alexa, the Echo Dot is no more than a few inches wide and 2 inches high, making it easy to find a place to set her up.
Having one myself, I can say with confidence that the capabilities of this small machine are endless, and you just might find yourself sitting for hours picking her brain.
3. Nest Learning Thermostat
I bet you never thought that technology would improve your thermostat.
Well, it has.
The Nest thermostat, be controlled through your phone using an app, learns from you and your actions;it finds out what temperatures you like at what times, and programs it into itself.
Nest can alsohelp you save energy, since you're able to see all of your energy history, allowing you to know exactly how much you have used at any specific time.
On top of that, Nest shows a green leaf any time you choose a temperature that saves you energy.
If you're looking for that new piece of technology that will pay for itself in a few months, the Nest learning thermostat is the choice for you.
4. BeON Home
BeON is the new way to keep you and your family safe from a robbery.
It's a light system that, just like the Nest thermometer, learns from your actions. When you go away, the lights have learned from your behavior, and still turn on and as if you were there. Also, they respond to someone ringing your doorbell when you're away, turning lights on and off like you were moving around the house to scare off unwanted intruders.
Download the App, and you can control your lights when you're away with the click of a button. If safety is your number one priority, the BeON is the product for you.
Bottom Line 
The technology world has now reached the home world, making your day-to-day lives easier by the minute. There is something new for everyone, no matter what your priorities. If you want a new friend, a smarter TV, thermostat, or lights system, the technology is out there waiting for you.
---
Filed Under: Homeowner Tips
Tagged with: Best Smart Home Products, smart home, smart home devices