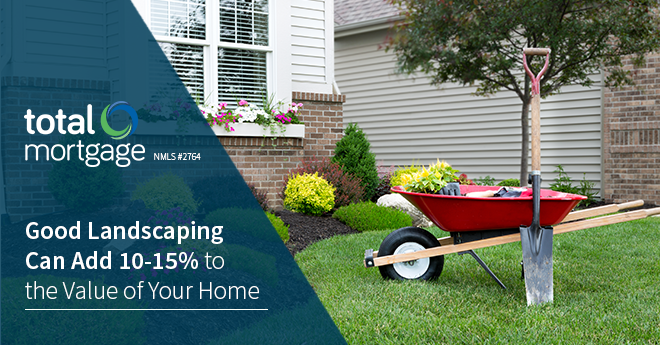 Studies show that landscaping can add 12 to 15 percent to the value of your home.  All you need is a green thumb to put some extra green in your pocket.
Landscaping is more than flowers and shrubs.  Upgrades can involve things like patios and decks, flowerbeds, barbecue pits, watering systems, and plants of all sorts. As you enter into a landscaping project, you have plenty of choices about what kinds of upgrades to make.
The trick is to make improvements that prospective buyers want.  If you do, then your property value will rise.
What Do the Experts Say?
Though experts agree that landscaping improvements usually raise a property's value, it can be difficult to predict exactly what kind of gains you'll see in individual circumstances. Estimates vary by home and note that the lasting effect of landscaping requires ongoing maintenance.
Virginia Tech horticulturist Alex Niemiera concluded that landscaping can add 12.7 percent to the value of a home — in his research six years ago. That translates into an extra $16,500 to $38,100 in value on a $300,000 home. In extreme cases, property values can more than double, and conversely, they can actually decrease if the landscaping contains undesired features that the local market doesn't support.
The American Society of Landscape Architects (ASLA) recommends that homeowners invest 10 percent of the home's value in landscaping. Landscape architecture goes beyond plantings, or softscaping, to include structural features like lighting, fences, garden paths, fire pits, swimming pools, and ponds.
Outdoor rooms, terraces, and decks are also high-yield structural or hardscaping investments. A landscape architect can work with the client to generate a detailed plan. Typically, the homeowner then hires a general contractor, landscape contractor, or subcontractor to perform the installation.
Landscaping on the Cheap
Of course, it's quite easy to spend more on installation and ongoing maintenance than the landscaping benefits the value of your home.
A professional landscaper might seem like an extravagance, but they can help you gain equity in your home and save money by recommending features and plantings that will appeal to buyers and are cheap to maintain.
For example, perennials and bulbs can add color and style to your property all year long. Other cost-effective improvements include aesthetically pleasing architectural improvements, such as stone walkways and terracing that require little or no maintenance.
Another important factor to consider is the contractors who do your landscaping upgrades. Many companies vie for this kind of business, and choosing the right contractor can make a lot of difference.
Find a contractor with whom you are comfortable, who is honest and patient, and who can show you a good track record. Lastly, pay attention to the details.  A subtle, small change, such as curving the edges of your flowerbeds, can by itself increase your home value by 1 percent.
How Does Curb Appeal Impacts Home Value?
Appealing landscaping can measurably increase the appraised value of your property. 
"If a landscaping change is positive, it can often enhance price and reduce a home's time on the market," says Appraisal Institute President Richard L. Borges.
"But if the change is negative, it can lower the price and lengthen the time a home remains for sale."
Curb appeal is essential when selling a home, Borges says, noting it's the homeowner's opportunity to make a great first impression. A home with lackluster landscaping or an exterior in desperate need of a fresh coat of paint will likely be unappealing to prospective buyers and ultimately could affect the home's potential resale value, he said.
Borges says homeowners should ask themselves the following questions when it comes to the quality of their home's green space:
Is the landscaping attractive enough to make the prospective buyer walk through the front door?  Keep the design contemporary and in line with comparable properties in the area.
Could the landscaping provide cost savings? Landscaping that requires little or no water to maintain could be desirable depending on the geographic area.
Is the landscaping energy-efficient for the home overall? For example, it's a good idea to plant trees in a place where they block the sun in locations with year-round hot climates.
Are the trees planted at a safe distance from the home and are they healthy and well maintained? Weak, old or damaged trees planted too close to a home or building could pose dangers to the home's structure and will need to be removed. Consumers should also be sure that mulching or beds don't get too close to wood around foundations to avoid wood-destroying organisms.
Home renovation guru Bob Vila counsels that perhaps the biggest mistake homeowners make is a piecemeal approach to landscaping. 
"Homeowners begin projects, start to clear areas, put in a mix of plants, and proceed without a plan. The result is a hodgepodge of plantings and gardens that give the property a disorganized feel. An implemented professional landscape design provides a polished look. Following a professionally prepared plan will lead the homeowner to a beautiful property while remaining within a pre-established budget."
Vila cautions homeowners to remember that everything doesn't have to happen at once. Consider a five-year plan that has plantings maturing at varying rates and adds various features each year.
This way you can remain within your budget—time-wise and cost-wise—while still progressing toward a complete landscape renovation.
---
Filed Under: Uncategorized