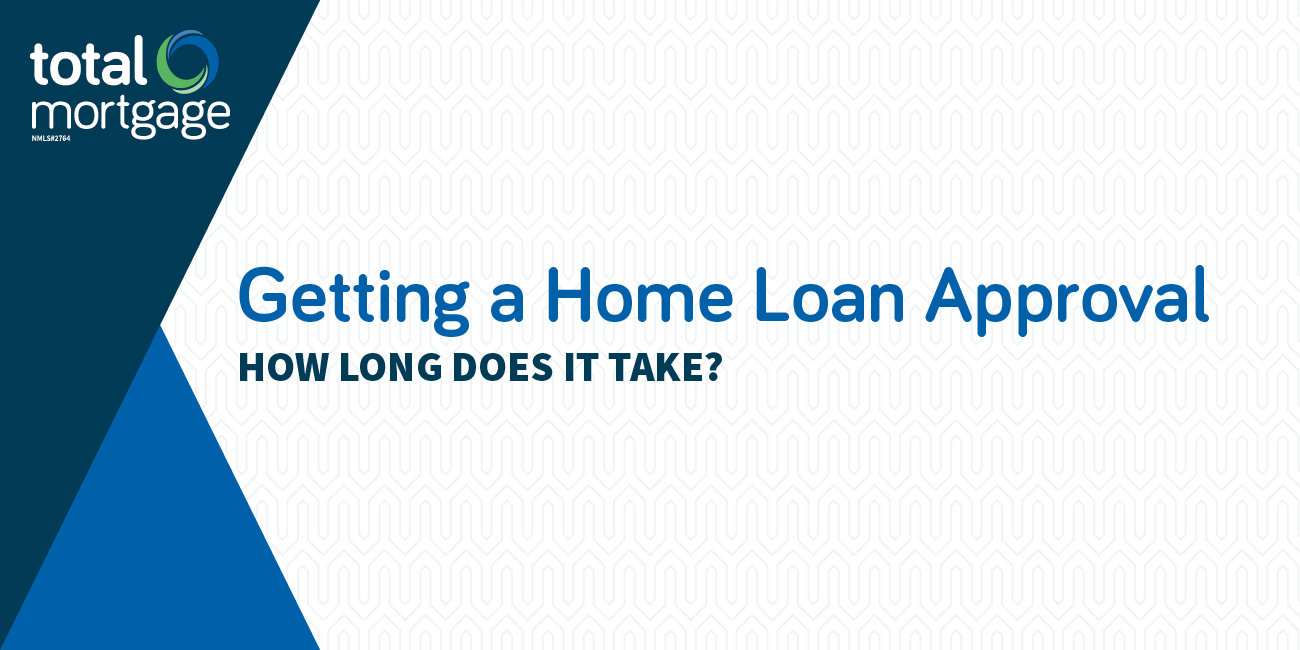 As you start the process of buying a home, you may be wondering how long everything takes. Specifically, you may be curious about how long the home loan approval process takes. Don't worry – we've got you covered!
In this article, we'll highlight how long it takes to get approved for a home loan and what you'll need before starting the process.
The Home Loan Approval Process
According to Ice Mortgage Technologies, the average time it takes to close on conventional and FHA loans in the US is 50 days. However, that time doesn't reflect how long it takes to get approved for a home loan – and with Total Mortgage's GreenLight program, you can close in potentially 21 days or less.*
The time it takes to get approved for a home loan will depend on a few different factors which could affect your closing date. Consider these activities that should be completed before you can even start applying for mortgages.
Finding the Right Lender
The first step in the home loan approval process is finding the right lender. When you're looking to purchase a home, you need to be sure that you're choosing a lender that will meet your unique needs. This means that their rates should fall within your ideal area and that they're going to offer you the money you need to purchase your dream home.
Getting Pre-Approved
Before you get approved for an actual mortgage, most lenders will require you to go through a pre-approval process. This process involves taking a closer look at your current financial circumstances and ensures that you fit the lender's qualifications. 
For the most part, the pre-approval process shouldn't take long. Some lenders only take a few seconds to do a quick credit check before a pre-approval is granted. Others take a few days at most.
With Total Mortgage, you can set realistic expectations in minutes. Get started or find a dedicated loan expert now.
Getting Approved for a Home Loan
The average pre-approval will last anywhere between 30 to 90 days and depends on the lender you're working with. Getting pre-approved is essentially a green light to move forward with your home search. Then once you've found the perfect home, the real approval process begins.
Home loan approval is a bit different from a standard pre-approval. Approval takes into account your financial details as well as the characteristics of the home you're looking to purchase.
When going through the approval process, your lender will require specific information about the home like the title, an inspection, and a home appraisal. Most of these are going to be out of your hands.
Approval normally takes a few weeks to process, while closing takes an additional few weeks. This is what makes the process last for roughly 50 days.
Calculate your monthly mortgage payments with Total Mortgage's Purchase Calculator and get a feel for what you can afford.
How to Speed Up the Home Loan Approval Process
You can speed up the home loan approval process by having all the necessary information ready for your lender. Let's cover the top five things you should have on hand before you even consider starting the pre-approval process.
1. Proof of Income
Your income is a deciding factor in the approval process. Lenders want to make sure that you have a history of income that will cover the cost of your monthly mortgage payments.
As you begin the pre-approval process, make sure you have your W-2 statements from the last few years handy. Most lenders want at least two years of coverage, but some may require even more. Be sure to also include any additional income too – like alimony, bonuses, rental income, and more.
2. Proof of Assets
Similar to your proof of income, lenders want to see that you have the funds to cover your down payment and closing costs. In most cases, lenders will want at least 20 percent of the home's value as a down payment plus any closing costs. There are other loan options, however, that allow more affordable down payments – but they may come with additional costs associated with Private Mortgage Insurance (PMI).
Make sure to provide the lender with your bank statements and investment account statements to show them exactly what you're worth.
3. Credit Information
This isn't necessarily something you provide. Rather, you can speed expedite the approval process by making sure that your credit is in top shape. Take care of any outstanding collections accounts, as well as any debts that may prevent you from taking out a mortgage.
4. Employment Verification
Lenders want assurances that they're giving loans to suitable buyers – and in most cases, a suitable buyer is an employed buyer. Pay stubs are a good way to prove that you're employed, but some lenders may contact your employer to verify your claims.
Self-employed buyers will usually have to provide more detailed documentation. This includes lengthier employment and income history to make sure that income isn't volatile. Visit our article on self-employed mortgages for more info.
5. Additional Documentation
You may be required to provide additional documentation. At the very least, a form of identification (driver's license, state ID) and a social security card will be needed. All of this goes into the necessary credit reports and background checks.
For an in-depth look at everything you'll need to get pre-approved, check out our pre-approval essentials article.
Learn More About the Home Loan Approval Process
If you have additional questions about the home loan approval process, our loan officers can help guide you in the right direction. Total Mortgage has branches throughout the country and offers a personalized mortgage experience for every borrower.
Explore Total Mortgage's list of branches in the US to find the one that's nearest to you. You can also apply online to get a free quote.
*Terms and conditions apply. Click here for details.
---
Filed Under: Uncategorized