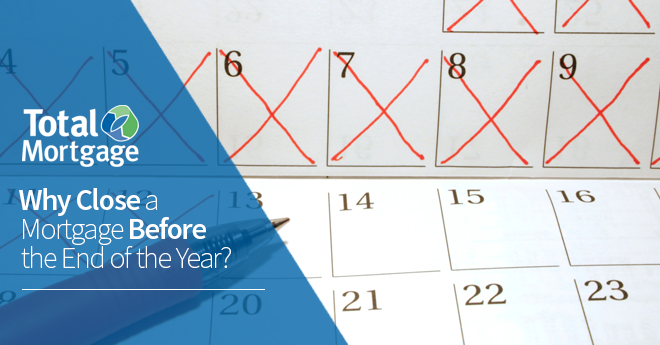 With the holidays inching closer and the New Year not far behind, you may be thinking it's too late to close on a new loan by January 1st—or that it's not worth the hassle during an already hectic time of the year.
There's still time. Get pre-approved by the end of November, and we'll close your loan before January 1st with as little stress as possible, thanks to our 30 Day Purchase Guarantee.* Plus, there are some upsides to getting your loan closed and your new home bought before the year ends:
Tax benefits. This is the big one, the reason most will advise you to close quickly, if you can. Buying a new home entitles you to tax deductions that can save you tons. Here's a quick rundown:
Closing cost deductions let you claim the points or origination fees on your new loan, but it only applies for the year you closed the loan. Close now, or wait a whole year.
Mortgage deductions allow you to deduct your mortgage interest. This works out well for newer home owners, since early mortgage payments tend to be mostly interest anyway.
Property taxes are deductible, too. That means that from this point forward, you will be able to claim property taxes on your income tax.
Don't forget the non-financial positives to closing soon:
Get into your home before the holidays. Okay, so depending on the timing, "getting in" may not be quite the same as being completely unpacked and settled in, but once the keys are in your hand and the boxes have been delivered, the pressure's officially off. Unpack at your own pace and enjoy the holidays.
It's only going to get colder. Winter doesn't officially start until December 21st, so if you live in a chillier part of the country, you may still have some time to get into your new house before the worst of winter hits and moving turns miserable.
A fresh start in a new home for the New Year. Sure, you could have your fresh start on January 17th, or 28th, or even in February, but it's just not the same as waking up on January 1st in a new home.
If you're thinking about taking us up on our offer, take a look at our rates and consider giving us a call or filling out an online form. We'd love to hear from you.
---
Filed Under: Borrower Tips, General, Homeowner Tips, What's new at Total Mortgage
Tagged with: 30 day guarantee, closing a loan, holidays, how to close your mortgage, mortgage closing