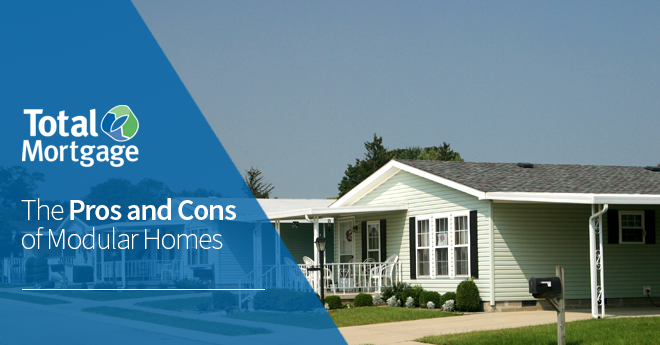 Modular homes once had a bad reputation for low quality construction and seen as nothing more than glorified double-wides by some. Despite this, they have come a long way and can be quite elegant and an excellent option for many homeowners. Knowing the benefits and drawbacks of a modular home will help you decide if it's the right choice for you.
The Pros
Customizability
This housing option comes in a plethora of styles and offers a diversity of design features.  Whether you're looking for a log cabin or classic colonial style, you can find a modular home that suits your taste. Although there are some limitations in terms of floor plans, you can add bonus rooms, garages and even basements in some cases.
Affordability
When compared to a site built home, a modular tends to cost considerably less. Because they are pre-built by a manufacturer, you pay less on labor and supplies. Based on industry standards "you could save about 15% or $26,000 on your new home."
If you're dealing with a remote location, you can save even more money because the cost of a site built home is even higher. This makes it a good option if you're working with a tight budget, but still want the space of a traditional home.
Fast Construction
Building a home from the ground up is often a painstaking task that takes a long time to complete. There may also be delays from inclement weather or labor issues. Going the modular route hastens the process because everything can be quickly assembled. You also don't have to worry about shoddy construction or structural flaws because an inspector will look over the work before it's sent out.
Eco-Friendly
If you're looking to do your part in helping the environment, a modular home is great for three reasons. First, there is limited material waste because it's built to exact specifications. Second, there isn't as much disturbance to the environment throughout the construction process. Third, most of these homes are made of eco-friendly materials with the intention of being energy efficient.
The Cons
Zoning Restrictions
Depending upon the location, you may not always be allowed to set up a modular home where you want. Some developments only want site built homes, which can put restrictions on where your home is located. In areas that are prone to natural disasters like hurricanes, it can be an issue to meet building codes because they don't typically have the same support as traditional housing.
Cost of Land
When it comes to a site built home, you will usually build it on a piece of property that you have pre-purchased. Modular homes differ because the dealer will only sell you the home in most cases. This means that you still have to pay for the piece of land, which is an additional expense.
While some land in rural areas is relatively affordable, you may end up spending a lot in other more populated locations. In some cases, an acre of buildable land can cost up to $100,000.
Potentially Difficult to Sell
Although many people can't tell the difference between a traditional and modular home, there can still be a stigma that prefabricated means lower quality. If you plan on selling your home in the future, you may encounter some obstacles because of this mindset.
Total Mortgage has exceptionally low mortgage rates. Contact one of our experienced mortgage experts to find out how much you can save. Get started today. 
---
Filed Under: General
Tagged with: eco friendly, green, home, home owners, land, Modular home, property