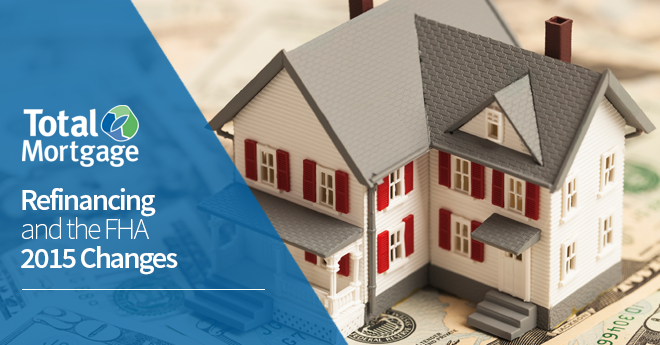 If you're currently paying a higher interest rate on your mortgage, and you're dealing with high payments, refinancing and getting a cheaper rate might be the answer to your prayers. You can save money each month, virtually eliminating mortgage payment issues. And with extra money in your pocket, you can start a savings account, pay off other debts, save for retirement, and finally enjoy life.
A refinancing is when you apply for a new mortgage to replace your existing one — often with favorable terms. If you decide to refinance, several options are available to you. Some people choose a conventional mortgage loan or a VA home loan, if they qualify. Yet, these aren't the only options. FHA home loans are insured by the Federal Housing Administration, and these loans are often cheaper than conventional mortgage loans. With new changes to the FHA program in 2015, refinancing to an FHA mortgage offers huge financial benefits. For example:
1. No more post-payment interest charges
If you're looking to refinance and get an FHA mortgage loan, you might be happy to know that as of January 2015, FHA eliminated the post-payment interest charge. Basically, this charge was a way for lenders to squeeze extra money out of borrowers when they sold or refinanced their house.
Prior to this change, if a homeowner sold or refinanced and paid off the mortgage, FHA lenders charged mortgage interest for the entire month, even if a borrower paid off the mortgage earlier in the month. With the post-payment interest charge no more, you'll save if you decide to refinance or sell your home at a future date.
2. More advanced noticed with an adjustable-rate mortgage
You can refinance and get an adjustable-rate FHA home loan and enjoy additional savings, since ARMs typically start off with lower rates than fixed-rate mortgages. Just know that adjustable rate mortgages have a temporary fixed-rate, followed by yearly rate adjusts after this initial period. In 2015, FHA lenders are required to give FHA-ARM borrowers more notice regarding upcoming rate changes — a 60 to 120-day advanced notice, up from a 25-day notice.
3. Lower mortgage insurance premiums (MIP)
A cheaper MIP is by far one of the best reasons to refinance to an FHA home loan. As of January 26, 2015, the Federal Housing Administration lowered the cost of its annual mortgage insurance premium from 1.85 percent to 0.85 percent. This insurance is required on any FHA loan with less than a 20 percent down payment. A 0.50 percent reduction can save borrowers hundreds each year. If you're currently paying mortgage insurance premiums on an existing FHA home loan, refinancing not only helps you score a better rate, you'll receive a cheaper insurance premium and enjoy additional savings.
Changes to the FHA program in 2015 can result in lower costs. Just about everyone is interested in saving money, and with a cheaper mortgage rate and home loan payment, you can free up cash in your budget for other uses.

---
Filed Under: Borrower Tips, Commentary, FHA, General, News, Refinance
Tagged with: fha changes, fha changes 2015, fha mortgage insurance, FHA Refinance, FHA streamline refinance, Refinance