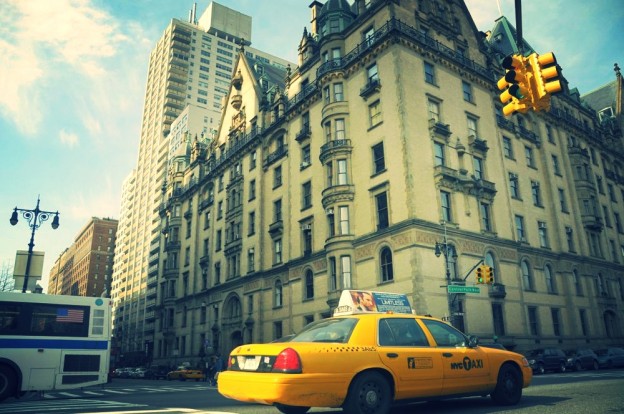 NYC is Still High Rent District by Steve Viuker
New York City doesn't play second fiddle many times but it was just that in a recently global retail
survey from CBRE Group Inc.
Retail rents jumped a whopping 22% along iconic Fifth Avenue, home to such retail giants as Saks Fifth Avenue. However, the city that 'never sleeps' dozed somewhat and finished second in the global rankings to Hong Kong. New York retail rents averaged $3,050 per square foot; rents in Hong Kong were $4,328 a square foot, a 12% rise over last year, compared with $3,050 a square foot here. In third place was Paris, where per square foot rents were $1,220.
Said Anthony Buono, executive managing director of Americas Retail Services at CBRE, in a statement, "Global retailers continue to desire premier retail locations in gateway cities because of the global shoppers those corridors attract and the value delivered for brand visibility."  New York attracted 52 million tourists last year, a figure that is expected to increase to 55 million by 2015. source NYC & Co)
Last year, luxury designer Ralph Lauren signed on for a 38,000-square-foot store at 711 Fifth Ave., the former home of the Disney store, where he plans to house a flagship and a restaurant. According to Crain's, New York still has its supporters, who say demand is stronger than ever, especially for Fifth Avenue. "New York is still the shopping capital even if you're a no-name retailer," said Faith Hope Consolo, executive chairman of retail leasing at Douglas Elliman. "You want to come to this market because you have the opportunity to really grow a brand—this is the city where brands are made."
Hong Kong has the highest representation of luxury retailers in global markets, with 51 new retailers opening stores in the last year. "Healthy tourist arrivals and lack of available space make finding an adequate unit in Hong Kong's prime retail locations a major challenge for new and existing retailers," Joe Lin, executive director retail, Hong Kong, CBRE said in the report. "Preference for spaces with these characteristics continues to generate strong demand, supporting the market's high and rising prime rent levels."
Four of the top 10 markets — New York, London, Zurich and Tokyo — saw quarterly increases in prime retail rents, compared with only one market the previous quarter, CBRE reports.   In Central London, prime rents increased 9.1 percent from last quarter and 20 percent from last year, driven by supply and demand imbalance on New Bond Street and Old Bond Street, the consultancy says. Tokyo reported a 2.0 percent quarterly increase in prime rentals as the city reports low supply and strengthening confidence.
According to CBRE, "Consumer demand and confidence conditions have notably improved thanks to a strengthening economy," said Junichi Taguchi, managing director of CBRE's retail services division in Japan. "Luxury retailers noted a positive push in demand for brand items, which have been recording high sales values in department stores since the beginning of the year."
Also becoming a player is Brooklyn. Retails giants such as Target; Barney's and Shake Shack have set up shop. They will soon be joined Nordstrom's Off Rack and a branch of the midtown eatery, Grand Central Oyster; to be located in Park Slope.The new Barclays Center has been a driving froce as more upscale shoppers move into the borough and luxury housing is built.
See more at:
http://www.worldpropertychannel.com/asia-pacific-commercial-news/hong-kong-leads-global-retail-rents-cbre-new-york-retail-
---
Filed Under: Commentary, General, News
Tagged with: cbre, city, high, New York, rent, taxes