Land Prices For Homes Not "Dirt" Cheap by Steve Viuker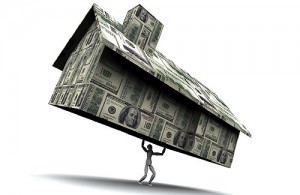 Builders across the country contend that the scarcity and high cost of land approved by local governments for new residential construction is the chief obstacle to producing the elusive new single-family house affordable to the younger American household. The problem is most acute on the East and West Coasts, where tougher zoning rules, anti-growth policies, slow building-approval processes impede the land development process. (The New York Times- 1988)
Fast forward to 2013 and The Times is reporting that 'developers have gone from buying foreclosed acreage from banks to buying from farmers, family trusts, manufacturers and even homeowners with outdated homes on single lots. At least three golf courses in the Minneapolis-St. Paul area are being carved into millions of dollars' worth of residential lots. Even outer suburbs like Otsego, 30 miles from downtown Minneapolis, are seeing bulldozers laying the groundwork for four-bedroom houses with three-car garages, in subdivisions bordered by cornfields."
At the peak of supply, in 2009, there were enough lots to last almost eight years, according to MetroStudy, a firm that tracks housing data. Now there is less than four year's worth, and only about a quarter of that is in the more desirable A-or B-rated locations. The National Association of Home Builders said the shortage of lots is slowing the housing recovery. In an August NAHB survey, 59 percent of builders reported that the supply of lots in their markets was low or very low—up from 43 percent September of last year, and the largest low supply percentage since the surveys began in 1997.
NAHB said one reason is many residential developers left the industry, abandoned certain markets or simply stopped buying land and developing lots during the downturn.  The 59 percent includes 39 percent who characterized the supply of lots as "low" and 20 percent who said the supply of lots was "very low." 22 percent said the supply of lots was "normal," 10 percent said it was "high" and four percent said "very high." Thirty-four percent of builders said that the supply of A lots was very low, compared to 18 percent for lots in B and 12 percent for lots in C locations.
Otsego has lowered some of its development fees and allowed a developer to change an approved plan so that a partly built town house project could be finished with more salable detached homes. Mayor Mike Maguire of Eagan, a co-chairman of the Regional Council of Mayors Housing Initiative, told The Times that one reason his city had approved a land use change for the golf course was that so little new housing was built in the last few years. "When there's no new development, you have stock that's increasingly out of date and that tends to bring your home values down," he said. "Realtors had people who wanted to move to Eagan but couldn't find the home they wanted." Last year, Hunter Emerson agreed to pay $8.6 million for the golf course, wagering that the city would approve the land use change. The partnership sold the property to a national home builder for $13.1 million and the houses will cost from $400,000 to $700,000.
In a statement, NAHB Chief Economist David Crowe said, "There is still a substantial pent-up demand for housing waiting to be unleashed as the overall economy and labor situation improves," said Crowe. "Lot shortages are one of several barriers that have arisen, restraining builders from responding completely to increased demand. Other barriers include a shortage of labor in carpentry and other key building trades, limited availability of loans even for credit worthy home builders and home buyers; and, more recently, an uptick in interest rates."
to read the NAHB survey:
http://www.nahb.org/news_details.aspx?newsID=16444&print=true
---
Filed Under: General, Housing Market
Tagged with: builders, cheap homes, developers, home owners, housing market, nahb, real estate