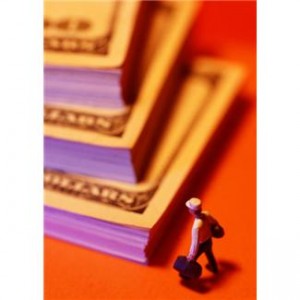 Borrowers who opened home-equity lines of credit at the height of the housing bubble should brace for stiff increases in their monthly payments. So said the N Y Times; citing a report from Moody's Investors Service that rang alarm bells for banks. HELOC payment shock remains a credit risk for US regional banks- said the credit rating service. An upcoming spike in monthly payments on home equity lines of credit (HELOCs) issued before the financial crisis will be credit negative for U.S. banks.
Helocs were aggressively marketed from 2004 to 2007. These equity lines typically have a 10-year period during which the borrower can use the line of credit and pay only interest. At the end of 10 years, the borrower must begin paying both interest and principal on the outstanding balance. The bulk of the resets are expected from 2015 to 2017, but about $30 billion in outstanding Helocs will reach the end of the interest-only period this year. Balances due to reset will rise to an estimated $52 billion in 2015, $62 billion in 2016, and $68 billion in 2017.
"This is definitely something that needs to be looked at.  A large number of lenders, in the last few years, froze credit lines based on declining home values, which was a great thing because it was designed to keep these lines of credit from creating a negative equity situation. However, that does not save the payments from drastically increasing when the loan flips to an amortizing payment," Steven J. Lefkowitz Branch Sales Manager of DE Capital Mortgage, LLC told totalmortgage.com  "Most credit lines that are offered carry a 20 year payback with no balloon, so the situation is significant but not extreme."
Said Lefkowitz: "Lines of credit are done on a lender-by-lender basis, there is no Fannie Mae or Freddie Mac for line of credit.  Therefore, banks need to individually look at their portfolios and contact the borrowers to offer alternatives proactively, before these lines reset." An example of  payment shock for borrowers: A homeowner with a $40,000 Heloc balance and a $210,000 mortgage at 4 percent will see a monthly increase of nearly $300 — to $1,389 from $1,103 — when the equity line converts into a 10-year amortizing loan, assuming an interest rate of 3 percent. The shock will be worse for borrowers with equity lines that require balloon payments after the interest-only period; they will owe the balance in full.
It's uncertain how many Heloc holders already defaulted on their loans and are out of the system. It is also unclear to what extent lenders are trying to get ahead of the problem. "Calling early and preparing yourself is the best way to go.  That way, you can determine, or try to get out of the loan through traditional means before going into a potential forbearance, which could have negative ramifications for your credit," explained Lefkowitz"That said, it could be the only way out of the situation, much like many were forced to go into short sales because of no other choice."
According to Moody's, Bank of America, Wells Fargo and JPMorgan Chase hold the bulk of the Helocs. But 15 regional banks are seen as having greater exposure because of their high concentration of Helocs relative to their assets. They include: TCF Financial, American Savings Bank, First Horizon National and RBS Citizens Financial.
"A great number of people are going to be faced with some difficult decisions," said Lefkowitz.  "Hopefully there is enough equity to refinance the line of credit or consolidate it into a new first mortgage, but the concern is for those lines resetting at the early stages of the timeframe (in the next couple of years).  At that time, the qualifying guidelines followed the lax underwriting guidelines for first mortgages, meaning income was rarely verified.  The good news is that these lines are still in existence and being paid, as opposed to going into foreclosure or short sale, but the question is whether the equity is there to refinance."
for more info:
http://articles.latimes.com/print/2013/nov/10/business/la-fi-harney-20131110
---
Filed Under: General
Tagged with: bills, heloc, home equity, Mortgage, payment