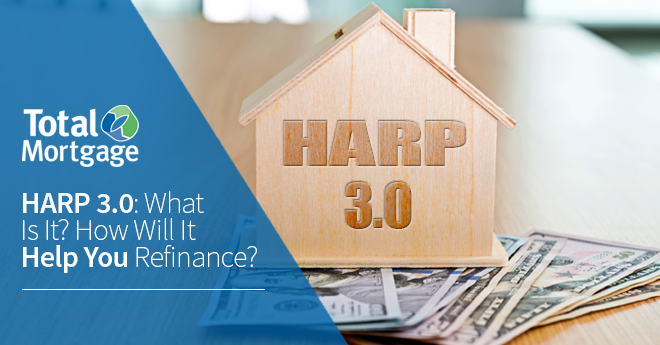 For more than a year, an expansion to the Home Affordable Refinance Program (HARP) has been in the works, with the bill still sitting idle in the legislature. President Barack Obama reportedly introduced HARP 3.0, which has been labeled "A Better Bargain for U.S. Homeowners."
As the mortgage industry eagerly awaits news about HARP 3.0, homeowners may be wondering how it will help them. The extension of the HARP program through 2015 means homeowners can receive assistance now, but HARP 3.0 may offer an incentive to wait. Here are a few things you should know about HARP 3.0.
HARP Restrictions
HARP 3.0 would lift restrictions that have kept many homeowners from being eligible. Under the current program, only mortgages backed by Fannie Mae or Freddie Mac may be refinanced, but HARP 3.0 would change that. Homeowners with Alt-A, jumbo, and subprime loans would be eligible to refinance.
If passed, HARP 3.0 would also fix some issues with the previous versions of the program. One expected change involves reducing the guarantee fees charged with a HARP refinance, potentially saving borrowers as much as .75 percentage points on a refinanced mortgage. The program is also expected to open up availability to previous HARP refinance program participants, allowing them to refinance again.
HARP's Benefits
Estimates state that those who have taken advantage of the HARP program have been able to save $328 a month on average. Despite heavy participation in the program, analysts believe another 580,000 borrowers could save money on their mortgages through HARP. By opening up the program to non-Fannie Mae and Freddie Mac mortgage holders, even more homeowners could enjoy the benefits of a refinance.
Participation in the program has tapered off, however, as the interest rate slowly begins to rise. Property values have been edging up in many areas, as well, which may be prompting some homeowners to wait until they can make the move to upgrade to a new home. Still others may see the possibility that their homes will soon be worth more than they owe, which will allow them to refinance without the assistance of HARP.
Program May Stall
There is still a need for HARP, however. With data showing 18.8 percent of mortgage holders still underwater, changes to HARP 3.0 could be of great benefit. Instead of waiting for property values to increase, HARP allows homeowners to refinance, freeing up extra funds or helping them pay more on principal. With the program set to expire soon, some fear no changes will be made to HARP.
This fear seems to have been confirmed by Mel Watt, named recently as director of the Federal Housing Finance Agency (FHFA). Watt recently stated that the number of borrowers that could be added by changing the program wouldn't make enough of a difference. Instead, he stated that FHFA plans to continue to reach out to the 750,000 borrowers who already qualify for the program and may be eligible for help through it.
Before HARP expires in December 2015, homeowners should investigate whether it could help them. With the potential of saving hundreds of dollars each month in mortgage costs, those who have mortgages through Fannie Mae or Freddie Mac stand to benefit greatly from inquiring about the program.

---
Filed Under: Borrower Tips, General, Housing Market, Refinance, Saving
Tagged with: HARP, Harp 3.0, Refinance