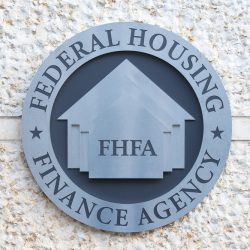 Many prospective homeowners believe saving money for a down payment and filing out the requisite paperwork is all they need to become a homeowner. Unfortunately, some have learned that tough lending requirements stand in their way to achieve this dream.
But this could soon change thanks to new rules proposed by the Federal Housing Finance Agency (FHFA), the regulator who manages Fannie Mae and Freddie Mac. The FHFA is considering policy changes that aim to make credit more available to potential home buyers. This will encompass many of those who have been have been excluded from the housing market due to harsh lending requirements implemented after the housing crash.
Look for new doors to open for this group. Mark Zandi, chief economist at Moody's Analytics, said of the possible new rules, "Creditworthy borrowers who have been locked out of the housing market will finally have an opportunity to become homeowners."
For prospective owners ready to jump into the housing market, what will they find with the new rules?
Lower down-payment requirements
FHFA is currently reviewing guidelines that will decide whether Fannie Mae and Freddie Mac will cut down-payment requirements from the current five percent to three percent. According to Mel Watt, FHFA director, the two mortgage companies will, for some loans, guarantee down payments at three percent in an effort to help those homeowners who are underwater.
The regulator is expected to release its guidelines by the end of November. The changes are likely to open credit for those prospective homeowners who are first-time buyers, self-employed, borrowers who have recently switched jobs and those who have endured financial challenges in the recession, according to a press release.
Ease lending standards
Along with homeowners benefiting from the changes, the lenders may also be affected as the FHFA is considering potential changes that will have lenders bring down their standards.
But it isn't well received so far.
This comes as Fannie Mae and Freddie had required the industry to buy back loans in billions of dollars after the housing crash. Lenders then placed tough demands of homeowners, asking for high credit scores and other high standards in an effort to protect themselves from possible financial penalties. Lenders have said they won't relax them amid the potential easing. And w
Whether Fannie and Freddie can and will take action for this is unclear–something the FHFA will have to address.
Make a careful decision
For lenders and homeowners, these proposed changes may create a challenging environment as people who couldn't afford loans in the past will now come out and try to borrow.
How will this work out? Probably not well, as $51,900 is the median household income in the U.S. and the U.S. median home price sits $188,000. This could pose challenges for the average homeowner, placing themselves in a situation that could have them spending beyond their means. However, with the market still attracting cash buyers, there's still competition for properties from buyers who will outspend regular people for them.
But don't fear prospective homeowners, there will be opportunities as the FHFA will promote more lending, which will then result in credit to those who had been previously denied.
If you feel the potentially lower three percent may open refinance doors for you, don't quickly jump. Be sure to review your financial picture before placing yourself in a situation that could possibly put you underwater.

---
Filed Under: Borrower Tips, Commentary, First Time Home Buyer, General, Housing Market, Mortgage Regulations, News
Tagged with: Fannie Mae, FHFA, freddie mac, mortgage lending, mortgage qualification requirements