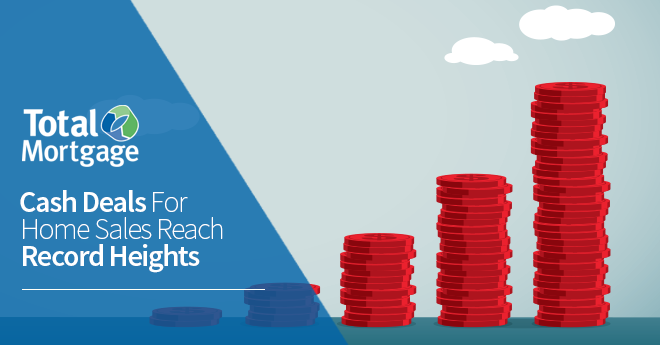 In another case of cash is king, for the first quarter all-cash deals for total home sales reached a record high at 43 percent, according to RealtyTrac, up from 37.8 percent in the previous quarter.
It also jumped from 2013's first quarter 19.1 percent figure.
This can be attributed to two factors: high demand and low supply (or you could say intense competition) that has prompted homebuyers to seek cash as a competitive edge and harsher lending standards, making it challenging to obtain a mortgage.
What is not driving these cash sales is who you'd expect: the usual institutional buyer. Daren Blomquist, vice president at RealtyTrac, said via CNN, "The good news is that as institutional investors pull back their purchasing in many markets across the country, there is still strong demand from other cash buyers – including individual investors, second-home buyers and even owner-occupant buyers – to fill the vacuum of demand left by institutional investors."
But these institutional players are still in the game. In the first quarter they represented 5.6% of all sales, off from the fourth quarter 2013's 6.8 percent and 2013's first quarter's 7 percent.
Investors Flocking to the Sunshine State
RealtyTrac data showed that cash sales represented more than half of all sales in Miami, New York, Detroit, Atlanta and Las Vegas in the first quarter. When numbers had been further broken down for metropolitan areas with populations of more than 500,000, the top five cities for cash sales came from sunny Florida: Cape Coral-Fort Myers (73.6 percent), Miami (67.1 percent), Sarasota (65.1 percent), Palm Bay (64.1percent) and Lakeland (61.8 percent).
Other major metropolitan venues that came in behind with 50 percent – plus cash sales included New York (57 percent); Columbia, S.C. (56.1 percent); Memphis (54.9 percent); Detroit (53.5 percent); Atlanta (53.2 percent); and Las Vegas (52.2 percent).
According to RealtyTrac, about 15 percent of the first quarter's all-cash transactions had been executed on properties in foreclosure and another 10 percent on bank-owned properties.
First-Time Homeowners Not Joining the Party
For the typical buyers in the housing market, such as first-time ones and the rising, credit-heavy consumers, they're not participating in the cash trend as home prices are increasing, squeezing them out of the marketplace.
Spencer Rascoff, CEO of Zillow, an online real estate marketing and data company, said via CNBC, "It's making it harder for an ordinary single family who's getting a mortgage to compete as a buyer, especially given how constrained inventory is, and that's making for frustrated buyers in a lot of these seller's markets."
So who is driving these cash purchases? From March data, around 52 percent of the all-cash purchases had been sold to either second-home or investment buyers. This compares to the 34 percent of all sales (defined as cash and financed) sold that same month to the investor or second-home buyer groups.
As for the costs of the second home in the first quarter, fueled by cash, the average sales price was $207,668. This comes in 13 percent lower than the average estimated market value for purchased properties at $237,900.
For those not participating in this cash celebration, there's no reason to despair. There's still opportunities to help buy that dream home. New policies may go into effect soon to make it easier for Americans to obtain a mortgage, according to recent remarks by Federal Housing Finance Agency Director Mel Watt.
Rates are currently at 14 month lows, if you are like the rest of us who need a loan, now would be a great time to get a loan.  Contact the experts at Total Mortgage today to find out how much you can save. 
---
Filed Under: General
Tagged with: borrowers, cash, credit, credit score, down payment, FICO, finance, home buying, lenders, loan, Mortgage, real estate