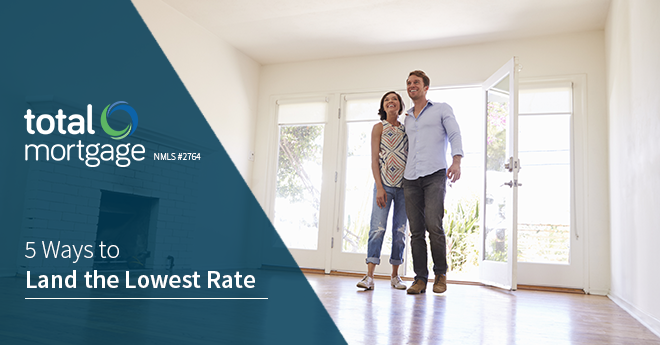 There are two things you want from a mortgage lender when buying or refinancing a house—an approval letter and a low interest rate.
What you may not realize is that the factors guaranteeing a mortgage approval are the same factors that help you qualify for the most favorable interest rate. A low rate creates a cheaper monthly payment, but getting approved for a home loan doesn't guarantee the best rate. Mortgage lenders work with all types of borrowers, including people who don't have the best credit scores. And as you probably know, bad credit comes with a costly price tag.
There's a strong connection between mortgage rates and affordability. If you're willing to do whatever it takes to keep your mortgage payment as affordable as possible, here are ways to ensure lenders offer you the best rates.
1. Raise your credit score
If getting a low rate is a priority, you need to make choices that will protect your credit and help your score increase over time. Order your personal credit score from Myfico.com to know where you stand, and then take steps to add points to your score. Even if your score is okay, a little boost never hurts. Today, mortgage lenders only offer the best rates to applicants with scores in the high-700 and 800 range. Make sure you pay your bills on time every month and pay down debt. Both actions demonstrate creditworthiness.
2. Check your credit report
You may "think" you have good credit, but you can't know unless you check your personal credit report. Sadly, some people never check their credit before applying for a mortgage loan, and then act shocked when a lender reveals issues with their credit. Even if negative information appears on your credit report in error, lenders will not approve your mortgage application until these issues are resolved, which might take months. Do yourself a favor and regularly monitor your credit. Get your free report from AnnualCreditReport.com and dispute any unusual activity.
3. Refi for less than 30 years
If you're refinancing your mortgage, there's no rule saying you have to refinance for another 30 years. In fact, you can negotiate a better interest rate if you refinance into a shorter term, such as a 10, 15, or 20-year mortgage.
4. Get an adjustable rate mortgage
An adjustable rate mortgage (ARM) isn't right for everyone, but if you know you're going to sell your home before the first rate adjustment, an ARM might be an option if you're looking for a lower interest rate.
Adjustable rate mortgages feature a fixed rate for the first one to five years, followed by annual rate adjustments, at which point the rate can increase or decrease. These loans are riskier than fixed rate mortgages because each rate increase causes the mortgage payment to increase. On the other hand, adjustable rate mortgages usually start off with rates lowered than a fixed rate mortgage.
5. Check with your existing lender
Banks don't want to lose customers. So if you have an existing mortgage and you're thinking about refinancing or buying a new house, check with your lender to see what the bank can offer. Not that you shouldn't also request no-obligation quotes from other financial institutions. If another bank offers a better rate, this is your bargaining chip and your current bank might match — or beat — this rate to keep you as a customer.
Interest rates can change from day to day, but just because rates are low doesn't mean you'll qualify for the best one. However, if you take the above advice to heart, it'll be easier to snag a lowest rate whether you're refinancing or buying a new home.

---
Filed Under: Borrower Tips, Compare Mortgage Rates, General, How-to, Mortgage Rates, Purchase, Rates, Refinance
Tagged with: best mortgage rate, how to get the lowest interest rate, interest rate, lowest interest rate, mortgage rate