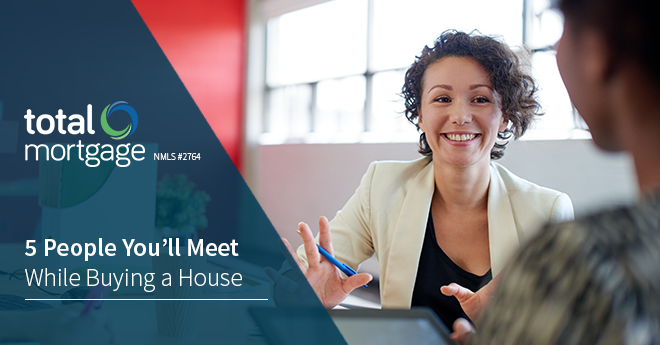 Finding and financing your new house takes an army—or at least it can sometimes seem that way when you're spending all your spare time juggling appointments and playing phone tag. There are some people, though, who play a more crucial role than others.
Here are 5 of the most important people you'll meet in your home search—and how to tell when they're doing their job right.
1. Your loan officer.
That's right, before you start browsing Zillow or shaking hands at open houses, you should do your homework, get some rate quotes, and settle on a lender. Not only will this help you get an idea of how much you can safely spend on a house, but it will make your offer look more serious to sellers.
A good loan officer will also be able to walk you through the various mortgage programs open to you and answer the questions you have about what the whole process will look like.
2. Your real estate agent.
With your preapproval letter in hand, it's time to find the right house. The best real estate agents work full time in the area you're looking to buy and steer you toward properties that will work for you, not for them. They should also be fairly easy to get a hold of —if your agent isn't, you may want to move on.
3. Your home inspector.
Before you settle on a house, you should hire an independent inspector to evaluate the property. Often, the largest (and most expensive) problems a house can hide are only visible to people who know what they're looking for. Your inspector could save you from making a costly mistake, or help you score a lower price.
Look for an inspector who will walk through the house with you and answer your questions as you go—often you'll be able to learn even more this way than you would through a simple report.
4. Your loan processor.
Once you've found the right property and the seller has accepted your offer, it's time to head back to your lender, where your loan officer will introduce you to your loan processor. Mortgage applications require a lot of complicated paperwork, and a processor will guide you through the process. Your processor should be organized and prompt with all communication.
5. Your home appraiser.
Before a lender or bank commits to lending you money, they need to make sure that the property is worth the money they're going to lend you. That's where appraisers comes in. They will do a walk-through of the house and use local market knowledge to estimate the value of the property.
A good appraiser will do their homework and take the seller's improvements into consideration when doing their final calculations.

---
Filed Under: Appraisal, Borrower Tips, First Time Home Buyer, General, Housing Market, Purchase
Tagged with: First Time Home Buyer, home appraisal, home appraiser, loan officer, people who will help you buy a house, real estate agent, realtor, steps to buying a house