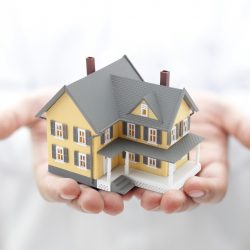 Falling behind on your mortgage payments may mean that foreclosure is around the corner—something everyone wants to avoid. Foreclosure damages your credit and can keep you from owning another home for years.  Here are 5 options you still have.
Transfer the loan.
If you're less concerned with keeping your house than you are with keeping your credit and financial history intact, you may want to check to see if your mortgage is assumable or not. If yours is, then you could transfer the loan to anyone who qualifies, allowing you to sell your home with minimal fees.
Even if your loan isn't assumable, you may be able to take a name off of it, or refinance to change the name on it.
Try for a loan modification.
In 2009, the government created HAMP, or the Home Affordable Modification Program, to reduce the monthly payments of qualified homeowners to 31% of their monthly income. Often, this means stretching the loan over a longer term or changing the interest rate structure.
Of course, "qualified" is the operative word here, as not all lenders participate in the program and those that do have different qualification criteria. Often, you'll have to provide documentation about your current hardship and prove that you will be able to afford a modified mortgage.
Short sell your home.
Short sales usually allow you to get out of your home with less damage to your credit than a foreclosure, but they do generally involve selling your home for less than the balance of your loan. Some lenders may be willing forgive the difference, but that will vary depending on your situation.
Get a forbearance.
You don't hear about forbearances very often, but they can be very helpful if your financial hardship is temporary in nature. A forbearance suspends or reduces your payments for a set period, allowing you time to resolve your problems.
Rent out your home.
If you haven't yet gotten too behind on payments—or if you see problems on your horizon—and want to keep your house, then you always have the option of renting out your house and finding a cheaper apartment somewhere else. Many homeowners find that that this temporary solution can provide free up enough money to make the mortgage payment.
---
Filed Under: foreclosures, General
Tagged with: avoiding foreclosure, foreclosure, foreclosure agreement, how to stop foreclosure, stopping foreclosure