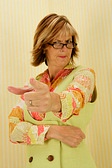 A proposed foreclosure settlement from state attorneys general is drawing attacks from different quarters, including both small and large banks and House Republicans.
Community banks are blasting the proposal from state AGs and federal regulators as stealth cramdown legislation.
Prompted by investigations into shoddy foreclosure practices, the "term sheet" would define how major banks offer foreclosure alternatives and complete foreclosures. Among other actions, it would require banks to cut mortgage balances as a first option and open the door to mortgage balances to be reduced in bankruptcies.
The settlement "will likely cause additional upheaval and confusion," according to the Independent Community Bankers of America, a trade group representing small banks. "In fact, the term sheet appears to be de facto regulation done outside of both the Congress and the established rule making process thus opening a back door to cramdown."
In a cramdown, a bankruptcy judge forces the lender to write down the borrower's mortgage balance.
Although Wall Street has generally already recovered from the financial crisis, many community banks continue to struggle, ICBA says. The proposed settlement would cause further deterioration of their fragile housing markets and economies and delay legitimate foreclosure actions and permit bankruptcy judges to reduce mortgage balances.
"ICBA is staunchly opposed to any legislation that includes a cramdown," it states. "Simply put, it is bad policy that doesn't do one bit of good for Main Street communities or the banks that serve them."
Executives of large banks that would be directly affected by the settlement have also criticized the proposal, saying it would encourage homeowners to default, be unfair to borrowers still paying their mortgages, and prompt banks to leave the mortgage business due to increased costs and restrictions on fees.
In an article in the New York Post, an unnamed bank executive called the proposal "a total non-start."
"This is the government trying to change your business so that you cannot make a profit," the executive said.
House Republicans have also blasted the proposal, complaining they are not involved in the talks, that federal and state federal agencies are trying to legislate through litigation, and that the Obama Administration is trying to use a settlement to maintain foreclosure prevention programs that they oppose.
Major banks are supposed to continue negotiating with state and federal officials this week. Iowa Attorney General Tom Miller, who is spearheading the talks, has said he hopes to reach an agreement in a couple of months. However, due to differences between the sides, a settlement may take much longer, if one is reached at all.
---
Filed Under: foreclosures
Tagged with: distressed property, foreclosure, foreclosures, mortgage applications