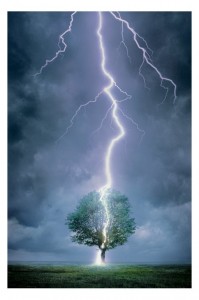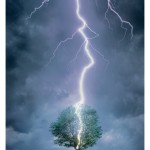 When I was 14 I had the unfortunate experience of being near where a bolt of lightning hit a tree.  I wasn't standing under the tree mind you, I was smarter than that.  I was inside a cabin lying on the bare metal springs of a bunk bead on the first day of camp.  The unfortunate proximity and position resulted in a brief (and bumpy) experience of human flight.  Yesterday mortgage rates, while minding their own business seemingly out of the storm, received a jolt that sent them flying.  This jolt came from the usually tame minutes of the previous meeting of the Federal Reserve's Open Market Committee.
To speak with one of our licensed mortgage professionals to find out how much you could be saving, click here or contact us today at 866-896-5826.
While not discussed in the news conference by Chairman Bernanke in December, there is apparently a growing feeling among Board members that the size of the Fed's balance sheet may be becoming a problem as they seek to eventually unwind their holdings of Treasury and MBS securities.  So much so, that the minutes suggest that some members believe an end to quantitative easing (purchasing of government securities and MBS) should come later this year.
The effect of such a move would be to remove a major purchaser of these securities (effecting supply and demand, and therefore price).  Most importantly it would allow these securities to trade without artificial influence, opening them up for much more volatility and upward rate pressure given stronger economic news.
Mortgage rates shot up yesterday in response to this jolt.  Today rates opened much higher but have since moderated as any changes to the Fed's buying habits are still off in the future and economic news released this morning suggests no rapid acceleration in the economy.
The monthly Non-Farm Payrolls report indicated that 155,000 new jobs were created in December—a decent number, but still nowhere near strong. Next month's report will be very closely watched for signs of an employment, and therefore, economic growth.
Rates are higher than they have been and face an uncertain future.  Therefore if you need a mortgage—the time is now.

---
Filed Under: Compare Mortgage Rates, Current Mortgage Rates, Fixed Rate Mortgages, Mortgage Interest Rates, Mortgage Rate Trends and Analysis, Mortgage Rates, Purchase, Refinance