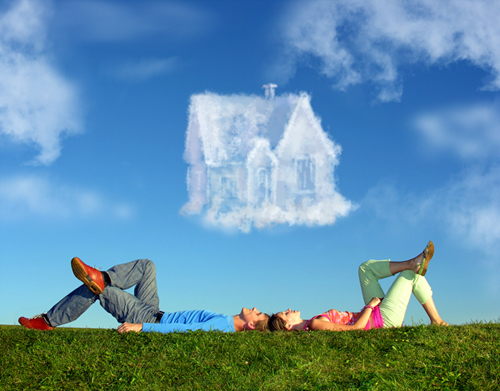 You may like the idea of owning your own place, but according to a recent news report, many would-be first-time homebuyers are sitting on the sidelines due to fear of rejection.
It's no secret that mortgage guidelines have become stricter in recent years. Despite having adequate income to afford regular monthly payments, many discover that it's simply too difficult to get a mortgage. Although it's harder for first-time homebuyers (or any homebuyer) to get their foot in the door, buying isn't impossible.
The key to ownership is setting attainable goals for yourself. You need to know what lenders expect from borrowers, and then develop a plan to ensure you meet a loan's requirements.
Having a lender reject your application can be discouraging; and if you fear future rejections, you might settle into life as a renter. This is okay. However, if you want to own, here's a look at three things you need to do.
1. Stick With the Same Employer
After graduating college and finding a job, you might be eager to purchase a home. However, having a job and enough income aren't always enough to qualify for a mortgage.
The majority of lenders require at least two years of consecutive income in the same field. Therefore, if you worked odd part-time jobs in college, a lender may not approve your application until you've been with a full-time employer for at least 24 months. Also, your income needs to remains the same or increase during this two-year period.
It's also important to stay with the same employer since this demonstrates stbility. If you must switch employers, it's beneficial to stay within the same field. Also, if you're thinking about leaving a full-time job to start your own business, postpone entrepreneurship until after you've closed on a mortgage loan. It's harder to qualify for a mortgage when self-employed.
2. Increase Your Savings Account
Depending on the type of mortgage loan, you'll need at least a 3.5% to 5% down payment. It's possible to get a mortgage with a credit score in the low 600s, but you'll pay a higher mortgage rate, which drives up the cost of your home loan. If you have a low credit score, a conventional lender will also require a 20% down payment.
If you go with an FHA loan — which doesn't have a minimum credit score requirement — you can purchase with a 3.5% down payment, yet a higher interest rate can reduce buying power.
To prepare for first-time ownership, you need to start a savings plan as soon as your income allows. The sooner you start, the better. For example, deposit at least 10% of your check into savings and save free money, such as tax refunds, work bonuses, and gift money.
3. Develop a Credit History Early
Don't wait until after college to start building your credit history. Nowadays, many banks prefer loan applicants with credit scores 700 and higher. Since it takes time to build an excellent credit rating, you need to start in early adulthood.
If you're at least 18 with a job, consider getting a secured credit card, a fresh-start auto loan or apply for a student loan. Make on-time payments and pay off credit cards each month. Managing your credit responsibly increases your credit score and you'll be in a better position to purchase a home when you're ready. Also, keep a close watch on your credit report. Pull your reports once a year from Annual Credit Report and report any inaccuracies.
Bottom Line
Buying a first home isn't a walk in the park. However, if you plan ahead and know what lenders expect, you'll have the resources and knowledge to qualify for a mortgage and get the keys to your new place.

---
Filed Under: Borrower Tips, First Time Home Buyer, How-to
Tagged with: borrower tips, First Time Home Buyer, home buying