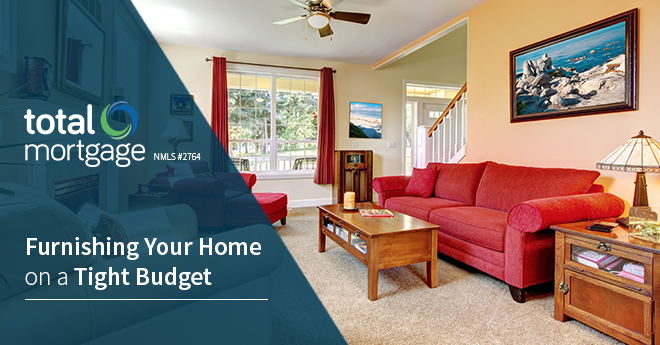 After buying your first house or coughing up the rent and deposit on your first apartment, it's pretty common to find yourself with an empty bank account and an even emptier living space.  Not everyone thinks to factor new furniture into the cost of a move, but once you start looking at furniture prices, you can bet you're going to wish you had.
Luckily, there are plenty of other ways to furnish you new home. Here are a few of the best.
Put out the word
Before you head to Ikea or start browsing online, make sure your friends and family know that any castoffs would be greatly appreciated. You never know—they might be just as grateful to get rid of some of their stuff as you are to have it.
Most people who have owned a home for more than a few years have accumulated all sorts of furniture that no longer fits in a room or has been replaced with something better.  And since getting rid of furniture can be a hassle, it tends to just get moved out of sight.
For a similar arrangement, albeit with internet strangers, check out FreeCycle.
Yard sales
Garage sales, moving sales, estate sales—whatever you want to call them, they're great places to cheap furniture. Since most of the people who host one are more concerned with decluttering and paring down their belongings than with making money, odds are good you'll score some great deals.
You can check Yard Sale Search and GarageSales.com for listings in your area, but keep an eye out for signs as you're driving around, too.
Craigslist
Craigslist is an old standby for a reason—you never know what's going to show up. The trick with Craigslist, though, is to know what you want, know how to search for it, and check often. If you live in a city or somewhere with a lot of competition, you may miss out if you wait too long.
Flea markets
For unique furniture and furnishings at low prices, you can't do any better than a flea market.  Check out FleaPortal to find some in your area.
While you're at it, check out some thrift stores and consignment shops. Like with a flea market, you're going to have to sort through some junk, but the finds (and savings) will be worth it.
Discount sites
If you're really set on buying new, be smart about where you shop. Sites like Overstock.com tend to have much better prices than department stores and furniture shops.

---
Filed Under: First Time Home Buyer, Home Improvement, Homeowner Tips
Tagged with: budget furniture, cheap furniture, decorating for cheap, decorating on a budget, furnishing a home, furniture deals, where to find discount furniture, where to find furniture deals