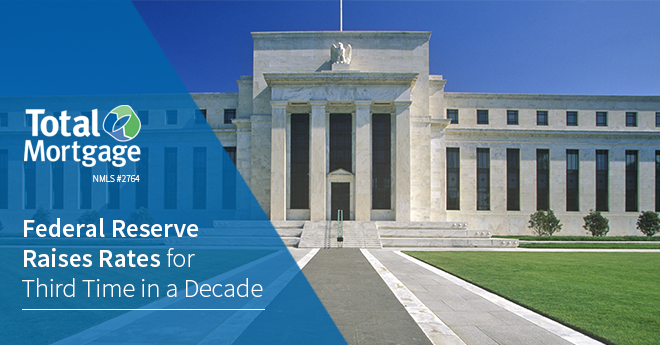 FOMC ends meeting with rate hike
The Federal Reserve's Federal Open Market Committee (FOMC) concluded their two day meeting this afternoon with a written statement that declared they raised the target range for the nation's benchmark interest rate–the federal funds rate–by a quarter point to 0.75%-1.00%.
It was a nearly unanimous vote, with only one dissent from Minneapolis Fed President Neel Kashkari. This is the third time during this tightening cycle that they have raised rates.
Click here to get today's latest mortgage rates (Sep. 28, 2022).
The decision came as no surprise to anyone who had been paying attention to recent events, as it was virtually guaranteed that they would take action at this meeting. A strengthening labor market and inflation numbers coming in around the Fed's target of 2% were among the reasons most Fed officials felt the current economic environment was ready for a rate increase.
Ahead of the meeting, there had been a lot of speculation about how the Fed's dot-plot, which shows where Fed officials believe rates will be in the future, would change. In the end, a quicker tightening path was not reflected in the dot-plot. Instead, it was left mostly unchanged from the previous meeting, as was most of the written statement.
Janet Yellen Press Conference
Fed Chair Janet Yellen met with reporters shortly after the written statement was released for a question and answer session that lasted about an hour. From the Fed Chair's tone, there really wasn't much to the rate hike decision. When asked what message the Fed wants to send to consumers, she responded by saying, "The simple message is the economy is doing well."
Market Reaction
All of the major U.S. market indexes spiked up after the written statement was released. The yield on the U.S. 10-year yield (the best market indicator of where mortgages rates are going) actually went in the opposite direction, falling several basis points, putting at -.10% on the day.
The drop is due to the fact that many investors had been concerned that the Fed would come out with a more aggressive policy path. But with the Fed reaffirming their position of only two more rate hikes this year, bonds got some relief, causing yields to decline. That means that despite the increase in the federal funds rate, mortgage rates are falling today.
---
Filed Under: Uncategorized