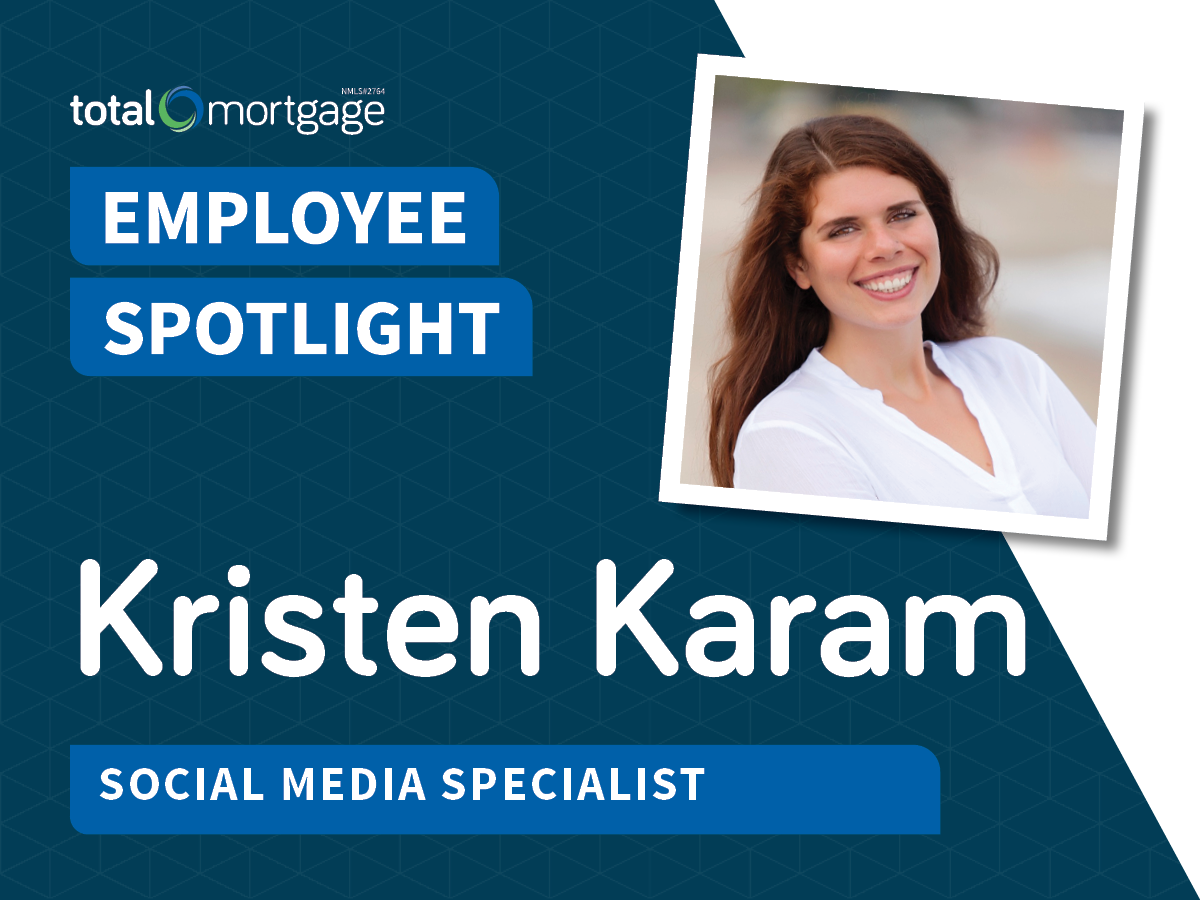 If you follow us on TikTok or Instagram (@mortgageeasier), our Employee Spotlight may look familiar. Kristen Karam works in our Marketing department as one of our Social Media Strategists creating the fun content you've all come to know and love. We sat down with Kristen to learn more about her; take a look below.

Where are you from originally?
I'm originally from upstate NY. I went to college in LI at Stony Brook University before ending up in CT.

What brought you to Total Mortgage? 
I joined total mortgage because I love the work environment. Before my 1st interview, I could tell that Total Mortgage truly cares about its employees. I have never felt more supported than I do here at Total Mortgage. I am so grateful to be a part of the team and to be able to work with such incredible people.

What was your first job?
My first job was working as a Lifeguard in HS at the Corning YMCA in upstate NY. 

What's a fun fact about you?
I'm a stand-up comedian in NYC!

Do you have any nicknames?
Everyone calls me "Krick" which is short for "Kricket". When I was like 7 I ate a cricket because some kids dared me to and since then the name stuck.

What do you enjoy doing in your free time?
I love practicing guitar, writing jokes, hiking, reading, and playing call of duty.

What's one thing you're proud of?
Buying my first house/ investment property at age 25 with my girlfriend Annie. You can read about that here.

What is the first thing you would do if you won the lottery?
I would use it to invest in Real Estate and go on vacation to the Maldives.

What's on your road trip playlist?
Earth, Wind, and Fire
Peter Frampton
Hootie & the Blowfish
Kendrick Lamar
Stevie Nicks
Tyga
SZA
Tch N9ne
ODESZA
Red Hot Chili Peppers
The Eagles
If someone were to come to your town, what is one local spot you would send them to & why?
I was born in Elmira, NY. Unfortunately, there isn't much left there now. I would recommend my favorite pizza place, Pudgies! They have the best pizza I have ever had in my life.
---
Filed Under: Employee Spotlight
Tagged with: Employee Spotlight