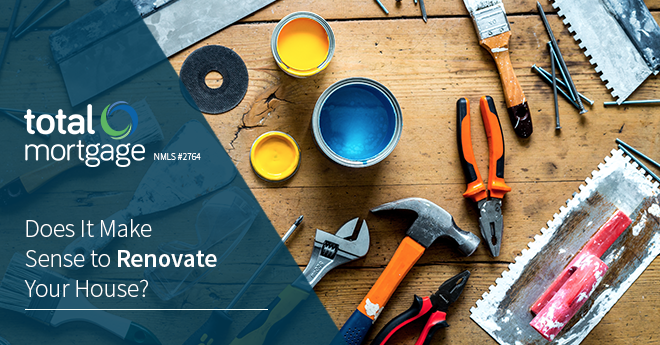 If you're ready for a new and improved home, you might be struggling to decide whether to move or renovate your current space. The answer partly depends on your home's value, the status of your mortgage and whether the property's footprint allows for the renovations you desire.
Here are some things to think about as you consider if renovation makes sense:
Location, Location, Location
Do you love the location of your house or is there another neighborhood you've been eyeing? Being an active member of your current community is one reason to favor renovating over moving—unless, of course, you can find another home in your immediate area.
What You Can Afford
Your budget involves many moving parts, but the bottom line is your current cash flow and savings play a big role in deciding whether renovating is the right decision. Depending on where you live, it might be better to buy a house that already has the features you want, versus bankrolling a remodel that may not benefit your bottom line in long run.
However, if you reside in a sought-after area where homes are in high demand, you could potentially realize a big return on your investment. In any case, obtain cost estimates for your renovations in writing to get a better idea of what you can afford to spend.
Your Financing Options
Depending on certain factors, loan programs such as the FHA 203(k) mortgage could help you finance renovations; it's even possible you could refinance your existing mortgage into the new renovation loan. Similarly, home improvements are often a smart use of home equity loans or lines of credit. However, qualifying for an equity loan depends on how much your home has appreciated in value since you first moved in.
Property Limitations
Contact your housing association or city planning department to inquire about construction limits and requirements. Some areas require building permits for certain home improvements (e.g. the addition of another room) or restrict how large a house can be in proportion to the land it sits on.
If your home can't be made any larger, you must restrict renovations to your current square footage—which could potentially be the deciding factor in the battle of renovating vs. moving.
Your Home's Current Condition
Some homes aren't "healthy" enough to be renovated; they're deemed structurally unsound. Major renovations to houses with foundation or drainage issues should be approached with caution. It's possible your remodel could require additional prep work (e.g. installing new support beams when relocating walls) or drive your costs higher than you originally expected.
Renovation Goals
Renovating your home to bring it up to code (or even into the 21st century) is usually a good use of funds. For instance, if you give your current 1960s kitchen a more modern look, there's a good chance you'll recoup a big portion of those costs when it comes time to sell your home. Remodeling a house already in prime condition, however, won't impact its appraisal value as much. Of course, this depends on your financial situation and how long you plan to stay in your current home.
Bottom Line
Choosing to renovate instead of moving can make sense in some situations. First assess your current budget and future housing needs, and think hard about whether you can deal with potentially invasive construction that could take weeks to complete. On the flip side, moving comes with its own kind of stress. If crunching the numbers doesn't immediately reveal what choice you should make, you might have to let your get tell you what's best for you and your family.
---
Filed Under: Uncategorized