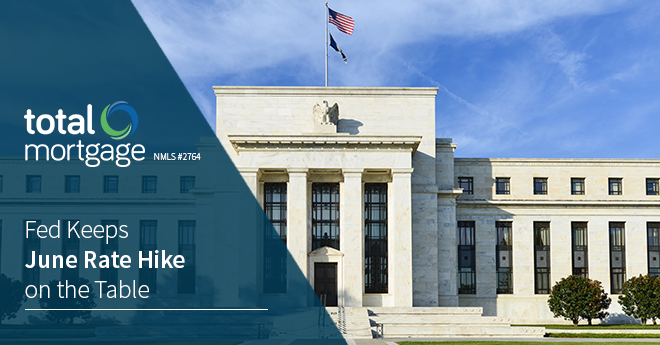 FOMC still optimistic about economy
The Federal Reserve's Federal Open Market Committee (FOMC) concluded their two day meeting this afternoon with a written statement. With no post meeting press conference from Fed Chair Janet Yellen this time around, all of the focus was on the written announcement.
There were really no surprises, with the main takeaway being that they will continue to keep their target benchmark at 0.75%-1.00% and that they remain optimistic about their current rate hike path.
Here is the main quote that brushes off the recent economic slowdown:
"The Committee views the slowing in growth during the first quarter as likely to be transitory and continues to expect that, with gradual adjustments in the stance of monetary policy, economic activity will expand at a moderate pace, labor market conditions will strengthen somewhat further, and inflation will stabilize around 2 percent over the medium term."
The fact that their optimism is unfazed has bolstered the belief that a June rate hike is firmly on the table. The CME Group's fed fund futures currently have the chances of a rate hike next month at about 75%. That's up about 5% from where it was earlier today.
With the Fed seemingly on board for June, it's up to the hard data to hammer a rate hike home. The next big chance for that to happen is on Friday with the monthly jobs report.
Market Reaction
Mortgage rates moving higher
Many financial market participants had expected that they would take this stance, but having them actually come out and say it allows investors to move a little more confidently in the market.
Click here to get today's latest mortgage rates (Jan. 20, 2022). 
The yield on the 10-year Treasury note (the best market indicator of where mortgage rates are heading) jumped up about four basis points after the announcement was made. That means that mortgage rates are ticking up this afternoon as well.
Recommendation for borrowers
Could make sense to lock now
We've been saying all week that mortgage rates could rise, and so far, our predictions true. The next big threat to rates is the monthly employment report on Friday. If you've been on the fence about a refinance or purchase it might make sense to lock in a rate before Friday.
There's always the possibility that rates dip back down tomorrow as the market digests the Fed statement, but the jobs report still has the potential to put upward pressure on rates.
Of course, if you have some time and are willing to deal with some risk, you could always wait until next week to see if the market shifts again. In the end, what you do depends on your current situation and how much risk you can handle. Just keep in mind that the long-term trajectory for rates right now is heading higher.
If you want to get the most accurate idea of what kind of rate we could offer, you should fill out our short form and get a personalized rate quote. If you'd rather talk to someone, you can always call one of our experienced mortgage specialists.

---
Filed Under: Current Mortgage Rates, Mortgage Interest Rates, Mortgage Rate Trends and Analysis, Mortgage Rates, News, Rates
Tagged with: Fed, federal funds rate, federal reserve, FOMC