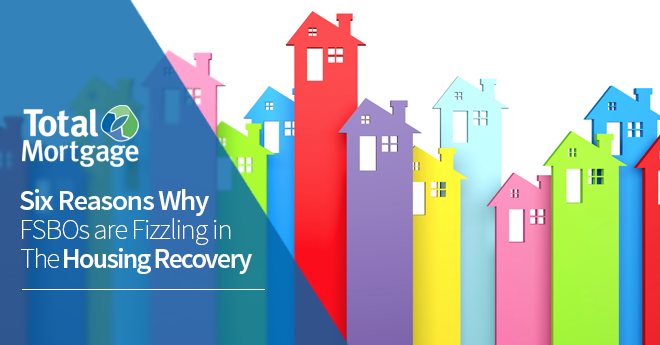 Six Reasons Why FSBOs are Fizzling in the Housing Recovery
Wouldn't you like to save $15,000 or more the next time you sell your house?
When demand stiffens for houses, as it has in most markets during the current housing recovery, thousands of home sellers have in the past sold their homes themselves rather than hiring a real estate broker to market their homes. At the peak of the housing boom in 2007, 13 percent of all homes in America were sold without the seller incurring the cost of hiring a real estate professional.

However, as the current housing recovery enters its second year, there has been no increase in FSBOs even though low inventories in a number of markets sparked bidding wars and homes selling far above listing price. The FSBO market share fell to 9 percent in 2010, where it still languishes, according to the latest data from the National Association of Realtors.
Why are sellers shelling out tens of thousands to real estate professionals when buyers are begging to bid on homes?
• Marketing real estate on the Internet is harder and more expensive than it looks. Access to the millions of real estate listings on the Internet was supposed to revolutionize real estate. While it has certainly made house hunting much easier, the Internet hasn't done much for FSBOs. They remain locked out of the nation's 900 multiple listing service sites that are owned by local Realtor organizations. These are the core data bases of homes for sale and they feed listings to local brokers' sites and the big national sites. At the national level sites like Trulia and Zillow accept FSBO listings. Sellers can post photos and descriptions online, reaching exponentially more house hunters than they would have in the past. However, to get as much attention as competing listings from MLSs, owners may find they have to pay for enhanced exposure. There are a handful of FSBO websites that hook up FSBO sellers with buyers but these are small and visitation is light compared to the big national and regional sites.
• Real estate agents won't show FSBOs to their buyers. Agents representing buyers make their fee from a split of the commission offered by the home seller when sale is completed. If buyers' agent's customer ends up buying a FSBO, the agent makes nothing. Thus, they discourage buyers from looking at FSBO homes.
• FSBO owners typically don't put as much effort, expertise and money into marketing their homes as do real estate professionals. In NAR's survey, last year one-third of FSBO sellers took no action to market their home at all, and 60 percent did not offer any incentives to attract buyers. Nor do many owners know how to market a home in today's environment, where the Internet has made home selling more complicated and expensive, rather than less so.
• FSBO sellers are run the risk of getting into legal trouble. Real estate transactions are fraught with potential liability for unwary sellers, particularly in states that have extensive disclosure requirements. A FSBO who overlooks even one required form or legally mandated disclosure could face a protracted and expensive buyer lawsuit after the transaction closes.
• Many FSBO sellers do not know how to price their homes to sell successfully. Pricing is a critical step in the sales process and most FSBOs overprice their home. It requires research and great discipline on the part of sellers to price their homes not for what they think they are worth but for what they will sell for. Like most homeowners, most FSBOs honestly believe their own homes are worth more than comparable homes in the same neighborhood. Usually, they're wrong. A real estate agent can provide an update on market conditions, an assessment of the likely selling price of the home and tips for improving the home's buyer appeal. Overpricing a home is a sure way to deter potential buyers.
• Many FSBOs don't "stage" or prepare their homes properly. FSBO buyers don't need a real estate agent to hire a stager, spend the money to paint, repair, landscape, and de-clutter to make their houses attractive to buyers. But many figure if the market is hot enough to sell without an agent, they don't need a stager either.
Because of the hurdles they face and the mistakes many FSBO sellers make, FSBO homes sell for less on average than agent-represented homes. FSBO homes in 2013 sold for $174,900 compared to $210,000 among agent-assisted home sales. That's a 20 percent discount; a steep price to pay for saving a 6 percent commission and doing all the work yourself.
---
Filed Under: Commentary
Tagged with: fsbo, housing, housing market, recovery