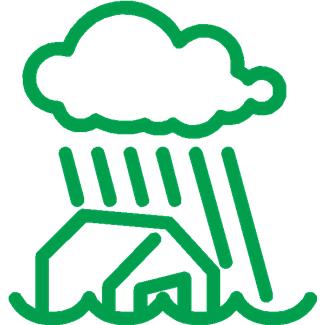 It's Cool To Be Green
One of the biggest environmental challenges facing cities and towns is coping with the storm water that accumulates from even routine rainfall. Urban areas are covered in roads and buildings, which prevent rainwater from being absorbed into the ground. Instead, it flows over rooftops, parking lots, streets and sidewalks, picking up pollutants along the way. In the past, many of these problems were addressed by building hard infrastructure that relied on pipes, storage tanks and bigger treatment plants. But as these measures have become more costly and difficult to implement, municipal planners increasingly are turning to green infrastructure systems.
To help communities implement green infrastructure, Regional Plan Association has produced a guide outlining successful green infrastructure practice.
"Green infrastructure needs to be integrated with land use, site design and architectural decisions in order to succeed.  Our research found that implementing green infrastructure projects often floundered because of difficulties in incorporating them into other planning practices," said Robert J. Pirani, RPA's vice president for environment and energy.
"There are certain aspects of green infrastructure that are cost effective for any building owner or municipality," said  Pirnai. "In some cases, there is federal, state or local money that can help pay for the cost of construction.  There is certainly enough experience within the design world that these projects are really standardized in the sense that there isn't much of a risk involved on the part of building owner. "The goal at the RPA is that the country make a transition to more renewable sources of energy. And that includes the efficient use of limited resources such as fresh water," said Pirani. "That means trying to retain and re-use storm water and to use it to cool the environment and buildings.
Pirani gave residential buildings in the Battery Park development in Manhattan and an affordable  housing initiative by The Jonathan Rose companies in the Bronx as examples of 'green'; while the Hearst and Bank of America buildings in mid-Manhattan are examples of commercial efforts.
The RPA report points to smaller cities that are working with developers. Cities that have been in the forefront include Philadelphia, Chicago, Portland, Oregon and Seattle. And unlikely cities such as Milwaukee and Cedar Rapids are also in the mix.
In Chicago, public officials are experimenting with different ways of encouraging property owners to incorporate best management practices into renovations, redevelopment projects and new developments.
One approach is the city's Green Permit Program. Permits are expedited for qualifying projects that incorporate greening into their proposals. Eligible projects may also receive a permit fee discount. For qualifying permittees, the wait time for approval is reduced to as little as two weeks from the date of submission, resulting in significant cost savings for developers. The more green strategies, the faster the review process for permits. The program explicitly calls out "Exceptional Water Management" as one of the greening strategies. Projects are rewarded for reducing water consumption and storm- water runoff since they lessen the demand on city infrastructure and preserve Lake Michigan and the Chicago River.
City officials use the program to influence private development to meet citywide sustainability goals. Developers gain access to technical assistance and design advice about efficiency opportunities that they might not have known about or were unskilled at deploying.
The City of Portland, Ore., is known for its reliance on green infrastructure to control storm water run-off and combined sewer overflows. The encouragement of down- spout disconnection is one of the most successful components of the program. Rain gutters are disconnected from the municipal sewer system and channeled onto lawns, rain barrels and specially designed rain gardens. Making the existing drainage network and infiltration the backbone of a system of streams, green streets, high performance parcels and park areas can developers meet storm water goals without costly street side storm drains and catch basins. This translates to less built infrastructure and lower long- term maintenance costs.
Portland's Bureau of Environmental Services spent $8 million on the program, including the $53 payment for each down- spout disconnection. The department estimates that it saved approximately $250 million in avoided infrastructure costs. (source- Regional Plan Association)
For the compete report, click here.
---
Filed Under: Commentary
Tagged with: green infrastructure, water runoff