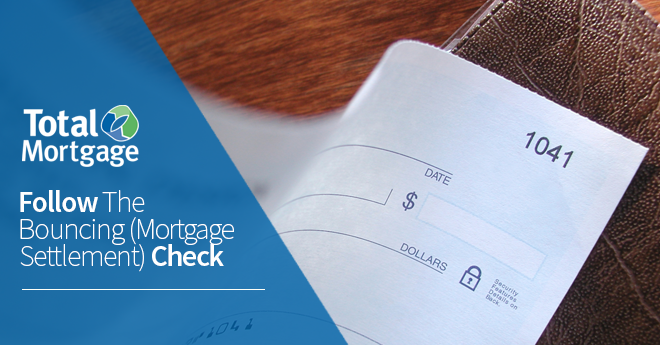 It was with great fanfare a couple weeks ago that the long-awaited announcement was made: $3.6 billion will be distributed by banks to more than 4 million borrowers as part of a settlement reached with federal agencies in January. Banks agreed to pay a total $9.3 billion in cash and in reductions of mortgage balances. There was only one problem: the checks were not mailed out by the banks but by a firm with the name of Rust Consulting.  A fitting name since a percentage of the checks mailed to consumers bounced; as in funds not being available.
The Federal Reserve posted this statement on their website:
"The paying agent for checks being sent to borrowers under the Independent Foreclosure Review has assured the Federal Reserve Board that early problems with some checks have been corrected and that funds are available to cash all checks."
Some early recipients of checks informed the Federal Reserve's consumer helpline that they were told their checks could not be cashed. Members of the Board staff contacted the paying agent, Rust Consulting, Inc., and the paying bank, The Huntington National Bank. Rust subsequently corrected problems that led to some checks being rejected.
And Rust issued a statement as well: "We apologize to anyone who experienced problems trying to cash their checks. We are working hard and communicating with the banking regulators, the servicers, and other banks to ensure those issues are not repeated."
According to the New York Times, Rust faced similar concerns in 2006. It helped distribute payments from a class-action case involving title insurance costs and consumers complained that the checks bounced. Some officials say it is common for Rust to keep accounts empty. Rather than lose access to the money, the firm often fills requests for payment at the end of each day.
Ken Wells, an executive vice president with Truebridge, a financial content marketing firm, told Total Mortgage: "Rust Consulting is making the argument that the glitch was in the enormous issues involved in moving $3.6 billion into one bank for disbursement. Issues involving FDIC and things like the Bank Security Act, which is designed to put high awareness regarding the movement of large sums of money; due to issues like terrorism and money laundering."
David Kowal, president Kowal Communications, said: "When does tragicomedy become farce?  Foreclosed homeowners who failed to pay what they owe now have big banks failing to pay them what they owe.  Hopefully, the banks whose checks bounced will be adding a bounced-check fee to their payments to the foreclosed homeowners." Kowal added that even though it was Rust Consulting who mailed the checks, the banks are ultimately responsible.
"I think the critics are also probably on target in saying that Rust held out on this transfer as long as they thought possible in part because they might have been making a great deal of float in their other accounts while holding these sums," said Wells, who has a consumer marketing background in the banking industry. "But in a project this big and with so many false steps already in the process being reported, you would think that prudent managers would have had plenty of time to get it figured out so that the funds were there when the checks were released."
For questions: call Rust at 1-888-952-9105.
Steve Viuker is a Brooklyn, New York business journalist.  He has covered real estate, small business and banking for numerous national online and print media.
---
Filed Under: Commentary
Tagged with: epic failure, mortgage settlement