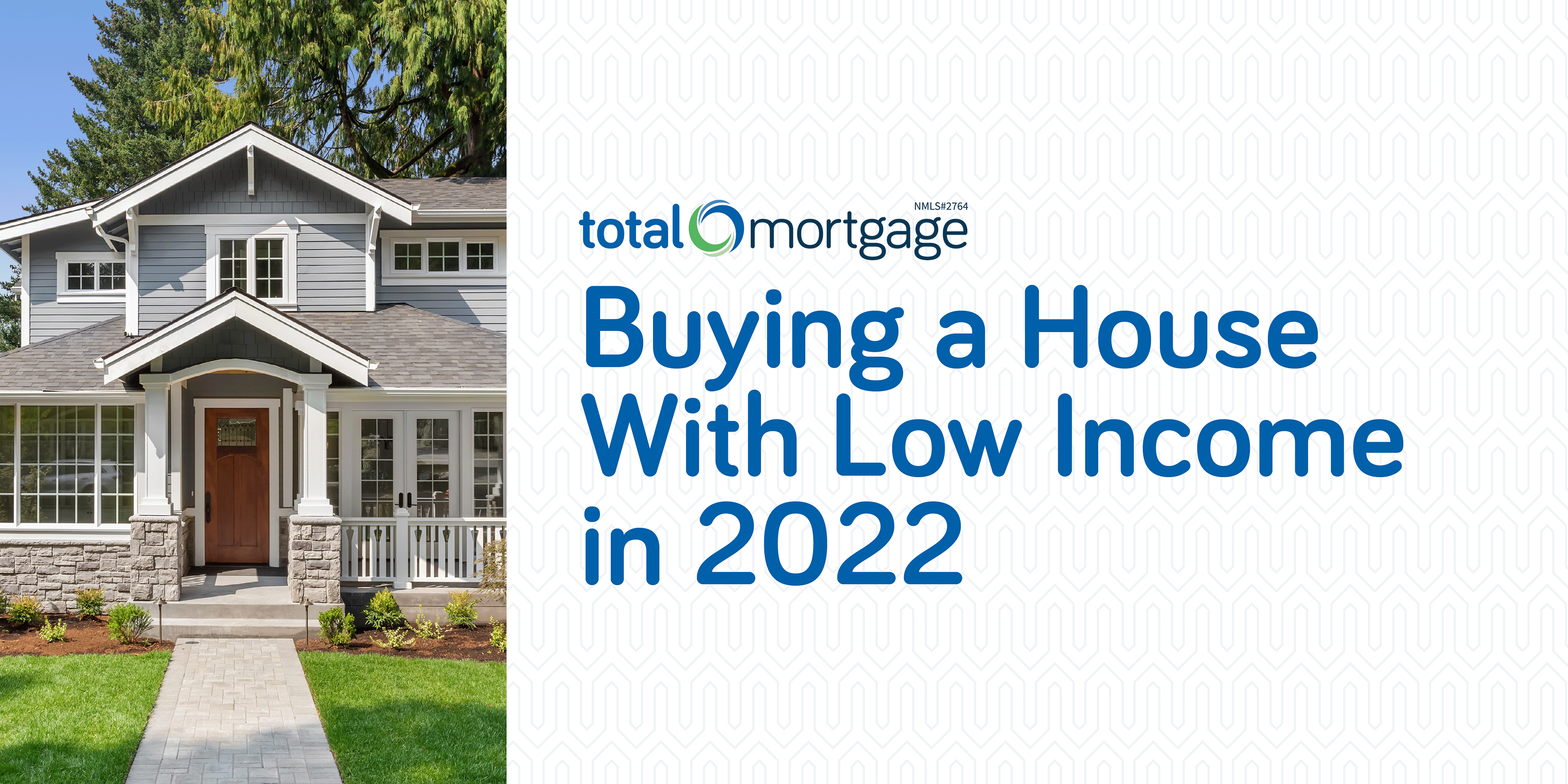 Buying a house with low income is possible and there are several mortgages designed specifically for this type of consumer. Even if your income is on the lower side, there's no need to let credit score or down payment requirements deter you from pursuing your dream of home ownership.
If a lender is satisfied that a potential buyer is a good credit risk, meaning they pay their bills on time, a low-income individual could be on their way to owning a new home.
In this article, we'll explain different options for buying a house on low income and give you tips to speed the process up
Can I Buy a House with Low Income?
Yes, a person with low income can get a loan and purchase a house. However, someone whose income is on the lower side might face challenges that they otherwise would not encounter.
Your monthly debt vs. your income is one of the metrics that mortgage lenders consider. For example, as a low-income person, your debt–to-income ratio could potentially be high.
However, this is not a deal-breaker for lenders. You can still buy a house with low income even if your debt-to-income ratio is high, within reason.
If you earn an hourly salary, don't have a great deal of savings in the bank, or your credit score needs repairing, don't count yourself out of home ownership either.
The key to buying a house with low income is to identify loan programs and products that are created for consumers like you.
Total Mortgage has mortgage experts standing by who work with lenders across the nation. Find a banker in your neighborhood today to help you navigate the real estate experience, including learning about your pre-approval status, so you can focus on your move.
Mortgage Loan Programs for Low Income Individuals
To demonstrate that it is possible to buy a house with low income, here's a list of mortgage loans that you could choose from.
FHA Loan
FHA loans are backed by the Federal Housing Administration (FHA) and offer relaxed standards to assist a low-income person with buying a house.
Your down payment could be as low as 3.5%, but to qualify for this perk your credit score should be north of 580.
HomeReady Mortgage
A HomeReady Mortgage is one offered by Fannie Mae, a government-sponsored enterprise (GSE) designed to make home ownership easier for Americans.
Even if your income is low and if you meet other standards, you can qualify. Fannie Mae's low-income threshold is defined as no more than 80% of the area median income (AMI) in the neighborhood where the property is located.
The down payment requirement is 3% of the purchase price.
The homebuyer is not limited by their own savings and is free to use funds received via gifts from loved ones. You could qualify for this mortgage if your credit score is at least 620, while a credit score of 680 will likely result in better loan terms.
You can be a first-time homebuyer with low income, a repeat buyer, or someone looking to refinance an existing loan. Fannie Mae requires that borrowers of this type of loan fulfill a homeownership education process.
Freddie Mac Home Possible Mortgage
Freddie Mac, another GSE, also has a mortgage designed for low-income Americans. This loan has similar features to HomeReady, including a 3% down payment requirement and the option to use funds outside of savings to pay it.
Like HomeReady, the AMI cap is also 80% and you can expect to complete a homeownership education process.
USDA Loan
When using a mortgage loan backed by the U.S. Department of Agriculture (USDA), the borrower is not required to provide a down payment, which could be especially helpful when trying to buy a house with low income.
A first-time homebuyer with low income could qualify, or someone on their second time around. The property must be located in what the USDA deems to be a rural area. In addition, the borrower's earnings must be no more than 115% of the aforementioned AMI.
VA Loan
A VA loan has the backing of the U.S. Department of Veterans Affairs and it has lenient requirements. If you are a veteran, on active duty, or even a military spouse, you could qualify for a VA loan. This type of mortgage can help you buy a house with low income because there is no down payment requirement.
In addition, the credit standards are generally more relaxed vs. conventional mortgages, and you can access what's known as an entitlement, which is the part of the loan that is guaranteed to ease the minds of lenders.
4 Tips for Buying a House With Low Income
Before applying for a low income mortgage, here are the four essential steps you should take to increase your chances of getting approved.
1. Confront Your Credit
Knowing your credit profile going in will give you the power to target the low-income mortgages that are most relevant to you.
2. Create a Budget
Keep in mind that one of the criteria that lenders will be using to determine your creditworthiness is your debt-to-income ratio. When you're looking to buy a house with low income, maintain a debt-to-income ratio of 43% or lower to be attractive to lenders.
Sticking to a budget and keeping your spending in check can help you get there.
3. Save Money
Even if you are buying a house with low income, chances are you'll have to make some down payment, even if it's less money than you would need for more conventional loans.
The sooner you could start saving money away in a savings account, the sooner you are likely to reach the required threshold for a down payment. Once you've saved as much as 5% of the property's purchase price, you should be prepared for the closing costs.
4. Talk to a Lender
When you have your credit, budget, and savings under control, you are ready to speak with a lender. Take advantage of Total Mortgage's hybrid model of technology and human expertise to supercharge your mortgage experience today.
Explore Mortgage Loans Options from Total Mortgage
Buying a home remains an essential part of the American dream, and first-time home buyers with low income do not have to miss out.
Fortunately, there is no shortage of low-income loans to buy a house. Our mortgage experts are standing by to help you, so apply and get a free rate quote today.
---
Filed Under: Uncategorized