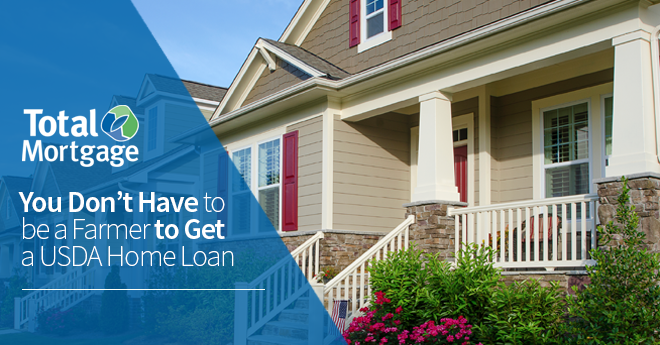 That's right, NO down payment.  NO out-of-pocket closing costs. Every penny of the purchase price and all of the closing costs, can be financed, up to 100% of the appraised value of the home. Heck, there aren't even any limits on how much your seller can contribute your closing costs, if he is so inclined.
No, you don't have to be a congressman, a senator, a veteran or even a farmer to get one of these loans, even though they come from the US Department of Agriculture's Rural Development Single Family Housing Loan Guarantee Program.
Here's how they work. The two most important criteria for getting a loan are where you live and how much you make.  Though you don't have to be a farmer, you do have to live in a rural area, or a rural part of a suburban area.  Defining "rural" is not as easy as it might seem, so the USDA has carved up the nation into "eligible rural areas" which you can find by looking up your address on this map and seeing if you live in a qualified area.  Word is that they are redoing eligible areas based on the 2010 Census data so you might want to check the list regularly.
The second most important criterion is income. These loans are not for the wealthy, but you don't have to be impoverished to qualify.  Income eligibility is capped at 115 percent of your median area income. To check your eligibility, use the map above to check on the limit for your community.
The simple fact is that with the possible exception of VA housing loans, USDA loans are the best deal going for federally financed loans.  Some additional highlights:
USDA loans require mortgage insurance, but the premium is much lower than it is for an FHA or conventional loan. This can allow you to qualify to buy a more expensive home, or allow you to put more money into savings every month.
While conventional loans have a maximum loan amount limit of $417,000, and FHA loan amount limits vary by county (and can be as low as $217,050), USDA Home Loans do not have a loan amount limit. This is especially useful in areas with lower FHA loan limits.
USDA loans required a guarantee fee will of 2% percent and the Annual fee 0.40%.  However, the guarantee fee can be financed as part of the mortgage.
Qualifying ratio maximums are 29 percent for housing costs and 41 percent for total debt. (The current national median ratios are 23 for housing and 34 for total debt, according to Ellie Mae).
Eligible property types include existing homes, new construction, modular homes, eligible condominiums and new manufactured homes.
You must be at least two years out of a bankruptcy discharge and be "credit worthy."
You cannot own another home within commuting distance of the home you wish to purchase.
All loans are thirty-year fixed.
Approvals are prompt.  USDA Home Loans generally require between 15 and 30 days to complete, depending on how quickly an appraisal is performed and how much time the USDA regional office requires in granting approval.
Like FHA, the government guarantees loans under this program that are actually made by an approved lender, who sets the terms.  For a list of approved lenders, go here.
One thing you don't want to do with a USDA guaranteed loan is default.  Unlike conventional mortgages, USDA has no process to modify your loan.  If you get in trouble, your only avenue of relief is the USDA's Special Forbearance program.  In order to qualify, USDA will require you to pay a minimum partial payment applied towards any arrears. If you are more than 12 months past due, more than likely the lender will decline your Special Forbearance request. In addition, if you have the inability to pay out of packet for the amount or partial amount of the arrears, your "Special Forbearance" request will be declined.  Your best negotiating time for your delinquent USDA loan is after 90 days past due and before you are 12 months in arrears.
Two years ago this program made some unfortunate headlines when an inspector general's report discovered that the government may have given out more than $4 billion in housing loans to ineligible borrowers.  An IG's audit found that among 100 randomly selected government-guaranteed rural home loans across the country, 28 loans lenders had not fully complied with federal regulations in determining borrower eligibility.
The audit found borrowers with annual income over the program's limits, borrowers with questionable ability to repay the loan, borrowers who didn't need the government loan guarantee and borrowers who purchased homes with swimming pools, which is strictly prohibited by the program's rules. Some borrowers had debt-to-income ratios that were too high because lenders accepted unstable or inconsistent earnings or used only recent earnings. Several borrowers were, or had been, delinquent on their loans. One was over 180 days delinquent. Another had defaulted and the lender had filed a loss claim.  USDA officials agreed that 10 of the 28 borrowers were ineligible.
Needless to say, in the wake of the unpleasant headlines, the program was tightened up and no more swimming pools have been financed since.
If you're thinking about applying for a USDA loan, don't delay.  USDA Housing Loans are not quite the secret that they used to be.  In fact when each federal fiscal year ends (September 30), the USDA more often than not runs out of money to guarantee loans and it places applications on hold until more funds are available, which is usually just a few weeks but it could be enough to jeopardize the home of your dreams.
Steve Cook is managing editor of Real Estate Economy Watch, which was recognized as one of the two best real estate news sites of 2011 by the National Association of Real Estate Editors. Before he co-founded REEW in 2007, he was vice president of public affairs for the National Association of Realtors. In 2006 and 2007, he was named one of the 100 most influential people in real estate.
---
Filed Under: Borrower Tips
Tagged with: USDA loans, USDA mortgages