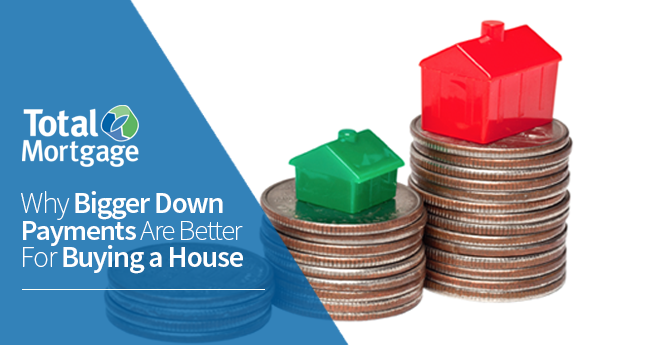 Saving as much money as possible for your down payment makes financial sense.
Saving for a down payment today might be tougher than it has ever been. The economy has not been kind to people in their twenties and early thirties, the prime age for buying a first home. In fact, three in ten young adults ages 25 to 34 (29 percent) not only can't afford to buy a home, they can't afford to rent one, and are living at home. [1]
After the housing crash, conventional lenders increased their down payment requirements to 20 percent, in many cases.  Today, the average down payment is 9 percent,[2] compared to 2004, when the average down payment was only 3 percent of the purchase and 42 percent of all buyers financed the entire purchase price without putting a penny down.[3]  How times have changed!
Low Down Payment Options are Becoming More Expensive
Even FHA loans are becoming more costly.  FHA loans, popular with first-time buyers for their low down payment requirements, now require a higher down payment from applicants with marginal credit.  FHA loans are significantly more expensive today since FHA increased its mortgage insurance premiums to reduce its liability.
It's not easy to get help from family or friends, either.  Lenders will require documentation and there are limits on how much they will allow, and larger gifts incur tax consequences.  (See Helping with a Down Payment: Gift or Loan?).   A new federal regulation under consideration, known as the QRM rule, may have the effect of raising down payments even further.
Why, then, would anyone want to put a penny more down than you absolutely have to?
Three reasons for larger down payments
Here are three reasons that it might be worth your while to save a little more or a little harder for your downpayment.
You will get a lower rate of interest.  When you are shopping for a mortgage, you will see some lenders advertise ridiculously low interest rates.  Very few people can qualify for these rates unless they have an exceptionally good credit score and a favorable loan-to-value ratio (LTV).  The median LTV ratio for all mortgages in February was 80 (e.g. the median mortgage on a house worth $100,000 was $80,000).  If you put down an additional $10,000, the loan amount would fall to $70,000, lowering your LTV.  With a lower LTV, you will get a more favorable rate of interest, although only to a point.
You will be protected if your appraisal is low.  A survey of Realtors last fall found that 11 percent reported a contract was cancelled because an appraised value came in below the price negotiated between the buyer and seller, and 9 percent reported a contract was delayed.[4] Low appraisals are especially common when prices are changing rapidly, as they are in many markets this spring and summer.  (See 9 Tips to Help Home Sellers to Get a Fair Appraisal).  By putting a little more down, you give yourself a greater cushion between the about of the loan and the value of the home, in the event the appraisal values the home at less than expected, protecting yourself from losing the contract and the home or having your closing delayed.
You will pay less in the long run.  Probably the best reason of all is that you will save a lot in the long run.  Say you take out a $200,000 30-year fixed rate mortgage at 3 percent.  Your monthly payment will be $843.21.  Over 30 years, you will pay a total of $303,555 in principal and interest.  However, if you put down an extra $10,000 when you buy your home and finance the balance at $190,000, you will end up paying $801.05 a month for a total of $288,378.  That's a savings of $15,177 and a net savings of $5,177.  The higher your interest rate is, the more you will save (and rates are expected to rise this year). For example, if your rate was 5 percent instead of 3 percent, you would pay $19,325 less over the life of the loan for a net savings of $9,325 if you put down an extra $10,000 at closing.
As you budget your home purchase, consider the wisdom of putting down a little more than you had planned, if you can.
---
Steve Cook is managing editor of Real Estate Economy Watch, which was recognized as one of the two best real estate news sites of 2011 by the National Association of Real Estate Editors. Before he co-founded REEW in 2007, he was vice president of public affairs for the National Association of Realtors. In 2006 and 2007, he was named one of the 100 most influential people in real estate.
---
Filed Under: Borrower Tips
Tagged with: buying a home, down payments