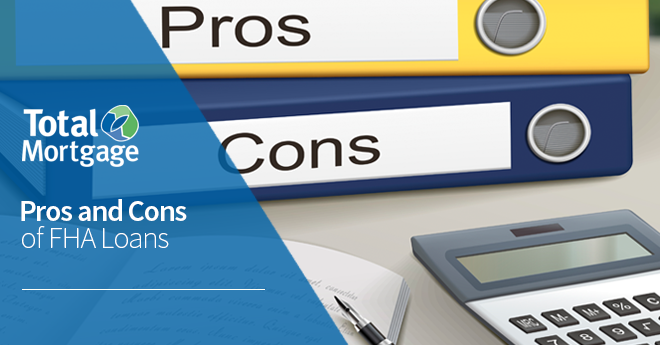 Considering buying a home, but at a loss as to what kind of mortgage would best benefit you? Many people have opted for FHA loans, which are mortgages insured by the Federal Housing Administration.
FHA loans have a lot of upsides for potential homebuyers – but it's important to understand the whole picture before you choose this loan type to help you purchase your home. While FHA loans can help many people, they're not right for everyone.
What Exactly Is an FHA Loan?
The Federal Housing Administration is an agency that is part of the bigger U.S. Department of Housing and Urban Development. FHA loans aren't issued by this agency; they are simply insured by it.
Because FHA loans are insured, lenders can create loans with better interest rates and looser guidelines for qualification. The purpose of having the FHA insure these loans is to encourage people who may not otherwise be able to secure a traditional loan to purchase a home.
Pros of Using an FHA Loan
There are several benefits to choosing an FHA loan type for your mortgage. The advantages include:
Being Able to Purchase a Home with a Smaller Down Payment: While lenders of traditional loans typically want to see about 20% of the home's price as a down payment (and have a strict minimum requirement of 3%), FHA loans enable borrowers to put down as little as 3.5%. This enables people who may not have been able to save a large lump sum of cash to become homeowners.
Lack of Stringent Credit Requirements: Although not every single individual who applies may qualify, most people can secure an FHA-backed loan even with poor credit. Potential borrowers need to have a score of 580 or higher.
Higher Debt-to-Income Ratio Allowed: With conventional mortgages, most borrowers will not be able to use more than about 45% of their income toward their monthly loan payments. However, with FHA-insured loans, potential homeowners can use up to about 56% of their income on their debt obligations.
Cons of Using an FHA Loan
Of course, there are downsides to getting an FHA-insured loan. Consider these factors before deciding whether or not this loan type is right for you:
Limited to FHA-Approved Lenders: If you want a loan backed by the FHA, you have to play by that FHA's rules. That means using lenders they approve of – and buying property that has been inspected by an FHA-approved appraiser.
Paying Mortgage Insurance: The good thing about FHA loans is that their insured by the government. The bad thing is that their costs to insure the loan circle back to you. You'll have to pay a mortgage insurance premium, which will cost you about .85% of the outstanding balance on the loan at closing. If you paid less than 10% in the form of a down payment, you'll also be subjected to making insurance payments for the duration of the loan.
Government Paperwork: Mortgage loans are complicated enough when secured through a private lender of your choice. When the government gets involved, the paperwork gets even more tedious. Expect to go through many more documents than you would with a conventional loan.
FHA loans are simple to qualify for and they do make it easy for potential homeowners to purchase a house even with poor credit or lack of a huge down payment. But there are a few catches involved. If you can qualify for a conventional loan, you might save more money by avoiding paying insurance premiums, you'll have more choice when it comes to who your lender is, and you can avoid lots of hassle by not having to deal with government paperwork.
---
Filed Under: Borrower Tips
Tagged with: FHA, FHA loans, FHA mortgage