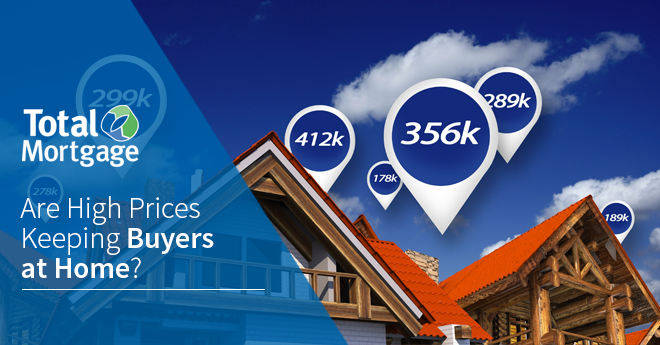 This year, home buyers face some tough decisions. Interest rates are still hovering around very attractive levels at (or below) 4 percent on a 30-year fixed mortgage. All the experts say these historically low rates will end soon, at least by the end of the year.
Of course, for the past year those experts have also been predicting rates to rise and stay well above 4 percent, and they've been consistently wrong.  Rather than bet on the experts being wrong again, millions of home buyers are feeling the push to buy this year. The slowly improving economy is helping by making it possible.
But despite super low rates and a healthier economy, the evidence is mounting that tight inventories are discouraging customers. Sellers who want the best price today should not take the demand for granted.
When supply doesn't meet demand
Strong demand is quickly absorbing a diminished supply of homes for sale, especially in the mid to lower price brackets. Through February, home prices continue to rise twice as fast as inflation, at 5.4 percent above last year, according to Case-Shiller.[1] Rising prices are making homes less affordable. According to RealtyTrac, in the first quarter of this year, 9 percent of U.S. county housing markets were less affordable than their historically normal levels.
Rising prices are making it harder for first-time home buyers—who account for about 30 percent of home sales—a significant decline from their historical share of 40 percent. A Zillow found that study found that Americans are renting for an average of six years before buying their first homes. In the 1970s, they rented for an average of 2.6 years.
They are also spending a bigger chunk of their incomes to buy: in the 1970s, first-time homebuyers bought homes that cost about 1.7 times their annual income. Now Of 132 markets tracked by John Burns Real Estate Consulting of Irvine, Calif., 27 are less affordable than historical averages, up from 16 last year.
"Inventory is very restricted, which is creating bidding wars and pushing up prices," said Daren Blomquist, a senior vice president at RealtyTrac. "That makes it a very tough environment for many buyers. "they are buying homes that cost 2.6 times their annual income.
How to improve your home-finding odds
Young buyers looking for an affordable home should increase their chances by:
Widening the geographic search and limiting "must haves" in the home they want. However, buyers should never settle for a home that they do not
Preparing for multi-bid situations by getting pre-approved for a mortgage and making the best initial offer they can afford.
Being prepared for a multi-month search for the right home.
Considering a single family rental as a temporary solution until more affordable homes become available.
[1] http://us.spindices.com/index-family/real-estate/sp-case-shiller
---
Filed Under: Uncategorized
Tagged with: ca0f299af14875677011eb8981b92adf