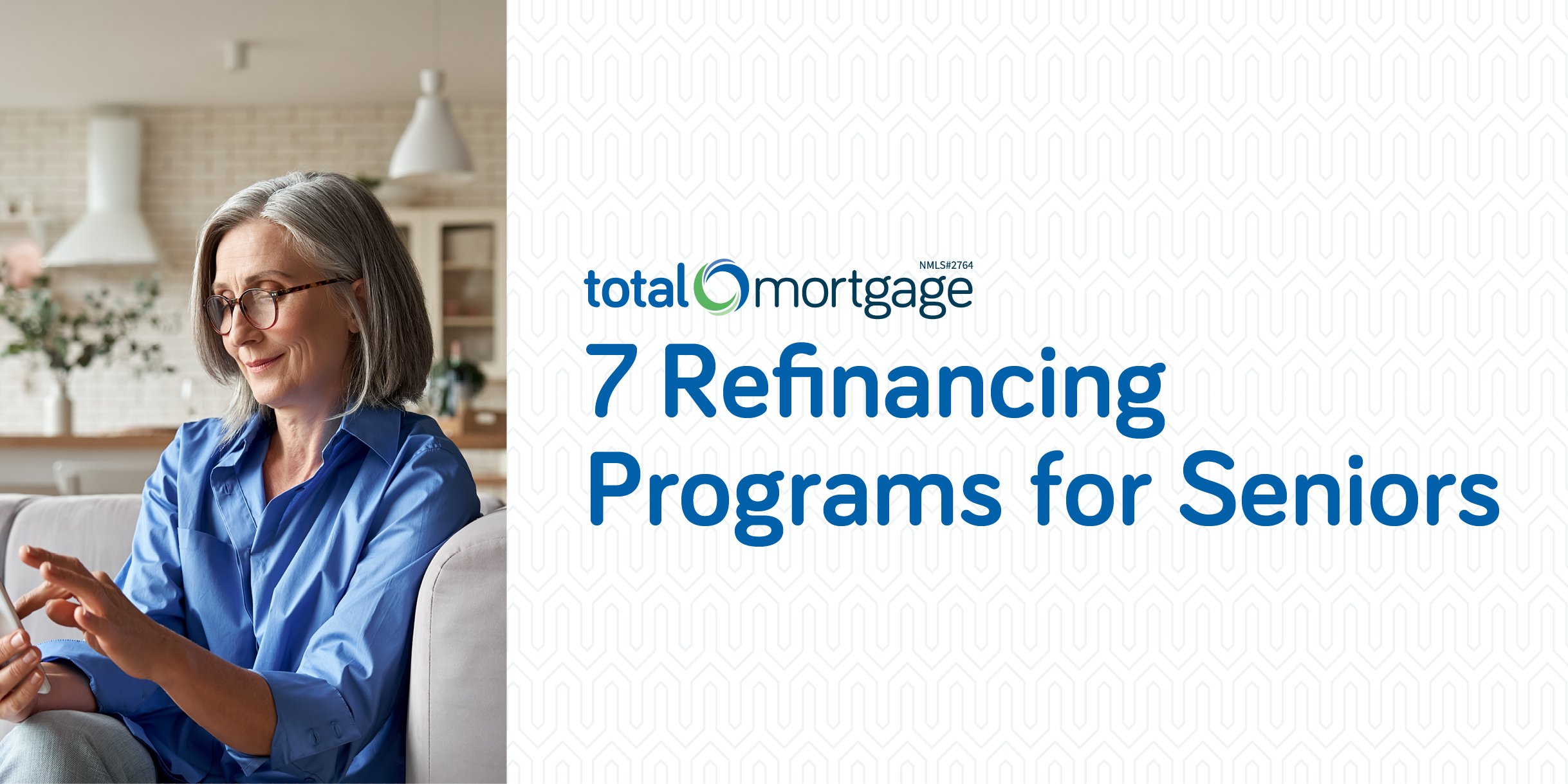 If you're looking to save money or tap into some of your home's equity, you may have considered refinance programs for seniors. You may have learned that although there are benefits, there are always worries, particularly when money is involved.
Regardless of your age, the decision to refinance is a big one, and you should consider all of your options before settling on one, but is it the best choice for a senior?
Reasons to Refinance for Seniors
If you're living on a limited retirement income and already paid off your mortgage, you may wonder why you would want to refinance during your golden years.
Here are some common reasons why older homeowners consider refinance programs for seniors:
Medical and credit card debts
Additional retirement income
Travel
Home improvements and repairs to prepare for aging, such as pulls in the bathroom, wider hallways, potential ramps or stair lifts
Pay down high-interest debt
Help children and grandchildren financially
Reduce the interest rate on current mortgage
Extend the duration and terms of the mortgage to have lower payments
How to Refinance for Seniors
Whether you've decided to refinance or are on the fence, you may be curious about the refinancing process for seniors. While the process is almost identical, W-2s are not required; instead, social security statements and evidence of other assets may be provided.
Besides knowing the purpose, the following steps are:
Credit score – Is it high enough for conventional refinancing?
Assets – Collect all your statements from social security, pensions, retirement accounts, tax returns, and other assets.
Decision – Make a decision based on the best value and how well it meets your needs.
Apply – Start the process by applying with all paperwork ready to go.
Close – Complete the refinancing process and close on your new home loan.
We have branches across the country. Find a Total Mortgage expert near you!
7 Refinancing Programs for Seniors
Many retirees and those over the age of 60 worry that they won't be able to qualify for a mortgage because of their reduced income. Fortunately, there are several refinance programs for seniors explicitly designed for this demographic.
Here are some variables that positively influence your refinancing qualifications despite the lack of income:
Credit utilization (lenders like seeing less than 30% of the available credit being used)
Credit score (most lenders prefer a minimum of 620)
Assets (retirement accounts like 401(k), Roth IRAs, and cash savings)
With so many possibilities, there is something for almost anyone.
1. Rate and Term Refinance
Traditional refinancing, commonly known as rate and term refinancing, fulfills Fannie Mae's or Freddie Mac's standards. For many seniors in good financial standing, this is one of the most cost-effective strategies to achieve advantageous home loan refinancing.
Some of the benefits of this option are:
Lower interest rates
Shorter terms
No private mortgage insurance with at least 20% equity
No additional costs
2. Cash-Out Refinance
Refinancing your mortgage to take cash out of your home's equity is a common strategy for retirees who want to improve their financial standing and quality of life during their golden years.
There is a wide variety of cash-out refinancing options available to retirees, involving loans like:
Conventional loans
Fannie Mae's HomeReady
FHA
VA
Some of the benefits of these options are:
Lower interest rates on the existing mortgage process (if possible)
Lower interest on the second mortgage
Increased cash-flow
Make use of the built-up equity
3. FHA Streamline Refinance
According to the U.S. Department of Housing and Urban Development, FHA streamline refinances are available under credit qualifying and non-credit qualifying options. The FHA Streamline Refinancing program is a good alternative for current FHA borrowers since it doesn't require any additional appraisals or a credit check.
Here are some of the uses for this refinancing:
Lower interest rate when refinancing from one fixed-rate mortgage loan to another.
Payment stability when refinancing from an adjustable rate to a fixed-rate mortgage.
A good alternative option if you don't qualify for a conventional loan.
4. VA Interest Rate Reduction Refinance (IRRRL)
If you are a qualifying veteran, member of the armed forces, or surviving military spouse and already have a VA loan, you may be eligible to refinance into a loan with a lower interest rate (IRRRL).
Loan terms are comparable to FHA streamline refinancing, making it an attractive option if your income or home value has dropped. However, there is a VA funding cost of 0.5% of the loan amount, which helps fund the program.
5. Renovation Refinance
Whether you want to improve your home for personal reasons or prepare it for a higher age, renovations are important for seniors who wish to stay in their homes during their retirement years.
Some common improvements include:
Lifts
Ramps
Curbless showers
Improved task lighting
Non-slip safety floor
Widened hallways for wheelchairs or walkers
Medical alert systems
Fannie Mae HomeStyle Renovation and Freddie Mac CHOICERenovation are two examples of specialized home improvement loans that may be used to refinance an existing mortgage and pay for renovations simultaneously.
6. Fannie Mae Refinancing Programs
Specifically designed for low-income borrowers, Fannie Mae has two major refinancing programs that may suit your needs.
Fannie Mae HomeReady Refinancing
This refinance program for seniors is specifically designed for low-income retirees who may only rely on Social Security as their only income source for many.
Existing borrowers with mortgages backed by Fannie Mae may be able to refinance into lower interest rate HomeReady mortgages if they meet the program's requirements.
The requirements of this loan are:
Have a credit score (no minimum)
The income limit to qualify is 80% of the area median
Have at least 3% equity (97% LTV)
Fannie Mae RefiNow
Already have a Fannie Mae mortgage? Fannie Mae has a refinancing option that may be right for you, specifically designed for low-income borrowers. You may be able to finance your closing costs with the assistance of this loan if your new monthly payment and interest rate are at least 0.5% lower.
Here are the requirements:
Income doesn't exceed the set limits in your area
No missed payments in the last 6 months (no more than one in the last 12 months)
A credit score of 620 or higher
If your debt-to-income (DTI) is as high as 65%, then Fannie Mae will even cover the appraisal fee for your home.
7. Freddie Mac Refinancing Programs
The Freddie Mac refinance program may be helpful if you're underwater on your mortgage but don't meet the requirements for a traditional refinance because your loan-to-value (LTV) ratio is too high. Interest rates are typically higher for borrowers with a high LTV, but Freddie Mac's refinancing program is designed to reduce this cost, particularly for seniors.
Here are the benefits:
Lower interest rates
Shorter term
Fixed-rate instead of an adjustable rate
Stretch limited resources in retirement
Explore Refinancing Programs for Seniors With Total Mortgage
Mortgages are among the largest recurring expenses, so paying them off as quickly as possible is often a top priority for those saving for retirement. But depending on your plans for the future and potential needs, it may make sense to explore your refinancing options.
One of the deciding factors in completing a mortgage refinance is finding a reliable mortgage lender that understands your needs. When you're ready to take the first step toward finding the right refinance program for seniors, consider your options with Total Mortgage. Start by finding a Total Mortgage branch nearest to you, or apply online and get a free rate quote.
---
Filed Under: Uncategorized