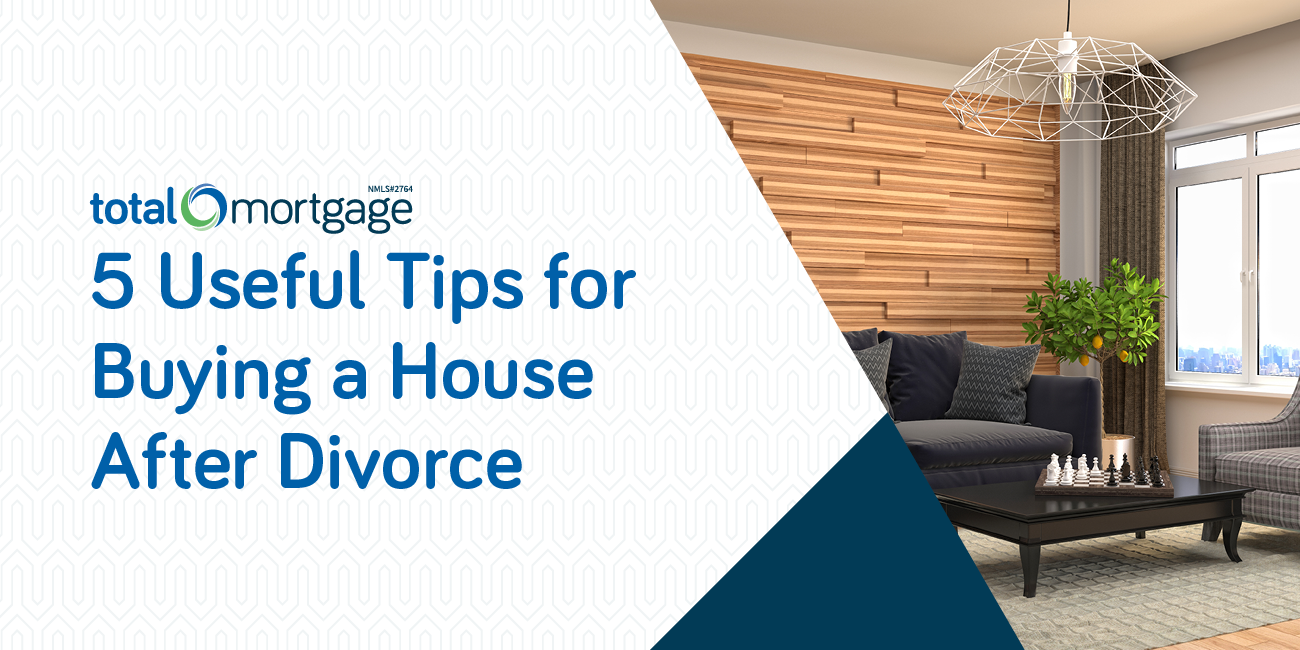 Buying a house after a divorce is a big step toward a new beginning. However, divorce has a direct impact on every aspect of your life, and you'll need to make sure you're ready before committing yourself to a new mortgage.
Before you start mortgage shopping, here's what you can expect to face if you're buying a house after divorce.
Buying a House After Divorce
Getting a divorce, splitting up assets, and finding a new place to live can get complicated and expensive. Before buying a house after divorce, you should weigh your options and ensure you're in a good financial situation before making such a big commitment.
Here are a few things to consider before buying a house after a divorce.
Income and Assets
Unless you plan to buy a house with a co-borrower, then you may qualify for a lower loan amount than you did when you were married. However, if you now receive alimony and/or child support, these payments can be factored into your earnings.
If you are now required to make one or both of these payments, then it's up to your lender to decide whether it's counted as debt. If it is, it could significantly impact your debt-to-income (DTI) ratio or be counted against your income.
Divorces are expensive, and your assets and savings may have taken a dip after your divorce. To qualify for most loan programs, you'll need some cash reserves and enough savings to pay closing costs and make a down payment.
Credit
You'll need a credit score of at least 620 for most conventional loans and sufficient credit history to qualify for a mortgage. If you need to work on building credit, make sure you don't take on additional debt. This could be counterproductive to buying a house after a divorce.
Once you've established enough credit history, your credit score should go up. This could improve your chances of qualifying for a mortgage.
Your Current Mortgage
If you have a mortgage with your ex-spouse, you'll need to get out of that financial commitment before buying a new house. You can either request to be released from your mortgage or have your ex-spouse refinance after the divorce to remove your name from the loan.
Luckily, mortgages shared between spouses are usually worked out during the divorce – but always make sure that everything is finalized before applying for a new mortgage. 
Can I Buy a House When Going Through a Divorce?
Buying a house during a divorce is possible, but it comes with its own set of challenges.
One thing to keep in mind when going through a divorce is whether you live in a community property state. This means that spouses who acquire property during a legal marriage own the property equally.
If you live in a community property state, then you and your spouse will be required to sign and notarize a quitclaim deed. A quitclaim deed transfers any interest your spouse has in the property over to you.
If the other spouse does not agree and refuses to sign, then the court could view your new home as an asset during the divorce. This means that your ex has equal rights to your new home.
Your spouse's debts could also affect your DTI. The debts of your spouse are counted toward your DTI for government-insured loans in community property states. Because of this, you might qualify for a lower amount on your mortgage than you would if you had waited until after the divorce was finalized.
Make sure to finalize your separation agreement if you're determined to buy a house during your divorce. Give your lender your legal separation agreement or property settlement agreement, which needs to be signed by a judge, before moving forward with the home purchase.
We have branches across the country. Find a Total Mortgage expert near you!
Tips For Buying a House After Divorce
Even if you aren't a first-time buyer, buying a house after a divorce can be a difficult process. As with most financial transactions, you'll need to have the right plan in place to help you reach your goal. 
1. Finalize your divorce settlement agreement. Your divorce settlement agreement will directly impact your ability to apply for a mortgage. Some mortgage lenders may want to see a temporary or final settlement before you apply for a new mortgage. Make sure to talk with a mortgage expert to help you with your situation.
2. Review your financial situation: Your financial circumstances determine whether you're capable of securing a mortgage. There's a good chance that there have been a few changes since your divorce was finalized. Make sure you have a good understanding of your divorce obligations and get a free copy of your credit report from each of the three credit bureaus, which you're entitled to every 12 months.
3. Get pre-approved: If you're financially ready to buy a house after divorce, then you'll need to get pre-approved for a mortgage. A mortgage pre-approval will tell you what type of loans you're able to take out, how much you could be approved to borrow, and your potential interest rate.
4. Lock in your interest rate: Compare rates with different lenders and lock in your interest rate when you're ready. Locking your interest rate can help reduce uncertainty and protect you from interest rate increases.
5. Find your new home and make an offer: Once you found a home you like, make a competitive offer and provide your mortgage pre-approval letter. A mortgage pre-approval shows the seller that you're a serious buyer.
Find an Affordable Rate With Total Mortgage
A home is a big investment. Before you consider buying a house after a divorce, make sure to evaluate your new financial situation and divorce obligations. Do you have the income necessary for monthly mortgage payments? Do you have enough money saved for a down payment and closing costs?
If you're ready to take that next step, make sure to explore your mortgage options with Total Mortgage. Find rates and products tailored to you and get the Greenlight to close within 21 days, guaranteed.
Apply online and get a free rate quote.
---
Filed Under: Uncategorized