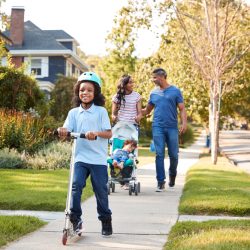 If you're like most people, then you know exactly what you want in a house, from its roof right down to its (hopefully finished) basement.  But can you say the same about your potential neighborhood?
Probably not, but you definitely should. No matter how perfect your new house is, you're going to have to leave it eventually.  Of course, neighborhoods aren't one size fits all. Whether or not one works for you depends heavily on your needs and personality, but that doesn't mean there aren't a few good questions to ask.
Here are 5 things you should keep in mind when picking a neighborhood.
Walkability
Does your potential neighborhood have nearby parks and shops? How about the sidewalks to get to them? Preferences vary widely for walkability—some prefer quieter neighborhoods farther away from the hustle and bustle—but regardless of what you want, you should definitely know how you feel going in.
New vs. old
It's hard to deny that new and old neighborhoods each have pluses and minuses, as well as a drastically different feel. New developments are often better planned, and new homes are free of many of the problems that come with aging construction. However, older neighborhoods tend to have more charm, not to mention an established community.
The school system
Don't forget that your neighborhood comes attached to a specific school system. Even if you don't plan on having children (or if yours are already out of the house) a good school system will help ensure a higher resale price later down the road.
Noise and traffic
What seems like a quiet neighborhood in the middle of winter can actually turn out to be the opposite once school's out for the summer. Make sure to tour the neighborhood at multiple times of the day and, if possible, talk to someone who lives in the area. It may turn out that noise peaks on certain days, or that regular happenings make parking difficult to find.
Access to the essentials
You can find the perfect house in the perfect neighborhood, but if it's 45 minutes from your job and the nearest grocery store, hospital, and bank, then you're going to run into problems before you're finished unpacking.
The bottom line? Research your neighborhood thoroughly before you buy, and know exactly what you want before you start looking.

---
Filed Under: Cash-Out Refinance, mortgage monday, mortgage-interest-rates