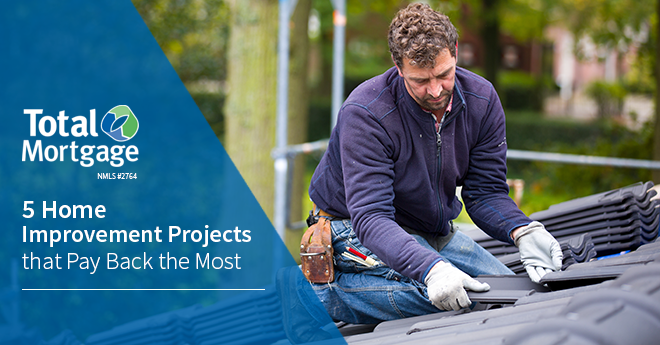 If you're itching to make improvements to your home with hopes of upping your resale value, you may be tempted to renovate your bathroom, kitchen or closets. Although these updates can increase buyer appeal, as well as add to your own enjoyment of your abode, the return on investment for these projects typically is low.
The home improvement projects that will pay back the most aren't as glamorous, but you'll recoup more of the expense when you sell your home.
Here are the five projects that offer the most value by boosting your home sale price and allowing you to recover most of the money you spent—possibly even more than you spent—according to the 2015 Remodeling Impact Report by the National Association of the Remodeling Industry and the National Association of Realtors.
1. Replacing your roof  
Although putting a new roof on your home may not feel quite as satisfying as upgrading your kitchen appliances or installing a shiny new spa tub, it's the home improvement with the best return on investment, according to the report. Homeowners who replace their roof can expect to recoup 105% of the value, meaning they'll actually make money on this project.
The NARI estimates you'll spend $7,600 to tear off an old roof on a 2,450-square-foot, two-level house; install laminated, architectural asphalt shingles; place new flashing around pipes and chimneys; and install a new ridge vent. The project isn't cheap, but you can recover $8,000 in costs for your effort.
There's no need to replace a perfectly good roof, but if yours has wear and tear, it could be a good investment before you sell.
2. Refinishing your hardwood floors 
The home renovation project with the second-highest ROI is refinishing your hardwood floors. Transforming dull, scratched wood floors into shiny, good-as-new flooring is a great deal: Homeowners typically recoup 100% of the expenses.
Freshening up scuffed wood flooring in an 18-by-20-foot family room costs approximately $2,500, the NARI estimates, which includes sanding floors to bare wood, refinishing them with polyurethane and adding new matching baseboards. Because homeowners typically are able to gain back the full value of this project when selling their home, it's a worthwhile project.
3. Upgrading your insulation 
An insulation upgrade offers the third-best potential for recovering the value of the project, at 95%. Expect to spend about $2,100 for adding 10 inches of blown-in cellulose insulation to your attic, according to NARI estimates, but you'll recover approximately $2,000 of that cost. And you'll lower your energy bills by upgrading your insulation.
4. Installing wood flooring 
The NARI estimates that it costs homeowners $5,500 to replace worn carpet with new, solid oak flooring and baseboards in an 18-by-20-foot room. But the value recovered is $5,000—91% of the expense—making it the home improvement project with the fourth-highest ROI. Although you won't regain the full value when you sell your house, new wood floors can significantly improve the look of your home, boosting buyer appeal.
5. Replacing your garage door 
Replacing a creaky, slow garage door with a new one also has relatively high value for homeowners. You won't recover the full value of the upgrade, an estimated $2,300, but you'll gain back 87%—that's $2,000—when you sell your home, the NARI estimates.
Next steps 
If you're ready to kick off some of these projects but don't have enough cash in your bank account, a cash-out refinance is one way to fund home upgrades. Try NerdWallet's refinance calculator to see whether that option makes sense for you.
---
Filed Under: Uncategorized