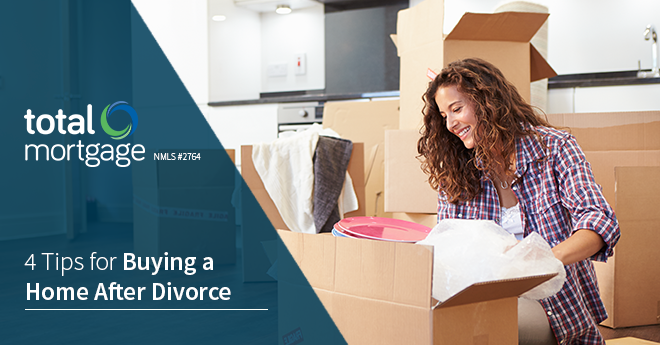 Splitting assets and moving out can be messy during a breakup, even more so if you are buying a house during a divorce. While separation can complicate the home-buying process, it can still be done.
Before you consider buying a house during a divorce, here are some tips to keep in mind.
Buying a House During Divorce or After Separation: What to Consider
Moving forward as quickly as possible may be tempting, but buying a house during a divorce or after separation can get complicated. It's possible to buy a house if you aren't legally separated, but there are many factors to consider.
1. Finalize Your Legal Documents
First and foremost, your mortgage lender will require your legal separation agreement. This is a court-ordered document used to divide assets, debts, and other responsibilities between a couple. 
A mortgage is a big financial obligation and your lender will want to make sure you are capable of qualifying for a mortgage as a single homeowner.
2. Figure Out Your Financials
Next, you should figure out exactly how much you can afford. Divorce typically comes with fees and ongoing costs like attorney fees, child support, or alimony, so it's important to find out what you're responsible for before determining what you can afford.
Tip: If you are responsible for an existing mortgage, it will be included in your debt-to-income (DTI) ratio and could make it more difficult to buy a home during a divorce. However, if the court awarded your spouse the property, then the lender may exclude that from your DTI.
3. Remove Yourself From First Mortgage
If your spouse was given the house, you will want to make sure you remove yourself from that mortgage so that you are not legally responsible for making monthly payments. This can be done by using a quitclaim deed or by refinancing.
4. Keep Records of Payment History
If you are making payments to your spouse, this will be included in your monthly debt amount. However, if you receive monthly payments, then this can count as qualifying income. Keep records of any payment history and bring this along with your legal separation agreement to your mortgage lender.
5. Get Pre-Approved
After the divorce is finalized, you can take the first step toward getting a mortgage by getting pre-approved. A pre-approval letter can help while shopping for a home. Not only does it say how much you can afford to borrow, but it also lets sellers know that you are a serious buyer.
Is It a Good Idea to Buy a House During a Divorce?
Buying a house during a divorce is possible, but it will be more of a challenge.
If you live in a community property state, then you and your spouse must sign and notarize a quitclaim deed. A quitclaim deed transfers any interest your spouse has in the property over to you or vice versa. 
Community property law says that couples who acquire property during a legal marriage own the property equally, and if a quitclaim deed is not signed, then your ex-spouse will have equal rights to your new home.
As a married couple, your spouse's debts could also affect your ability to qualify for a government-backed mortgage. Lenders calculate your DTI using both your income and debts. If your ex is on the mortgage and has a high DTI, this could also raise your household DTI.
Evaluate your financials and determine whether this is a good time to purchase a home. While you may be able to qualify for a mortgage, it may be better to build your credit score and save money. Improving your credit score and making a larger down payment could make your monthly mortgage payment more affordable.
Are you in the market for a home loan? Total Mortgage's loan experts are standing by to help you understand your options. We have branches across the country.
What If You Decide to Stay in Your Old Home After the Divorce?
During a divorce, the easiest way to divide the house is to sell it and divide the proceeds. But what if you want to stay in your home?
If both names are on the title, then you both have equal rights to stay in the home after a divorce. However, equal distribution of assets is typically handled in court during a divorce. For example, a judge could award you a percentage of the property based on your income or how much of the mortgage you personally paid.
If both parties want the house, then a court will decide who gets it and at what cost. If you keep the home, you may have to buy out your spouse. However, the court also takes financial viability and children into consideration.
Can You Buy a House With a New Partner Before Your Divorce?
There is no law saying you cannot purchase a home with a new partner before your divorce, but you and your ex must cooperate so that your new home is not viewed as a marital asset.
A quitclaim deed will need to be signed to transfer any interest in the property, even in community property states. You should also be careful of what funds you use to purchase your new home, like the down payment, closing costs, and other fees. The court could decide those funds were community property, which may complicate the entire process.
Consider a Home Loan With Total Mortgage
Divorces can be messy. Before buying a home during a divorce, you need to make sure you can afford a mortgage, especially if you have additional divorce obligations. A certified divorce real estate expert and a divorce attorney can help you maneuver through this process.
If you're ready to move forward, Total Mortgage has your back. Start your application with Total Mortgage today and get your free rate quote in minutes. 
---
Filed Under: mortgage monday